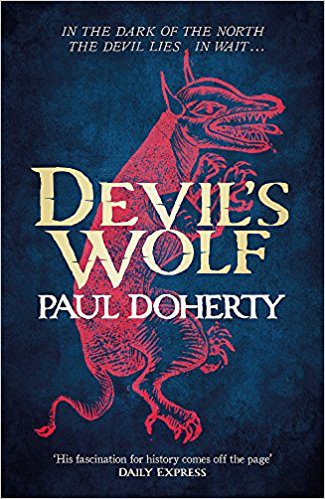 Paul Doherty is frankly an expert in medieval British history. And if you ever wanted to understand the life and times of that chaotic era in British history, reading his Hugh Corbett novels is an easy way to ease yourself into that labyrinth. I've had the pleasure of meeting and dining with Paul while in London, and frankly prolific is too small a word to describe his ouevre. He's written over 100 novels in 13 different series and various stand alone novels as well. And how he has time to do this while being headmaster of a prestigious school is beyond me. Yet he does it. God has given him a great gift of knowledge and writing good mysteries.
The Devil's Wolf (384 pages in length) is the 19th novel in the Hugh Corbett series (and I have devoured them all), and it does not disappoint. Here is the Amazon summary of what's up in this novel—
1296: King Edward I has led his army to Scotland, determined to take the country under his crown. But the fierce Scots have no intention of submitting to their oppressor and violent and bloody war breaks out.
1311: Sir Hugh Corbett, Keeper of the Secret Seal, finds himself back in Scotland and is revisited by the horrors he witnessed there fifteen years ago.
An anonymous letter was delivered to the new king. It promised information about a fatal incident that could allow England to finally bow out of the war with the Scots. Tasked with finding out the truth about the murder, Corbett is forced to take risks he would rather avoid and put his faith in the words of strangers.
But with an unknown traitor lurking in the shadows and danger around every corner, will Corbett be able to unravel the complex web of plots in time?
What the summary does not tell you is that the darkness in this novel has to do with the Black Chesters, devil worshippers. It details a coven that plagued Northumberland in the 14th century and frankly, while I usually read these things at bedtime, this novel can give you dark dreams. The novel is full of atmosphere and historical detail about the struggles between the Scots and the English, and at points the novel is quite gory and gruesome. At other points, it has a Christian spiritual quality, especially towards the end of the novel. This novel does not pull the rope of tension as tight as some of the previous novels, but the last 100 pages packs a wallop and you can feel the mystery unraveling as Corbett does his final expose, and time and again you say to yourself— 'I didn't see that coming' which is the mark of a good mystery writer.
I've learned a lot about writing such historical novels from reading and conversing with Paul (my next one will be entitled Rome is Burning. The Prisca Chronicles-— stay tuned), and we should all say a prayer for Paul who recently lost his beloved wife. His novels rank up there with those of C.J. Sansom (from the Tudor period) and Ellis Peters (the brother Cadfael series). I commend them to you. But if you read this one…. leave a nightlight on!!