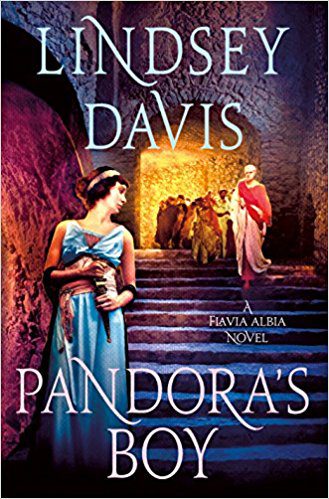 Lindsey Davis is one of the most gifted writers about the Greco-Roman world, and in particular about Rome and its complexities that is out there. She is witty, has excellent prose style, makes the learning of that world fun, and has vivid and interesting characters dealing with the period of the late first century A.D. during the reign of the Flavians— Vespasian, Titus, and finally Domitian. This particular novel, set in the late 80s is the second one dealing with the reign of Domitian (the first was Master and God). I ordered the British edition which has 387 pages (320 in the American one), because the book is better produced, has a better cover, and larger print. The heroine of this series of thrillers is Flavia Alba, now married to Manlius Faustus an aedile, and she is the adopted daughter of the famous informer— Marcus Didius Falco (see the many earlier novels featuring him). When this series began, now some seven novels back, something was wrong— the prose wasn't as good, and Flavia Alba came across as a radical feminist and in general a very unpleasant person. Not anymore. She's still a feminist in a good sense of the word, but as matured into a more likable person. Davis has sensibly left Falco in the background or off camera in these novels, because he is always a scene stealer. In this particular novel he doesn't speak directly, but is briefly consulted.
This particular novel is interesting for many reasons (vivid accounts of Rome's crime families, equally helpful accounts of ancient magical rituals, seances, production of cosmetics and much more), and the essential plot is well crafted— Albia's investigation of the sudden death of a beloved 15 year old daughter named Clodia. The investigation takes considerable time, and takes Flavia Alba into some dangerous spots, but her husband helps her out towards the end of the novel. She must deal with a potion and cosmetics maker named Pandora, and her too handsome son. The real heart of the novel is of course figuring out what exactly happened and if there was foul play. Alba has her Dad's skills in deduction, and of course the surprising reveal comes at the end of the novel. This one is truly a surprise and keeps you guessing throughout. There are also several other shocks and surprises along the way.
If you want more historical detail about ancient Rome, read Coleen McCullough's novels. If you want more focus on the period of Julius Caesar and Octavian, read Stephen Saylor's novels. But if you want more fun, better prose, more wit, and in general an overall more enjoyable summer reading experience while still learning about the ancient world— read Lindsey Davis' Falco and Alba novels. They are all top drawer.