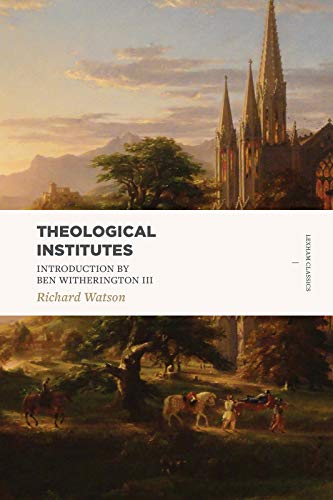 Lexham Press, a publishing arm of the considerable Evangelical operation under the banner of Logos/Faithlife is doing some important republishing. And from my point of view, one of the most important reprints is Richard Watson's classic Theological Institutes. It has been sometimes wrongly suggested that Wesleyan theology was akin to lay theology or folk theology, but not serious 'systematic' theology. Anyone who has actually read any considerable amount of Watson's Institutes will know that that criticism is just nonsense. And this was recognized not long after these Institutes were first published in the 1820s. Indeed, these volumes became the required theological textbook for much of the 19th century for Methodist preachers in America. They read Wesley's Standard Sermons, and Watson's Institutes, alongside Wesley's Notes on the New Testament.
It says something about the sad state of Wesleyan theology in many Methodist contexts in the 20th century that this work was allowed to go out of print, and Methodists settled for publishing and republishing the dated Jackson edition of Wesley's Work. Only now do we have a nearly complete scholarly annotated edition of Wesley's Works. So the timing of this release of Watsons Institutes is propitious, and can provide the next generation with plenty of Arminian meat to chew on for the foreseeable future. I've written a brief introduction to these volumes, and it is already now available on Kindle for only $5.99. All Methodist, Nazarene, Wesleyan, Free Methodist, AME, AME Zion, and Salvation Army pastors should pick this up immediately. Yes, these two volumes are also available in paperback from the Lexham website.
I would suggest that the reader really interested in Wesleyan theology proper start by reading Part Two, the Doctrines of the Holy Scriptures. The first Part is dedicated to apologetics, and it is the most dated portion of the work. The rest of these volumes however are solid gold. May they begin to have the audience they deserve. Kudos to our friends at Faithlife/Logos for being far-sighted enough to give this important work new life.