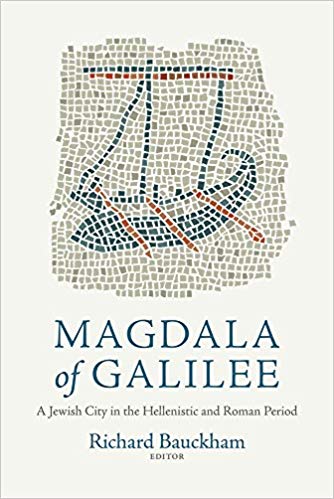 Q. RICHARD WHAT GOT YOU INTERESTED IN THE ARCHAEOLOGICAL WORK AT MAGDALA? YOUR PREVIOUS SCHOLARLY WORK HASN'T REALLY FOCUSED ON ARCHAEOLOGY PER SE.
A. I was doing some work on James and John the sons of Zebedee (for a biography that I hope I'll be able to get back to, now that this diversion to Magdala is complete). I wanted to know what it was like to be a Capernaum fisherman. I began to realize that Magdala dominated the fishing on the lake and learned that it had a fish processing industry. So I started off being much more excited about the fish processing workshops (at least, that's what I think they are) that they excavated near the synagogue in Magdala than about the synagogue, unlike most other people who got interested in Magdala because of the synagogue.
Q. ONE OF THE THINGS THAT FASCINATED ME ABOUT THIS BOOK IS THAT IT DEMONSTRATES SO CLEARLY BOTH THE RELEVANCE OF ARCHAEOLOGICAL WORK TO UNDERSTANDING THE NT, IN THIS CASE THE GOSPELS, AND ALSO THE FRUSTRATING NATURE OF DISCOVERING AT MOST PARTIAL EVIDENCE OF SOMETHING IMPORTANT. IT'S RATHER LIKE A JIGSAW PUZZLE WITH VARIOUS PIECES MISSING AND YET YOU STILL MUST TRY AND DRAW SOME TENTATIVE CONCLUSIONS. HOW DOES ONE CRITICALLY DISCERN WHEN THE ARCHAEOLOGICAL EVIDENCE IS SUFFICIENT TO SAY "WE CAN PROBABLY CONCLUDE…" AND WHEN, AS HAPPENS IN SEVERAL PLACES IN THIS BOOK, YOU HAVE TO SAY "WE MUST WAIT FOR FURTHER EVIDENCE AND ARCHAEOLOGICAL REPORTS'?
A. It is like bits of a jigsaw puzzle, but then, of course, literary evidence is also like that. We only have fragments of the past and have to fill in the gaps by argument. In the last five years I have certainly got to understand better the grounds on which archaeologists make judgments (about dates, e.g.), as well as the fact that archaeological evidence, like texts, needs interpretation, which can be debatable. There is a further problem about the publication of excavations. It is very frustrating that, in the case of the synagogue at Magdala, the two archaeologists who excavated it have still published only a preliminary report that was notably sparse even for a preliminary report. For such an important find this is hard to excuse. Meantime, because of the "rules" to which archaeologists adhere tenaciously, no one else can publish anything more. Anyone could go to the site and measure the dimensions of the synagogue, but they should not publish them.