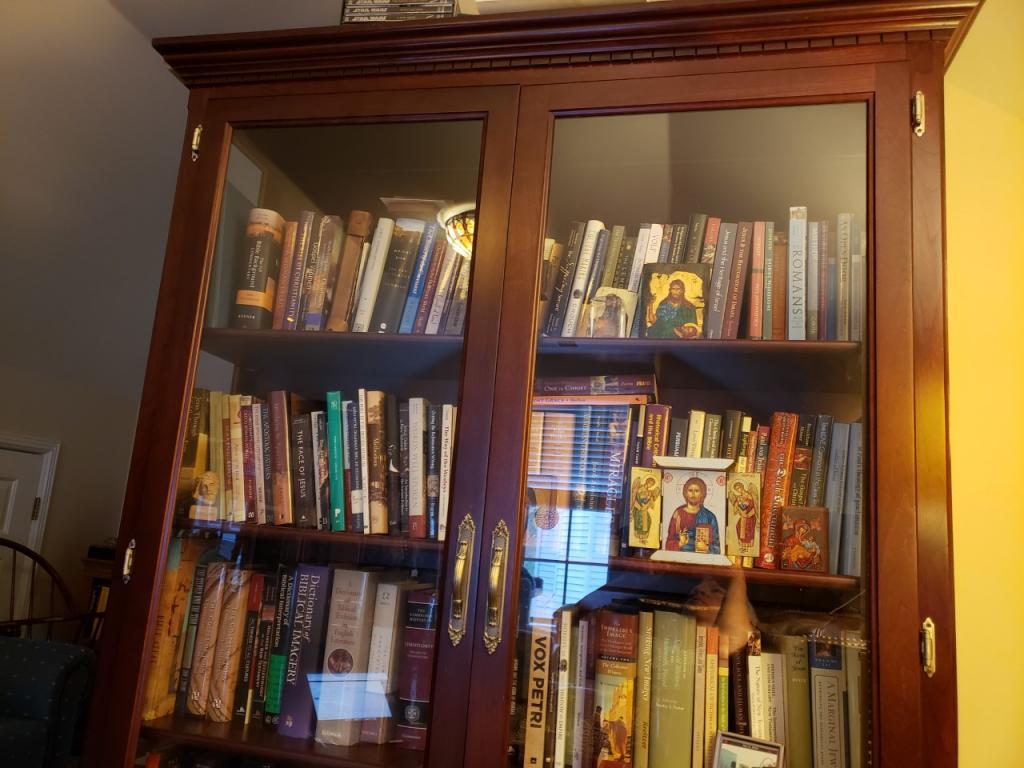 Above you will see the top of one of the bookcases in my study in the morning light with a reflection from the study window. It would be impossible to tell you how important books have been in my life– mainly the one's I've read, secondarily the one's I've written. There is truth to the statement you are what you read (and believe). But alas, I live in the new world of the internet, where people mainly read and believe what's on their computer screens, even when it's entirely fake news. This is both a tragedy and a travesty. Americans, having been seduced by the siren song of the internet, have in many ways become superficial in their knowledge, understanding and wisdom. They are prone to listening to bombastic narcissistic know-it-all leaders who stroke their fur and encourage them to listen to the worst angels of their nature— xenophobic ones, racist ones, profoundly unChristian ones. But I digress.
Books can do much to overcome our ignorance, and even our lack of wisdom. A century ago, one of America's most learned poets, T.S. Eliot in his opening lines from Choruses from the Rock, wrote the following—
"O world of spring and autumn, birth and dying
The endless cycle of idea and action,
Endless invention, endless experiment,
Brings knowledge of motion, but not of stillness;
Knowledge of speech, but not of silence;
Knowledge of words, and ignorance of the Word.
All our knowledge brings us nearer to our ignorance,
All our ignorance brings us nearer to death,
But nearness to death no nearer to GOD.
Where is the Life we have lost in living?
Where is the wisdom we have lost in knowledge?
Where is the knowledge we have lost in information?
The cycles of Heaven in twenty centuries
Bring us farther from GOD and nearer to the Dust."
This could have been just as well written yesterday about our current malaise. And part of the problem is a failure to read, and learn from great books, and especially the best-selling book of all time, the Bible. It was the great Roman rhetorician Cicero who once said— "I have put out my books, and now my house has a soul". Exactly. How much soul-nourishing reading are we doing these days in the 'spring of our discontent'? Or consider the words of that catalyst of the Reformation– the great Erasmus of Rotterdam: ""When I have a little money, I buy books; and if I have any left, I buy food and clothes." He knew what his priorities were. What would he say to a situation where the grocery stores all stay open, and the actual bookstores all stay closed? (I'm not counting Amazon). Feeding the body, without feeding the soul is of little use— frankly. It was Jesus himself who warned about gaining the whole material world, and yet losing your soul, and for that matter your chance at everlasting life. What good is that?
So consider this a temperate plea— Read some soul nourishing books during your 'shelter in place' days. Read for example 2 Corinthians 4 and reflect on Paul's words about outwardly wasting away, but the possibility of inwardly being renewed day by day by the work God in the soul of a human being. Read Cicero's remarkable treatise on Friendship (De Amicitia), written in the 40s B.C. near the end of his life. Read C.S. Lewis's The Screwtape Letters and The Great Divorce, and spare some thought to the deeper nature of evil in this world, and your own eternal destiny. DO IT NOW, before that virus or something else catches up with you. Books have shaped, changed, molded, helped, and given purpose to my life as the mediators of God and the good and love and friendship and so much more. Think on these things.