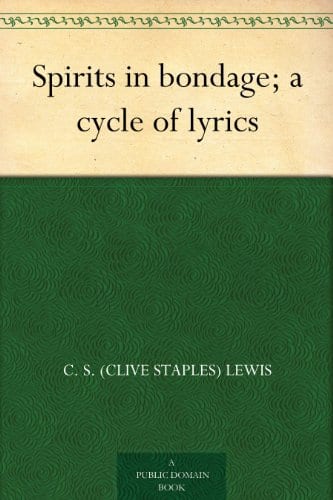 Long before he was a Chronicler of Narnia or wrote his Space Trilogy, C.S. Lewis was a poet, and though his original early pre-Christian poems have been published and reprinted various times before, there is now a new edition, beautifully done, with a fresh Introduction by Karen Swallow Prior. This comes courtesy of the ambitious folks at Lexham Press who are doing some really interesting things. This work was originally published in 1919 under the name Clive Hamilton (the last name being his deceased mother's maiden name). These poems are interesting for various reasons, for instance watching him experiment with various rhyming schemes, classical otherwise, listening to his longing for times in pristine nature, or his fascination with all things faery and fantastic. It is clear the Great War had shaken him up quite badly, and equally clear he had been reading Milton, Hardy Matthew Arnold and others trying to cope with the new reality after the war without losing his sense of wonder, mystery, even transcendence after a fashion. These poems do not constitute great or epic poetry but they are creative, and provide a good window on the soul of Lewis at age 20, and reveal how far he needed to go before he became, in his own words 'the most reluctant convert in all of Christendom'. Here there is only room for one or two small samples. For example here's an example of him extolling 'solid people'
'Thank God that there are solid folk
Who water flowers and roll the lawn,
And sit, and sow, and talk and smoke,
And snore all through the summer dawn.
Who pass untroubled nights and days
Full-fed and sleepily content
Rejoicing in each other's praise,
Respectable and innocent.
Or consider his poem about his beloved Oxford….
'Oxford'
It is well that there are palaces of peace
And discipline and dreaming and desire,
Lest we forget our heritage and cease
The Spirit's work– to hunger and aspire:
Lest we forget that we were born divine
Now tangled in red battle's animal net
Murder the work and lust the anodyne
Pain of the beast 'gainst bestial solace set.
But this shall never be: to us remains
One city that has nothing of the beast
That was not built for gross, material gains
Sharp, wolfish power or empire's glutted feast.
We are not wholly brute. To us remains
A clean, sweet city lulled by ancient streams,
A place of visions and of loosening chains,
A refuge of the elect, a tower of dreams.
She was not built out of common stone
But out of men's yearning and all prayer
That she might live, eternally our own,
The Spirit's stronghold– barred against despair.
Clearly there was longing, and God's Spirit was working on him despite his professed atheism at 20, which is a good reminder— while there's life, there's hope for us all.