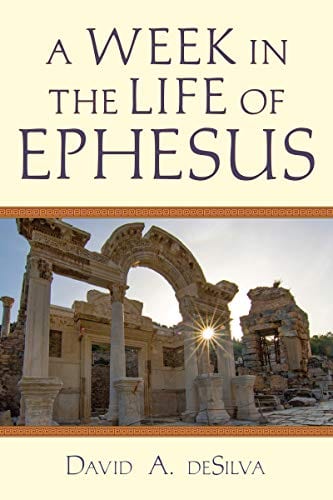 David deSilva has presented us with an excellent read in his latest offering 'A Week in the Life of Ephesus'. Here is a summary of its plot—–
"How should Christians live in an age of empire?

As the city of Ephesus prepares for a religious festival in honor of the emperor Domitian, a Christian landowner feels increasing pressure from the city's leaders to participate. Can he perform his civic duties and remain faithful to his Lord? Or has the time come for a costly choice?
In this historical novel, biblical scholar David deSilva brings to life such compelling struggles faced by the early Christians. Their insistence on the absolute lordship of their own singular deity brought them into conflict not only with the myriad religious cults of the day, but with all the crushing power of the empire itself. Meticulously researched and supplemented by historical images and explanatory sidebars, A Week in the Life of Ephesus poses anew the timeless question of Christianity and empire. Here is a vividly imaginative portrait of the Roman empire in all its beauty and might―and hanging over it, the looming sky of apocalypse."
deSilva is especially good at detailed description of the time in which John of Patmos lived, the late first century A.D. with this particular story focusing on the end of the 80s when Domitian was at the peak of his powers and control of the Empire. What this little novella does especially well is reveal the dilemma Christians found themselves in with the rise of the Emperor cult in the province of Asia, and the growing civic responsibility to honor the Emperor with worship. There is a helpful nuance to the way David presents the Christian community in Ephesus reflecting the spectrum of responses from going along with the flow, to vocal resistance to the emperor cult. The problem was exacerbated when it became clear that Christians were not simply Jews, and had no right to claim the Jewish exemption from such worship. This novella will make for excellent summer reading, even beach reading, and will fit well as a text in a course on the book of Revelation.