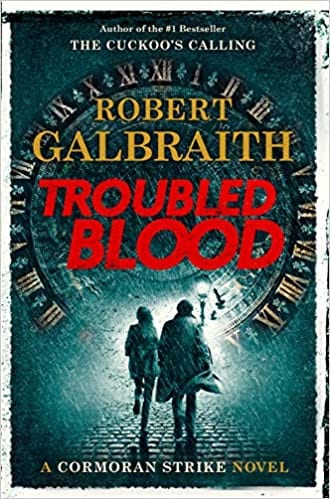 It's longer than War and Peace (600 some pages). It's longer than Crime and Punishment (700 some pages). I should mention Anna Karenina as well since there is an allusion to that novel on the last page of this one. In fact, its the longest novel I've ever seen (I don't count multi-volume novels like the Lord of the Rings). It's easily the longest novel I've ever read weighing in at 944 pages (yikes!). You have to be a bookaholic like me to even crack open a daunting novel like this. But I can tell you now, even at 927 pages of text, it is a real corker of a novel, a genuine page turner. The conceit of the novel is that its plot seems in part to be based on Edmund Spencer's famous allegory The Fairie Queene. One begins to notice (if you can read middle English poetry) that each chapter begins with a quote from Spencer's work, and then the chapter to varying degrees corresponds in content to the hints in the poem. This is very clever indeed. And I'm happy to say that this fifth in the series is the best in the series by a lot. Partly this is so because Galbraith/Rowling is so very good at character development, even with very quirky characters like Detective Cormoran Strike, not to mention plot twists. And there is something light and inviting about the way her novels are written. One has less a sense of foreboding or dread when reading the novel (contrast some of the novels of P.D. James) because the lead characters are at times quite comical, and all too human. I don't much remember laughing during the reading of any and all of James' ouevre.
In this novel, and for the first time, Strike and Ellacott take on a truly cold case… one dealing with a disappearing doctor from the mid-70s. Here is Amazon's summary tease—– "Private Detective Cormoran Strike is visiting his family in Cornwall when he is approached by a woman asking for help finding her mother, Margot Bamborough – who went missing in mysterious circumstances in 1974.
Strike has never tackled a cold case before, let alone one forty years old. But despite the slim chance of success, he is intrigued and takes it on; adding to the long list of cases that he and his partner in the agency, Robin Ellacott, are currently working on. And Robin herself is also juggling a messy divorce and unwanted male attention, as well as battling her own feelings about Strike.
As Strike and Robin investigate Margot's disappearance, they come up against a fiendishly complex case with leads that include tarot cards, a psychopathic serial killer and witnesses who cannot all be trusted. And they learn that even cases decades old can prove to be deadly . . ."
One rather unexpected element in this novel is astrology and horoscopes. I'm of the same opinion as Strike that that stuff is 'bollocks', to use his term. Robin however is not so sure, and if you read some of the reviews, it would appear that Rowling herself puts some credence in it. But that's a story for another day.
As it turns out, Cormoran and Robin end up investigating various cold cases, involving missing persons. And one has to say that the criminals in this novel are just as quirky and non-stereotypical (with the exception of the Ricci Italian crime family) as the protagonists are. There has always been a frisson between Robin and Cormoran, and one of the things about these novels is that Galbraith reveals a lot of the inner thoughts of these two main characters, who besides trying to solve crimes are also trying to figure what exactly is the nature of their relationship. On the surface they make for an odd couple— a one legged 40 something man who looks like an extra out of Braveheart, red hair and all, and a 30 something bright young woman struggling to finish off her divorce with her unfaithful husband and fend off the after effects of being raped when young, being cheated on by her husband, and being stabbed in the line of detective duty. No psychological complications there! Without offering up spoilers I will say that their relationship progresses as the novel roles along, as Galbraith plays with the 'will they or won't they' cross the line between a good professional relationship and a personal relationship. Both are worried sick that they will ruin the former relationship which has developed into a real partnership by engaging in the latter relationship. In short, we all look forward to the further adventures and misadventures of Cormoran and Robin.