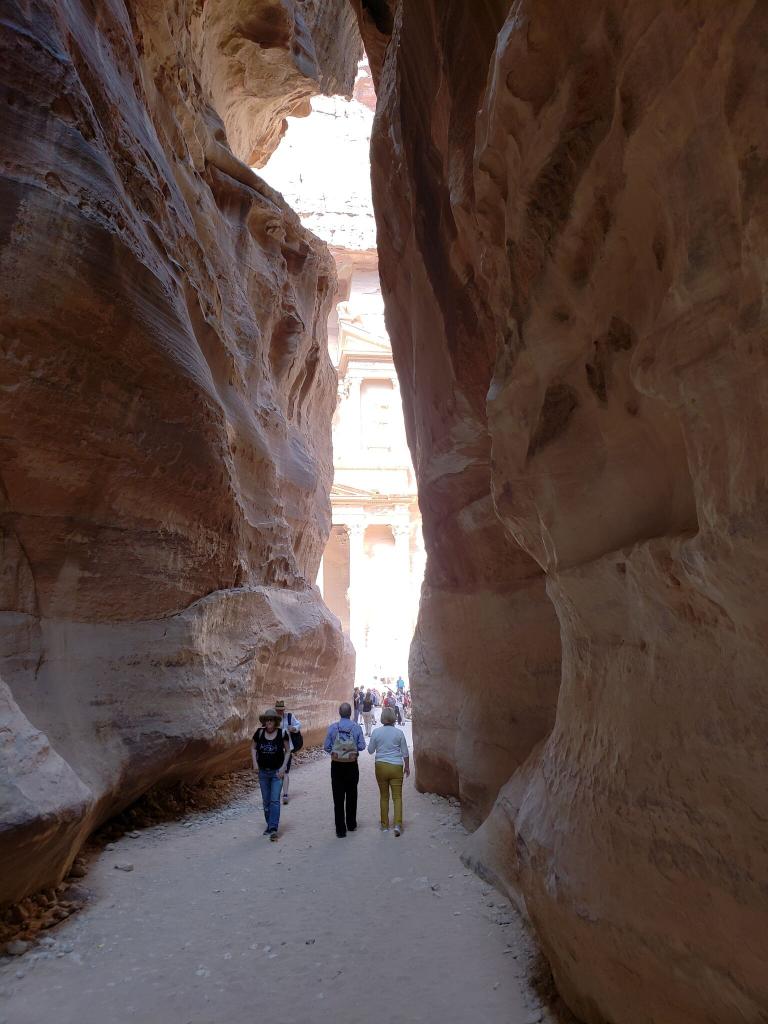 What exactly is the pathway to the Kingdom of God and what are the entrance requirements?  Jesus and Paul both talk about entering, obtaining or inheriting the Kingdom of God. Now the important thing about such discussions is that in each of those cases what is envisioned is a future entering of God's kingdom when it comes on earth as it is in heaven.  It is not about dying and going to heaven.  While Paul says flesh and blood cannot inherit the kingdom in 1 Cor. 15 he says this in the context of discussing the future resurrection on earth of believers.  He tells us that when Christ returns to earth, the dead in Christ will be raised, and in that condition they can inherit the kingdom and be part of it.  The process of salvation is not over until we are fully conformed to the image of Christ by means of a resurrection body. Period.
This is precisely why I have stressed that there are three tenses to salvation for all of us who are being saved: 1) I have been saved (which refers to justification and also the new birth which can also be called becoming a new creature/creation), 2) I am being saved (which refers to sanctification, which indeed does involve our own participation, co-operating with the Spirit we must work out our salvation with fear and trembling as God works in us to will and to do.)  Notice that that discussion in Philippians 2.12 says that our willing and our doing is a necessary part of working out our salvation. It doesn't happen inexorably or without our free and voluntary co-operation. Notice that Paul makes that remark having prefaced it with a reference to 'obedience'.  Salvation, involves obedience, not merely faith.  Behavior is what obedience is about as the context makes clear.  It is simply not true that salvation is by faith alone.  Martin Luther's reading of Romans 1 is frankly badly off the mark.  Yes, you can say that initial salvation or justification is by grace and through faith. What you cannot say is that is all there is to salvation.  It is not. Lastly, 3) final salvation is in the hands of God and involves his raising us from the dead.  Notice that even Paul talks about hoping that he may attain to final salvation— he puts it this way in Phil. 3, one of his very last pronouncements on salvation: " 10 I want to know Christ—yes, to know the power of his resurrection and participation in his sufferings, becoming like him in his death, 11 and so, somehow, attaining to the resurrection from the dead. 12 Not that I have already obtained all this, or have already arrived at my goal, but I press on to take hold of that for which Christ Jesus took hold of me."   If even Paul can say that he has not yet attained to resurrection, and that he must make every effort to press on to that goal, it should have been very very clear that the salvation process is not concluded before the resurrection of believers and that our behavior in this life definitely has something to do with the final outcome.  Obedience to God is required.  In short, you are not eternally secure until you are securely in eternity.   You just aren't.   Why not?   Because before you die, there is the danger of apostasy.   So let's talk about what that is and what that isn't.
Apostasy is not about forgetting, losing, or misplacing your salvation.  You can't lose your salvation like you'd lose a pair of glasses— 'I swear that my salvation was here this morning.  Now where have I lost it.'  Nope, it doesn't work like that.  Apostasy doesn't happen by accident at all.  It is by definition a willful turning away from the relationship you have already had with God Almighty.  It is a deliberate and willful rejection of the work of Christ already done in you.  It is a quenching of the Holy Spirit's presence and work in you.   And this activity has nothing to do with whether or not God loves you,  because God loves all his creatures, and he sent his Son to die for them all.  The reason some aren't save is precisely because they reject the Good News, whether when first offered or later.
Hebrews 6 is the classic passage about this, and it could not be much clearer, as the author is warning Jewish Christians who have already experienced both initial salvation and some sanctification as follows: "It is impossible for those who have once been enlightened, who have tasted the heavenly gift, who have shared in the Holy Spirit, 5 who have tasted the goodness of the word of God and the powers of the coming age 6 and who have fallen away, to be brought back to repentance. To their loss they are crucifying the Son of God all over again and subjecting him to public disgrace. 7 Land that drinks in the rain often falling on it and that produces a crop useful to those for whom it is farmed receives the blessing of God. 8 But land that produces thorns and thistles is worthless and is in danger of being cursed. In the end it will be burned. 9 Even though we speak like this, dear friends, we are convinced of better things in your case—the things that have to do with salvation. 10 God is not unjust; he will not forget your work and the love you have shown him as you have helped his people and continue to help them. 11 We want each of you to show this same diligence to the very end, so that what you hope for may be fully realized." Notice at the end of this quote that it speaks about God knowing of the person's work and love shown, and then the exhortation that they need to keep doing that to the very end so their hope of final salvation can be fully realized.   
But you may say— but what about a passage like at the end of Romans 8—  38 "For I am convinced that neither death nor life, neither angels nor demons, neither the present nor the future, nor any powers, 39 neither height nor depth, nor anything else in all creation, will be able to separate us from the love of God that is in Christ Jesus our Lord."  And while we are at it, didn't Paul just say in Romans 8.28-30 that there was this thing called predestination?   Yes he did.  More on that in a second.  But first, look closely at Romans 8.38-39.  What's the one thing not listed in that list of things that cannot separate you from the love of God?  Answer—YOURSELF.  Paul is assuring his audience that no circumstance, no angel or demon, no human being, in short no third party or circumstance can rip you out of the loving grasp of God.  The Devil cannot make you an offer you can't refuse.   Apostasy is a deliberate and willful choice to abandon ship and the outcome is disastrous.  It happens not because God chose for it to happen before the foundations of the universe.  It happens because that individual person, despite all the blessings etc. from God chose for it to happen— knowingly, willingly, and never by accident.  Does attaining to final salvation involve our, with the help of God's grace, persevering to the end in faithfulness and obedience? Yes it does. 
So finally, back to Romans 8.28-30, some of the most misread verses in the whole Pauline corpus. What this text says is that God works all things together for those who love God and are called according to purpose/choice (the word his, is not in the Greek text before purpose). Now what is crucial is the 'ous' in the next verse which has as its antecedent 'those who love God'. The correct way to read the Greek of what follows is as follows:  'For those who love God, God foreknew, and destined etc.'   This is not about God choosing some lost souls to be Christians in the first place. Remember Paul is writing to those who are already Christians, and he is reassuring them that God has a wonderful future planned, a wonderful destination planned in advance for them.  Those whom God foreknew would love him,  he destined in advance to a wonderful outcome. These verses are not about God picking and choosing some to be saved. It is about God's plans for those who have already responded in love to the offer of the Gospel.  Period.     As for the language of election in Ephesians 1, I would refer you to the whole discussion in my Biblical Theology volume for Cambridge.   Election is in Israel in the OT and does not determine the fate of particular Israelites, and election is in Christ in the NT and does not determine the final salvation of particular believers.  In short, election is corporate in both cases, not individual. 
Think on these things.