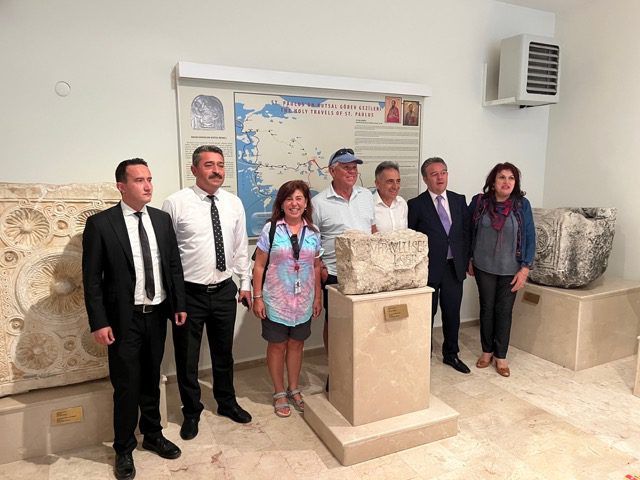 Posing with the authorities in Yalvac (aka Psidian Antioch), next to the Sergius Paulus inscription.
Something amazing happened when I last visited Psidian Antioch in July 2022.  As we had previously asked, sure enough, the curator of the museum had taken the Sergius Paulus inscription out of the courtyard and given it a safe spot within the small Yalvac museum.  But some 'expert' from Ankara has misidentified the inscription as being a sixth century Byzantine inscription about Paul the apostle!   As it happened the mayor and the regional governor as well as the curator were there at that very moment in the museum to celebrate the opening of a new art exhibit in the museum.  I explained quietly to the curator that the inscription was: 1) not Byzantine Greek but rather an earlier Latin inscription, and 2) Sergius Paulus was a known governor of Cyprus from Paul's era who must have had family connections with Psidian Antioch, in fact 3) the only reasonable explanation for why Paul and Barnabas trudged over huge mountains to get to Psidian Antioch instead of visiting cities along the coast heading from Perge towards Tarsus and eventually Antioch, is because they had an endorsement to go there from the governor of Cyprus.
Whether I convinced them or not, all of a sudden the media showed up with their camera, and Meltem Chiftchi my guide and I ended up being interviewed and photographed with the mayor, governor, and curator as the 'discoverers of the inscription'.  I felt a little like Paul at Lystra when all of a sudden the town folk thought he was a celebrity, even a God.  And the funny thing was, the Lystrans took Paul and Barnabas' ordinary clothing as a disguise. We also looked very very ordinary for the photos in our shorts, hiking shoes, and sunglasses and hats.  See the picture above.  Below is the inscription itself.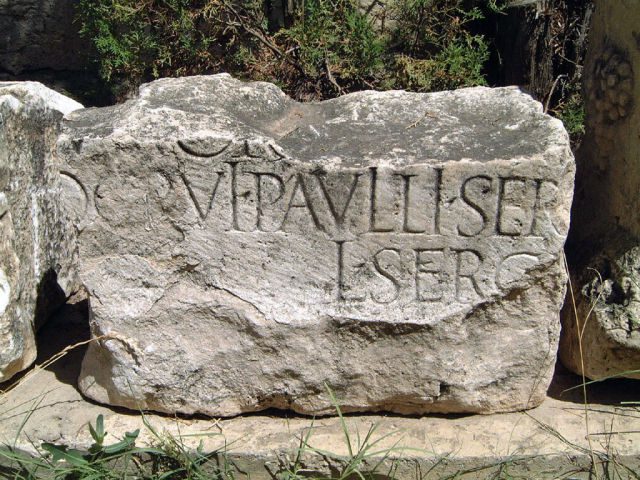 See now the helpful report on all the Sergius Paulus inscriptions and his connection with Pisidian Antioch by Bryan Windle—
Sergius Paulus: An Archaeological Biography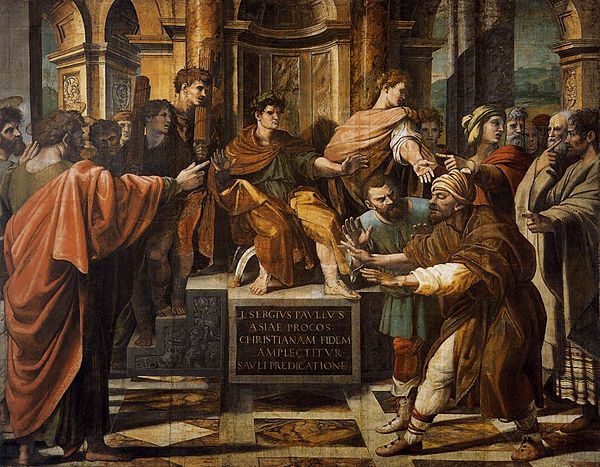 Note the inscription at the bottom of this famous painting of the blinding of Elymas by Paul.