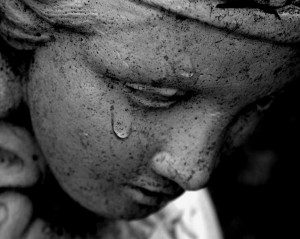 This weeks question:
Do you have a Book/Video Game/Movie/whatever that made you weep? Like literally start bawling from the sadness or the beauty of it?
I have a confession to make… I cry. I have been known to weep at the sight of a sunset, or during the chorus of a song, and often while just sitting in prayer or at mass. I am a sucker for moments of beauty and grace. Yes, in fact crying is something I actually enjoy. So what makes me cry? I guess I will take each of the categories in turn. This list is by no means comprehensive.
Books
The giving tree – I cried recently reading this book to my son.
Horton Hatches an Egg – also with my son.
The Lion the Witch and the Wardrobe – also with my son.. spending time with him already pulls at my heartstrings, and I think reading things aloud really gets me since I have to embody the voice of the characters.
Désirée's Baby, Beyond the Bayou, and Ma'ame Pélagie by Kate Chopin
Crime and Punishment – Fyodor Dostoevsky
Everything that rises must converge – Flannery O'Conner (the whole collection)
That Distant Land – Wendell Barry
Video Games – I don't really play a lot of video games… the only one I really touch is Minecraft, but there was one game that I think made me teary eyed once:
Electroplankton – sometimes I was able to get some really beautiful music with this game
Movies
UP – the opening sequence gets me every time

Love it or hate it, I wept through the entire Passion of the Christ when I first saw it
Music
Ok this wasn't listed, but music moves me to tears more than really anything else. This is a very limited selection, there are at least another hundred songs that have driven me to tears.
The Gloria in the mass… gets me all the time
The chorus "You are my inheritance oh lord" in the Easter Vigil
the USA national anthem
Sufjan Stevens – Seven Swans
Simon and Garfunkel – Bridge Over Troubled Water
The Alleluia in the mass (particularly during the Easter Vigil)
Brahm's German Requium
Ave Maria by Schubert
Nessun Dorma from Turandot
"Ich habe genug" by Bach
So what media makes you Cry? Tell me in the comments below!