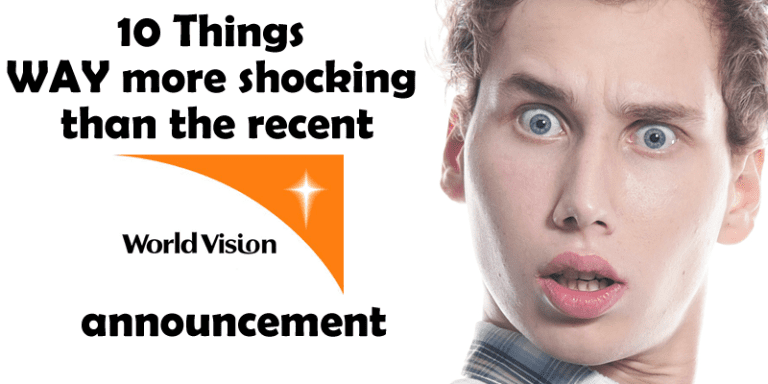 UPDATE: Apparently World Vision has reversed their decision. I have made a few edit's below to reflect that change. Edits in bold!
So this morning I logged onto twitter and saw this:
Shocked to see World Vision hiring employees in same-sex marriages. My dear friend Bob Pierce would be heartbroken.

— Franklin Graham (@Franklin_Graham) March 24, 2014
It turns out World Vision is letting gay people join their staff has reversed their position allowing Married Gay people to join their staff. This apparently is shocking to some people. This was far from shocking for me, I was actually kind of surprised they didn't allow that already (since I know of a lot of other Christian organizations that do.) Some people have been shocked by this reversal. I thought if the NEW World Vision announcement is shocking, how much more shocking must these few simple facts be:
Most people believe the US spends 25% of it's budget on foreign aid, and believe we should only spend 10%. But the TRUTH of the matter is that less than 1% percent of the US budget is ACTUALLY spent on foreign aid.
With that fraction of 1%: 3,000,000 lives are saved each year through immunization programs; 5,100,000 people with AIDS receive antiretroviral treatments; nearly 9 million children under age 5 are impacted by nutrition programs; and nearly 100,000 households have access to clean drinking water.

Simply changing how we spend the money we already spend on food aid could save millions of lives. We just need to address the systems.
Less then 5% of the food assistance in the United states funded through donations in the private sector. For every 24 bags of groceries provided to hungry people in our country only one is provided by private sector donations.
$1 invested in nutrition for people in extreme poverty generates as much as $138 in economic activity. That is A LOT of bang for your buck!
The majority of food provided by private sector charities is actually provided through government programs. Charities in the US would be forced to close their doors without government support.
As few as 7 hand written letters to policy makers can make them rethink their position on an issue. Your voice can be a lot louder than a single vote… why not make letter writing a spiritual discipline?
Even though there are still millions of people living in extreme poverty, there are half as many today as there were 25 years ago.
Experts are saying that if we continue to push global leaders to address the global issue of hunger, we can effectively end hunger by 2030. My prayer is that my grandchildren only know hunger in history books, and we can be the ones to make that history.
World Vision is one of the global leaders in helping serve poor and hungry people around the world… yet some people think it's more important that they don't restrict who they invite to help them serve others than that children get fed. That, too me, is still far more shocking. They are not a church. They are not making a statement about the morality of homosexuality. What is the big deal? Let me know what you think in the comments!
Edit: This post is NOT ABOUT HOMOSEXUALITY but instead it's about how fed up I am with how passionate people on both sides get about it when there are so many issues that impact so many more people that they don't say anything about.