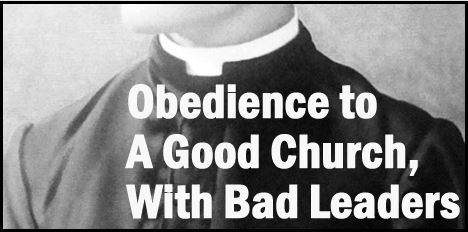 Being a Catholic comes with many challenges. We are called to lay down our lives for other; love our neighbor as ourselves; give of our abundance to those who are in need; strive for holiness; care for the spiritual and temporal needs of those around us; fast and pray; and in all things grow to image God's love to everyone. These are all hard enough in themselves, I certainly fail at all of these things on a daily basis; but one thing that makes being a Catholic incredibly difficult is the fact that other Catholics are also failures at being holy. The Church is chock-full of sinners. The pews are overflowing with adulterers, liars, cheats, selfish, wrathful, abusive, and all around good-for-nothing scoundrels. Not only that, but even the priests, deacons and religious are filled with sins of every kind.
Is THIS the community that Jesus founded?
Are these people the Body of Christ?
Is this this Church that will prevail against the Gates of Hell?
How can God expect us to prevail  against the gates of hell, when we can't even get through a meeting of the Parish Council without feeling defeated?
Does God really expect us to follow the leaders in the Church, when so many are just as bad if not wore than us?
This week I had a chance to sit down with some other Christian writers and thinkers and talk about what it means to live in a Church under spiritual authority without losing your mind or your faith. I have included a recording of the conversation below, and would like to invite you all to take a listen! Make sure you subscribe to the podcast here!
Let me know what you think of the episode in the comments below!