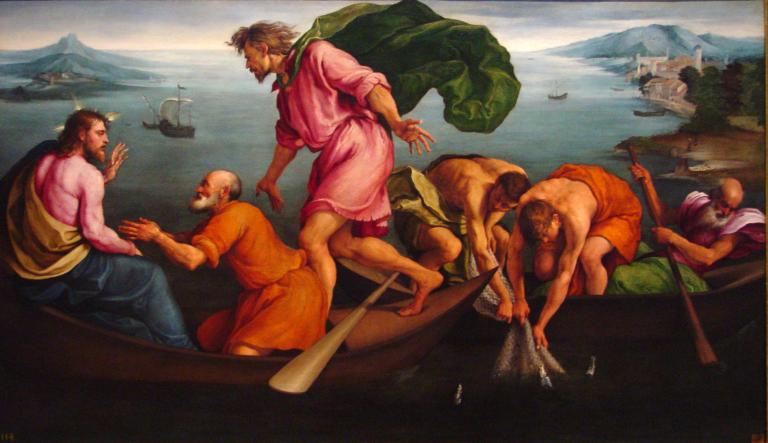 Jacopo Bassano's painting, The Miraculous Draught of Fishes, offers a fascinating interpretation about what it means to be a disciple. In it we see Christ at the moment of the miracle's occurrence. Peter and Andrew are turning to him, recognizing him as holy and are beginning to orient their bodies and their lives toward Christ. In the boat next to them we see James, John and their father Zebedee. This composition seems to mirror the tapestry cartoon of Raphael on the same subject.
One of the things I find most beautiful about the painting is its context. Jacopo does not set the scene in the Sea of Galilee, but rather in the home where he was born, lived, and died. The painting is set in Bassano del Grappa, which is a community near Venice. Jesus is calling where he is. I love that.
Another thing that Jacopo does that I find fascinating is through emphasizing the person of Andrew, rather than Jesus, or even Peter. In many ways Andrew is the least important of the disciples shown. Unlike Peter James and John, there are no great stories of Andrew in the Gospels, yet he is placed in the forefront. I see this image as a challenge to become a disciple for everyone. We may not be great man of faith like Peter, James, and John; but in our own context (like Jacopo's Bassano del Grappa) we are called to become disciples of Jesus. Are we listening?
This painting offers a striking reminder that the stories written in the Gospels are not simply composed to give us a historical record, but to help challenge and grown the faith of the Church. Discipleship is not simply something that happened, it is something that happens. Jacopo Bassano calls us to open our eyes to the calling of Christ that inbreaks into our world in unexpected and beautiful ways. I hope I can be attentive to it.