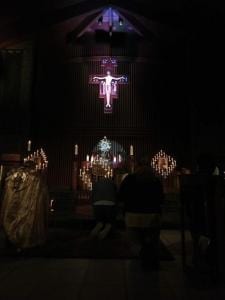 Today the Church remembers the great cost of Christ's cross. We remember that Jesus adopted our life, in all of its brokenness, pain, and death, so that we might be adopted into the life of God in all its fullness and joy.Through Jesus we have a hope of redemption and restoration of all things.
Yet, on this day we also remember that there are still many people who suffer at the hands of unjust systems and sinful people.
There's an old spiritual which people often sing today that asks "Were you there when they crucified my Lord?" It's a song that helps people to remember the brutal truth that nearly 2000 years ago a man suffered and died in the most terrible way, all because he loved us so much.
Although none of us can travel back through time to be at the foot of that cross 2000 years ago, we can join with others who are suffering.
Jesus tells us in Matthew 25 that whatever we do for the least, we do for him. We can join Jesus as we join with those who are suffering today. As I hear each day of new cases of the virus, of the ways that it disproportionately impacts minorities and those in poverty, I am keenly aware that the suffering savior is near me today.
Let's pray that God would open our eyes to see our Lord more clearly, and give us the grace to join him.