"Blessed is the man who trusts the LORD, whose hope is the LORD. He is like a tree planted beside the waters that stretches out its roots to the stream: it fears not the heat when it comes, its leaves stay green; in the year of drought it shows no distress, but still bears fruit."
Jer 17:7-8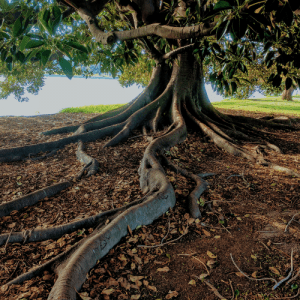 Are you allowing God to plant you in a place where you can grow and reach your full potential?
Here's a little gardening lesson for you. The size of the pot limits the size of the plant. A plant is only able to grow as large as its roots are able to sustain it. If you want to grow a larger plant an easy way to do so is to move it into a larger pot. Plants that are given room to grow are able to reach their full potential. Plants that are confined will only grow into the space that is given to them.
In today's passage, we're reminded that our spiritual life is similar. God wants us to be nourished and to grow strong. We learn that there are two things that can help our own roots spread out and find water – trust and hope.
Trusting God means that we allow our lives to be limited by God's promises instead of our own understanding. This might mean you allow God to move us out of the comfort of a life that is small enough for you to control to a life that is big enough to allow room for what God has promised.
To Hope in God means that we have a vision for life that is far beyond what we ourselves can comfortably manage. When we hope in ourselves it limits our life to what we can imagine. When we Hope in God there is no limit. It's the difference between watering your life from a can or from a river. Don't let the size of your own watering Can determine how large a dream you will live. God wants to plant you next to a river.
---
Question for Today
What is one thing you could do today that would open the door for God to do something unexpected?