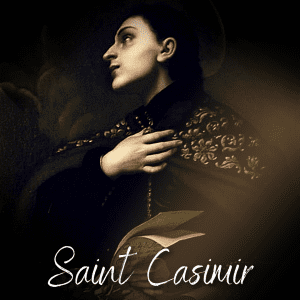 Casimir was a Polish Prince. I find him interesting because he was a man caught between the political world of his family and a life of faith and service which was closer to his own heart. He was known for his service to those in need and his generosity. His own life was marked by his practices of daily prayer. Each day he would read a passage from the Gospels and offer hymns in Latin and Polish. Perhaps the Hymn is most connected to is the Omni die dic Mariae which he prayed every day and was even buried with it. He reminds me of how essential having the spiritual discipline of prayer can be in giving perspective in life. I imagine the pressures and complications that came with his life as a prince and regent would have been overwhelming at times if he didn't also have dedicated time each day to be reminded of God's much larger story and his own call to find a faithful place within it.
---
Here is the Hymn Omni die dic Mariae in English with all 60 verses:
1. Daily, daily,
sing to Mary,
Sing, my soul, her praises due;
All her feasts,
her actions worship,
With the heart's devotion true.
2. Lost in wondering
contemplation,
Be her majesty confest;
Call her Mother,
call her Virgin,
Happy Mother, Virgin blest.
3. She is mighty
to deliver;
Call her, trust her lovingly;
When the tempest
rages round thee,
She will calm the troubled sea.
4. Gifts of heaven
she has given,
Noble Lady! to our race;
She, the Queen,
who decks her subjects
With the light of God's own grace.
5. Sing, my tongue,
the Virgin's trophies,
Who for us her Maker bore;
For the curse
of old inflicted,
Peace and blessing to restore.
6. Sing in songs
of praise unending,
Sing the world's majestic Queen;
Weary not,
nor faint in telling
All the gifts she gives to men.
7. All my senses,
heart, affections,
Strive to sound her glory forth,
Spread abroad
the sweet memorials
Of the Virgin's priceless worth.
8. Where the voice
of music thrilling,
Where the tongue of eloquence,
That can utter
hymns beseeming
All her matchless excellence?
9. All our joys
do flow from Mary;
All, then, join her praise to sing;
Trembling sing
the Virgin Mother,
Mother of our Lord and King.
10. While we sing
her awful glory,
Far above our fancy's reach,
Let our hearts
be quick to offer:
Love alone the heart can teach.
11. Though none
I know
To praise her meet,
'T would
madness be
Her not to greet.
12. With things
of Heav'n
Her learning fraught,
False dreams
of men
Hath put to nought
13. Her life
the Church
Bedecks, like flowers;
Her words
and deeds
Are grace's dow'rs.
14. Eve's sin
to us
Closed Paradise;
To Mary's
faith
It open flies.
15. Lost man,
by Eve,
Hath exile found:
By
Mary he
Is homeward bound.
16. The praise
of all
Her merit gains,
And
specially
Their love obtains.
17. Her Son,
obey'd
Through Her, may I
Behold
with joy
When'er I die!
18. O'er woman
blest,—
Their glory, Thou!
How high
o'er all
We thee avow!
19. Hear
graciously,
And save from Hell,
Make meat
for grace
Who praise Thee well!
20. Hope of
th' opprest!
Fair Jesse's Rod!
Light of
the Deep!
The Shrine of God!
21. Fulness
of grace,
Life's Standard true,
God's
Temple, and
Truth's Pattern new!
22. Thou to
lorn souls
Dost Heav'n assure,
Nor bent
nor bought
By Serpent's lure.
23. The King's
fair choice,—
Hail, queenly Maid!—
Who made
all worlds,
By all obey'd.
24. Chaste
Lily-flow'r!
Pure budding Rose!
Chaste choirs
thou guid'st
To Heaven's repose!
25. Give me
the pow'r
Of hand and speech,
Thy merits
high
With might to preach!
26. But oh,
to me
First mem'ry grant
Oft, as
is meet,
Thy praise to chant!
27. Thou soil'd
and dumb
My lips I know,
Still I
must dare
Thy meed to shew.
28. Virgin,
rejoice,
Thus praised to be;
Cause to
the lost
Of liberty!
29. O
Mother-Maid!
O Mother pure!
Like fruitful
palm,
Aye to endure!
30. By Thee,
sweet Flow'r,
Refresh'd to be,
We trust,
whose Fruit
Hath set us free!
31. Holy Mary,
we implore thee
By thy purity divine;
Help us, bending
here before thee,
Help us truly to be thine.
32. Thou, unfolding
wide the portals
Of the kingdom in the skies,
Holy Virgin,
hast to mortals
Shown the land of paradise.
33. Thou, when deepest
night infernal
Had for ages shrouded man,
Gavest us
that light eternal
Promised since the world began.
34. God in thee
hath showered plenty
On the hungry and the weak;
Sending back
the mighty empty,
Setting up on high the meek.
35. Thine the province
to deliver
Souls that deep in bondage lie
Thine to crush,
and crush for ever,
Life-destroying heresy.
36. Teach, oh, teach us,
holy Mother,
How to conquer every sin,
How to love
and help each other,
How the prize of life to win.
37. Thine to show
that earthly pleasures,
All the world's enchanting bloom,
Are outrivall'd
by the treasures
Of the glorious world to come.
38. Thou to whom
a Child was given
Greater than the sons of men,
Coming down
from highest heaven
To create this world again.
39. Oh, by that
Almighty Maker
Whom thyself a virgin bore;
Oh, by thy
supreme Creator,
Linked with thee for evermore;
40. By the hope
thy name inspires;
By our doom, revers'd through thee,
Help us, Queen
of angel-choirs,
To a blest eternity.
41. That King sought rest
Upon thy breast
To whom earth cries 'Hosanna.'
The Uncreate
From thee took date
Our race's healing manna!
42. The path who smoothest,
The pangs who soothest,
Of souls the most desparing!
Make woes that rush
The bad to crush,
Pass us, though sinners, sparing.
43. So pray for me,
That I may be
The heir of peace eternal;
And never know
Of torture's woe
In pool of flames infernal.
44. For this I cry,
For this I sigh,
Be thou my soul's physician!
Thy gifts of grace,
Poured down apace,
Requite my soul's petition!
45. So make me bashful,
Chaste, meek, and watchful,
Sober, without asperity;
Upright and pious,
Ne'er to the bias
Yielding of insincerity.
46. God's Word my store,
Whence virtue's lore
Come like a shield well burnished!
While by His fear,
Alms, fasting, prayer,
My soul's true gems be furnished!
47. Be I grave, steady;
Be sweet, and ready
To show all loving-kindness;
Be simple, pure,
Resigned, mature,
And humble e'en to blindness.
48. Be prudent-hearted,
My lips have parted
As truth alone demandeth;
All evil shun,
The true path run,
By deeds which God commandeth.
49. Do thou resist!
Do thou assist!
As Christian people need it;
When, from the wear
Of earthly care,
We ask for peace, oh, speed it!
50. No tongue can raise
Too high thy praise,
O saving star of ocean!
Pale by they light
Is planet bright,
Or meteor's brilliant motion.
51. Cherish, sustain,
The suppliant train
In thy sweet prayer confiding!
Whatever pains,
Whatever stains,
Prevent in us abiding!
52. Virgin, be glad,
Who from the bad
Arts of the Tempter freest;
As from thine own
Blood, flesh, and bone,
Incarnate, God thou seest.
53. Though Virgin bright,
Thou hast the right
Of richest claims maternal;
Though Mother true,
To thee is due
The virgin's bloom eternal.
54. Of what thou wast
Nought from thee passed,
When Gabriel's tongue addressed thee;
O'er Him thou bendest,
Him feedest, tendest,
Who with thine own life blessed thee.
55. Commending, bear
To Christ my prayer,
Thy Son beloved so purely;
That, from the world
In shipwreck whirled,
I reach the shore securely.
56. Oh, make me mild
And undefiled,
Avoiding strife and quarrel;
Constant and strong
To do no wrong,
Or yield to thought immoral.
57. That neither bound,
Nor bowed and ground,
I be by greed of riches;
Which hearts o'erthrown
Turns quite to stone,
Or blinding sore bewitches.
58. Of vengeful ire,
Deed, nor desire,
Permitted be to enthrall us;
Nor proud disdain,
Oft in whose train
A host of evils follows.
59. Pray God to shield
My soul's poor field,
Nor graces weigh, nor number;
For th' ancient foe
His tares will sow,
If He, our Watchman, slumber.
60. Oh, grant relief
From toil and grief,
To all who perseveringly
Thy feasts observe,
Thy deeds preserve
In memory's depths endearingly.
AMEN.