"So he got up and went back to his father.
While he was still a long way off, his father caught sight of him and was filled with compassion.
He ran to his son, embraced him and kissed him."
Lk 15:20
How have Jesus' parables inspired you?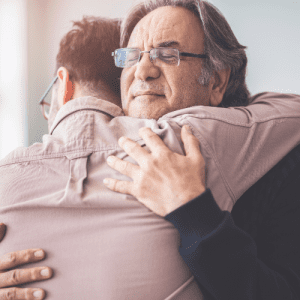 I have found myself returning to the story of the prodigal son over and over again. I love the way that Jesus paints a picture of God's mercy by teaching us that God is like a father who welcomes a wayward son back into the family without hesitation or demand for recompense.
At times the story has given me hope when I've felt like the prodigal far from home. I am humbled by a God who is willing to love me and welcome me. I am amazed that no matter what I've done in my life God is waiting to receive me if I but ask.
At other times the story has convicted me when I've recognized I am like the prodigal's brother. I too have felt God's mercy is too generous. I too have hesitated to extend welcome and acceptance to others. The story warns me that I am keeping myself away from how God is working by refusing to join him in celebrating the mercy and generosity God extends towards others.
One thing that has been on my heart in recent years has been that God welcomes both brothers into his life, but the life we are called to model is that of the prodigal's father. I've made it my daily prayer to ask God that I could receive the same heart this father has for those I encounter. I want a heart that waits with eager expectation to embrace others and extend radical generosity.
---
Question for Today
1. Who do you most connect to in the story of the prodigal son today?