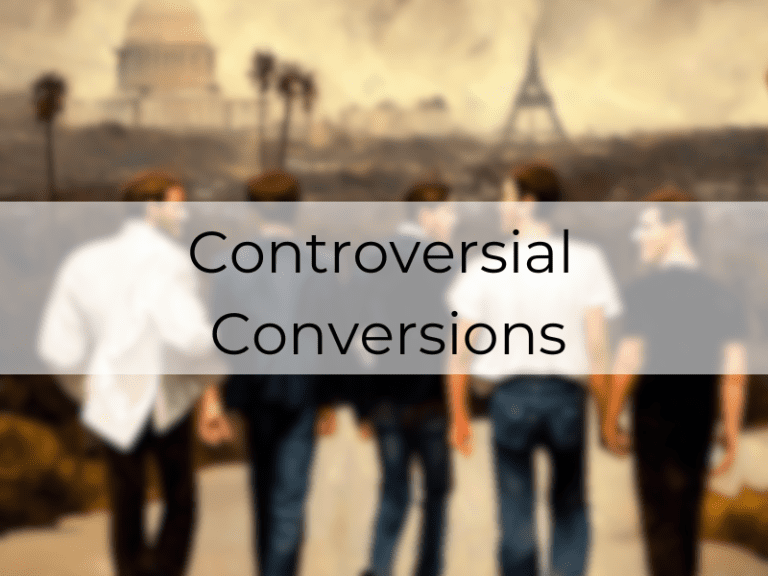 This Easter marked my 10th anniversary as a Catholic. As someone who spent over a decade in Protestant ministry, leaving what I knew behind to take my young family into the unknown was not easy. However, after years of study (with perhaps divine intervention), I felt drawn towards Catholicism to deepen my connection with Jesus Christ. Joining the Catholic Church meant embracing its rich sacramental life, grounding myself in history, and committing to live out a spiritual journey with accountability and consistency. Over time, I have come to appreciate even more deeply what the Church has to offer: namely, its record of making saints and it's deep and diverse spirituality.
In this article we explore famous celebrities who converted to Catholicism has to offer. Conversion rarely comes without controversy; despite fame and success in other areas of life these individuals faced intense scrutiny when they made this important decision. May our exploration deepen our understanding of faith journeys & inspire greater openness for others on similar paths. Reflecting on my own 10 years as a Catholic reminds me that conversion is just the beginning of a lifelong journey towards greater union with God when we make the decision to follow Christ & enter into communion with His Church – it marks an important milestone but does not mean our work is done. Each person is still a work-in-progress; resist placing them on pedestals simply because they are famous or successful elsewhere as every person regardless of status/background is called by God toward holiness & greater union throughout their lives – let's continue together humbly trusting in God's grace along the way.
Tony Blair:
Tony Blair's journey towards becoming Catholic was influenced by his wife Cherie, who raised their children in the Catholic faith. He became interested in Catholic social teaching and admired the Church's role in promoting peace and reconciliation. His friendship with Cardinal Basil Hume deepened his faith, who offered him guidance in some of the difficult moral decisions of his political career. He also developed admiration for Pope John Paul II.  He defended faith schools and fostered interfaith cooperation through initiatives such as the Tony Blair Faith Foundation. After resigning as Prime Minister, he met with Pope Benedict XVI to discuss converting to Catholicism before being formally received into full communion by Cardinal Cormac Murphy-O'Connor later that year, stating he felt that the Catholic Church was where his heart belonged. Tony Blair's conversion to Catholicism was met with controversy from various groups. Some questioned whether he had repented of his previous anti-life positions on topics like abortion and even the war in Iraq. Some Anglican leaders felt betrayed or disappointed by his conversion, while secular groups accused him of being hypocritical and opportunistic in using religion for political gain.
Shia LaBeouf:
Shia LaBeouf's recent conversion to Catholicism was influenced by several factors. His role as Padre Pio in a biopic about the famous saint led him to study Catholicism and become drawn to the faith. He then moved into a monastery of Franciscan Capuchin friars, where he lived with them for several months and participated in their daily prayers, rituals, and chores. Additionally, he was going through a personal crisis at the time – facing a lawsuit from his ex-girlfriend FKA Twigs for alleged abuse. Shea reports feeling suicidal, ashamed, and depressed. In this difficult time, Shia found hope and forgiveness in Catholicism. Shia LaBeouf's conversion to Catholicism has been met with criticism. Some Catholics are concerned about his attraction to the traditional Latin Mass, which they see as a source of division and extremism in the Church. Additionally, some have accused him of using his conversion as a way to avoid accountability for the alleged abuse of women. Furthermore, there has been criticism over his description of Jesus in his interview with Bishop Barron, arguing that his descriptions of what attracted him to Christ offer a distorted view of Jesus who taught love, mercy, and nonviolence.

Newt Gingrich
Newt Gingrich's conversion to Catholicism was influenced by several factors. His wife Callista, who is a devout Catholic, raised their children in the faith and encouraged him to attend mass regularly and meet with Catholic priests and leaders. He also became interested in Catholic history, culture, and contributions to Western civilization. After resigning as Speaker of the House of Representatives, Newt Gingrich was formally received into full communion with the Catholic Church by Monsignor Walter Rossi at the Basilica of the National Shrine of the Immaculate Conception in Washington, D.C. Newt Gingrich's conversion to Catholicism has been met with controversies. His marital history, including his multiple marriages and admitted affairs while married to his first and second wives, has led some people to question his sincerity and morality as a Catholic convert and political leader. Additionally, he has faced criticism for being hypocritical in pursuing the impeachment of President Bill Clinton for lying about an affair while having an affair himself at the time. Furthermore, Newt's theological views have been criticized for being selective or inconsistent in adherence to Catholic teachings. Some also see his views on American exceptionalism as incompatible with Catholic values of human dignity and solidarity.
Mark Wahlberg:
Mark Wahlberg was a troubled teenager who dropped out of school, joined a gang, and committed crimes. He spent time in prison and realized he needed to change his life. He met a devout Catholic girl named Rhea Durham, who became his wife and the mother of his four children. She encouraged him to go back to church and to embrace the Catholic faith. Today he states, "Anything that's good in my life is because of my faith." He has made his faith a regular part of his life, family, and career. His conversion to Catholicism has been marred by his past hate crimes against Asian and black people, his violent and immoral movie roles, and his political views. He has faced accusations of hypocrisy, insincerity, and inconsistency from critics who question his faith and values.