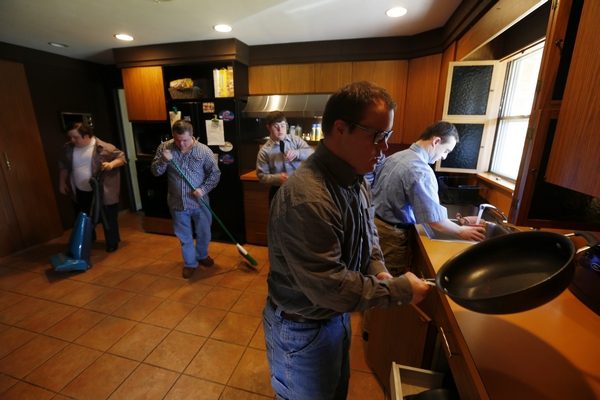 A house, more a bachelor pad really, gave the gift of independence to seven young men with Downs Syndrome. It doesn't get much cooler than this.
The program supervising the home, ASPIRE of WNY, allows the young men to carry out their lives in a normal way. There is of course supervision, but with with minimal intervention. Valerie Rosenhoch, one of the moms commented, "People with developmental disabilities need opportunities to reach their own potential, but in very different ways. One size doesn't fit all, but this house works for our guys."
Anxiety about the future for a child with Downs is always in the back of every parent's mind. The house ensures independence, community, and responsibility. It took five years of hard work and dedication to find the house and sort out all the details. Their persistence ensured their sons a very unique life and offered the families sweet relief.
Buffalo News shares more details behind the fantastic program:
The home comes with all the responsibilities of moving away from home. The young men divvy up chores like cooking, cleaning, laundry and budgeting that greet any young people living on their own for the first time – all under the watchful, supervisory eye of seven staff members and one manager.

All seven housemates have busy lives, at paying or volunteer jobs, along with day programs. And six of the seven will star in the Spirited Athletes Bold at Heart annual ice show, at 2 p.m. April 3 in First Niagara Center.

With at least one staff member in the home around the clock, these young men are safe and secure there, with some independence…

Mary Clare Smith used to call her 30-year-old son Jared, to ask whether he wanted to come home for a while.

"Dead silence," she said, with a laugh. "I took that as a no."
Once a week, a staff supervisor sits down with the housemates to keep the house running smoothly:
Every Thursday morning, they gather with a staff member to plan the meals, shopping and chores for the week.

Other than that, it's a typical house for millennials.

"You walk in the house, a couple of guys will be sitting on the couch with their iPads, someone will be in his room listening to music, someone else doing laundry or playing board games," said Fred Suchman, one of the staff members from ASPIRE of WNY. "It's a normal house."…

That's just what these parents and young men want – normalcy.
The parents of the young men worked hard to provide the best future of normalcy for their sons:
They knew it would be impossible to get their sons into a state certified group home. The state waiting list had some 12,000 names on it, one parent said.

"We knew the state was not approving any new certified group homes," Rosenhoch said…And with ASPIRE's help, parents met with state developmental-disability officials to seek approval of the "non-certified residence." That approval may not have come if the seven young men hadn't stood up at the meetings as their own advocates.

"We had to convince the state that it wasn't the agency or the parents driving the bus," Rosenhoch said. "It was the guys. It was something they really wanted."

ASPIRE bought the home, and after the state Office for People with Developmental Disabilities approved each young man's household budget, the seven moved into the home in June 2013. The home, with between one and three staff members on site 24 hours a day, costs about $70,000 per resident each year, including rent, staffing, food and transportation. Most of that is funded through Medicaid, Supplemental Security Income and food stamps.

Parents say a certified group home would cost the federal and state governments much more.
This house, for these inspiring young men, is an amazing use of my tax dollars and is something I am proud to support. The United States has a great need for more programs like this. These men were blessed with phenomenal families who went to bat for them, because there were 12,000 other young men and women already on a waiting list. We need to work harder to ensure our new President recognizes the need and does something about it.
The greatest payout for the families came in the form of a block party:
The victory for the parents came not long after their sons moved in together, when they were invited to the neighborhood block party.

"For me, as a parent, that was the real aha moment," Smith said. "It showed us they were just like everyone else in the neighborhood. They went on their own, without their parents."
I know there are days when my mom worries over the future of our sweet Trig. I hope this story is not only an encouragement to her, but to every mother and father raising a child with disabilities. God has already planned a bright and beautiful future for your child. Fight for that future.
Read more of the story HERE.
If you love this nation, like America the Beautiful on Facebook: