On the morning of September 23rd, the Pagan community lost one if its most stalwart bastions, particularly in the Los Angeles and Salt Lake City areas.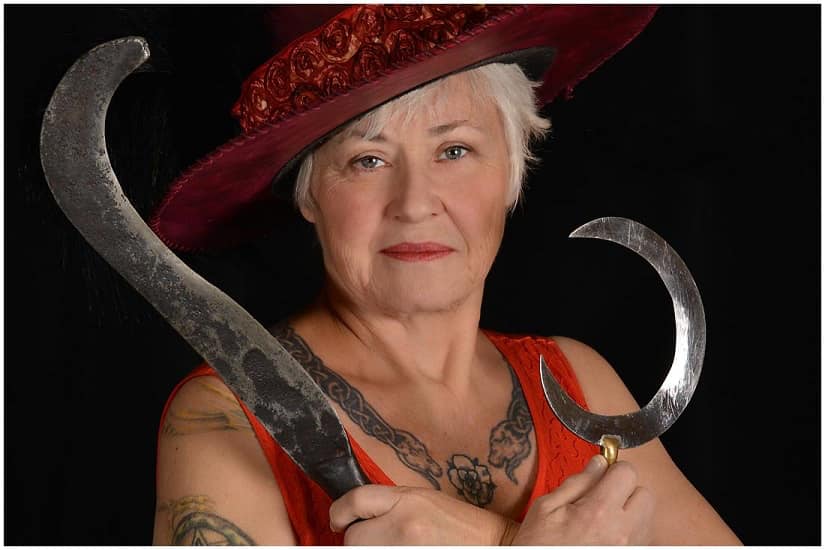 It has taken a little while to write this and several attempts. It is with a heavy heart that I write that Rita Morgan, owner operator of Crone's Hollow, Salt Lake City, has passed across the veil into spirit. Rita is a strong spirit, a force of nature, and all who meet her are immediately aware of her towering strength and respectful demeanour. That being said, she has a ready and wicked sense of humour, a generous teacher and provided both time and space for those willing and prepared to accept.
A powerhouse to both Utah and Los Angeles pagan communities, Rita was a Californian by birth and the Witch Mother of the Ced line of Traditional Witchcraft. Together with Griffin Ced, the Devil and Witch Father (and Manager at The Green Man, LA), Rita led the most audacious and tremendously potent public rituals. Indeed, I was privileged to witness rites at All Hallows that operated with technique and spirit work that few in the UK would have the benefit of access to in private, let alone public ritual. Overall, Rita, with quick wit, but stern reverence and total commitment to witchery, held the magical space with a quiet yet absolute fortitude. Rita was utterly a mystic heart, with both understanding and awe in her approach to magic and the commitment to see it through to the absolute end.
As Witch Mother of the Ced family and lineage, Rita was instrumental in assisting Griffin to create the Ced Tarot through his gnostic vision. Indeed, since meeting Griffin, Rita worked tirelessly with him as magical partner for over 25 years, manifesting the Ced line of Heretical Witchcraft and embodying the very nature of matriarch to a family, as well as founder of a community of pagans and witches. At times mother, guardian and guide, Rita's passing from the corporeal will be most felt by those who knew her through the groups that operate within Salt Lake City and Los Angeles. Although her influence crossed the pond to a land she adored and had an affinity with, along with a shared love of old British drama such as All Creatures Great and Small, the indelible memory of a Lady who truly lived a magical life will be most resonant in the communities that were blessed to know her as a leader.
There is a memorial to be held in honour of Rita on 1st November at Crone's Hollow, Salt Lake City. A Los Angeles memorial will also be held at The Green Man on the 24th October. Rather than flowers, the family have requested that donations be made to Southern California Bengal Cat Rescue . Please be sensitive and respectful of those closest to Rita, including her witch family.