(John Voelz, Follow You, Follow Me: Why Social Networking Is Essential to Ministry, 2012,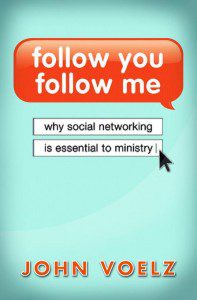 159 pages.)
This book review is a sponsored post that is part of the Patheos Book Club.
Do ministers need to add their Klout scores to their resumes? Do congregational search committees need to take social media prowess into account when hiring staff? (For the uninitiated, Klout is a fledgling way of measuring your social networking influence compared to other people.)
When I attended a recent ministry conference, we were told, "Keep your cell phones on. You may get a call about something we all want to know about." Whereas many events issue dire warning — bordering on threats — if someone leaves a cell phone on and it interrupts the proceedings, this conference was operating under a different paradigm. The approach was open-source and networked. (For a contrasting perspective, see the recent New York Times article about the scandalous cell phone ring that interrupted a New York Philharmonic concert: "Ringing Finally Ended, but There's No Button to Stop Shame.")
We live in an increasingly flat, interdependent, and interconnected world. And there was no presumption that this conference needed to be closed and isolated. Indeed, the Twitter feed from the event was being projected on two large screens. Irrespective of the speaker, anyone with an smartphone or laptop could comment at anytime for everyone to see. I found this format engaging, not distracting. And many people unable to attend the conference appreciated the opportunity to follow the Twitter feed remotely. The Twitter feed not only amplified the major points each speaker made, but also provided a transcript of the highlights that I could review at a later date.
I'm not an early adopter of technology. I didn't get an smart phone until the iPhone 4 was released, and I still do not have an iPad. But I am a social media enthusiast. I have found that both Facebook and Twitter regularly connect me with friends, colleagues, and resources.
While I wouldn't necessarily go so far as to say, along with the title of Voelz' book, that social networking is "essential" to ministry, I would say it is highly recommended. (And, yes, I know that generally publishers, not authors, have control over book titles.) Social Media — if you limit your time online in a responsible manner — can be a low-impact way of being in touch with significantly more members of your congregation than would be possible with phone or in-person visits. Moreover, social media can be a way of discerning what members may need an email, phone call, letter, or visit. Social Media is also a way to promote events in a way that your members can share, and in which your congregation's YouTube video, for example, could potentially "Go viral."
I would also add my standard word of caution to avoid posting anything on Social Media that you wouldn't potentially want everyone in the world to read. Social Media is by definition inherently social and made to be easily shared.
For all these reasons and many more, Voelz book is a good introduction if you are new to the intersection of social media and ministry. Chapter titles include "Church and Cyberconfessionals" and "What Would Jesus Tweet?"
Also, some readers of this review may also be interested in Voelz' supplementary ebook "Tweet you Tweet Me: A Startup Guide for Churches."
Visit Patheos' Book Club website for more free resources related to this book.
The Rev. Dr. Carl Gregg is a trained spiritual director, a D.Min. graduate of San Francisco Theological Seminary, and the pastor of Broadview Church in Chesapeake Beach, Maryland. On July 9, 2012, he will start as the Minister of the Unitarian Universalist Congregation of Frederick, Maryland. Follow him on Facebook (facebook.com/carlgregg) and Twitter (@carlgregg).