(Tim Stafford, Miracles: A Journalist Looks at Modern Day Experiences of God's Power , 2012, 219 pages.)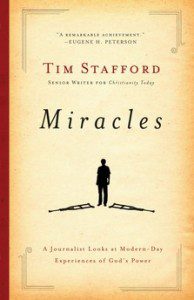 This book review is a sponsored post that is part of the Patheos Book Club. Chat with Tim Stafford about his new book and share your own experiences on Wednesday, July 25, from 2-3 pm EST, at the Book Club.
As I reflected on Tim Stafford's book about miracles both contemporary and biblical, a quote from Annie Dillard came to mind from her book For the Time Being:
There were no formerly heroic times, and there was no formerly pure generation. There is no one here but us chickens, and so it has always been: A people busy and powerful, knowledgeable, ambivalent, important, fearful, and self-aware; a people who scheme, promote, deceive, and conquer; who pray for their loved ones, and long to flee misery and skip death. It is a weakening and discoloring idea, that rustic people knew God personally once upon a time — or even knew selflessness or courage or literature — but that it is too late for us. In fact, the absolute is available to everyone in every age. There never was a more holy age than ours, and never a less. (88)
A more scientific or philosophic word for Dillard's point is uniformitarianism, which is a long word for a simple idea: a worldview emphasizing the uniformity of natural laws in the universe throughout time. In other word, the same natural laws governed the universe before, during, and after the biblical period. I would strengthen this point to say that neither the Bible nor any other sacred text correlates to some magical time when the laws of physics were periodically suspended — either yesterday or today.
In contrast, a supernatural intervention seems to be precisely the sort of miracle in which Stafford is most interested. And while I am sympathetic to attempts from Process-Relational Theology or Jungian Psychology to re-imagine how we talk about God in dialogue with 21st-century science, Stafford has a much more traditionally evangelical understanding of God controlling all aspects of the universe (59).
On one hand, I appreciate his emphasis on what he was able to witness firsthand, directly for himself (8). On the other hand, he admits that much of what he discovered was "soft":
Allergies, back conditions, joint pain, and arthritis all change day to day. Their healing means a lot to the people directly involved, but it's not likely to impress outsiders. You can find similar healings at conferences dedicated to organic doofs or alternative medicine. (212)
Much more impressive, convincing, and compelling to skeptics would be, for example, a video of "amputated, regrown toes" (213).
For further study, see my sermon, "Everything's a Miracle":
http://broadviewchurch.net/2011/08/new-sermon-everythings-a-miracle.
Visit Patheos' Book Club website for more free resources related to this book. Chat with Tim Stafford about his new book and share your own experiences on Wednesday, July 25, from 2-3 pm EST, at the Book Club.
The Rev. Dr. Carl Gregg is a trained spiritual director, a D.Min. graduate of San Francisco Theological Seminary, and the minister of the Unitarian Universalist Congregation of Frederick, Maryland. Follow him on Facebook (facebook.com/carlgregg) and Twitter (@carlgregg).
Learn more about Unitarian Universalism:
http://www.uua.org/beliefs/principles/index.shtml