(Logan Mehl-Laituri, Reborn on the Fourth of July: The Challenge of Faith, Patriotism &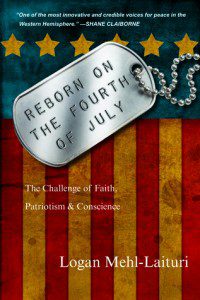 Conscience, 2012, 239 pages.)
This book review is a sponsored post that is part of the Patheos Book Club.
One of my heroes is Clarence Jordan (1912-1969). In college, he began to experience cognitive dissonance between his patriotic love of country and his religious beliefs. He had been studying Jesus' Sermon on the Mount (Matthew 5-7), and unexpectedly during ROTC calvary practice, Jesus' command to "Love your enemies" (Matthew 5:44) kept springing mind. He tried to ignore this thought, but he kept hearing Jesus' words in his head each time he rode by and practiced stabbing the straw dummies with his saber: "Love your enemies." After a few rounds, he was convicted, and resigned from ROTC in the middle of practice. Jordan went on to found a radical Christian community in the deep South that was committed to interracial work in the decades before the Civil Rights Movement. Habitat for Humanity was also birthed out of Jordan's work.
In military jargon, Jordan experienced what is known as a "crystallization of conscience." Prior to his experience that fateful day, Jordan's conscience had been compatible with carrying a weapon in military service. Afterward, his conscience — his inner conviction — had solidified in a way that was incompatible with the certain aspects of the military. Logan Mehl-Laituri had a similar experience, although it played out over a longer period of time (85-87).
Mehl-Laituri's book importantly describes how current military training often teaches "reflexive fire," bypassing the conscience or any conscious thought. (Conscience literally means "with knowledge or awareness.") He specifies that reflexive fire is:
distinct from many law enforcement agencies, where trainees are taught to fire only if a target poses a credible threat…. The result of operant conditioning is that repetition can callous the individual to the moral challenge of war. It effectively hardens the hearts of service members and discourages moral clarity. This should trouble us, as reflective fire is closely associeated with post-combat depression and suicide. (34-35)
When I was a youth minister, I used Soldiers of Conscience, a 2007 documentary that Mehl-Laituri recommends, as a tool for reflecting ethically and theologically with young people on this practice. The film, "profiles eight American soldiers: four who decide not to kill and become conscientious objectors, and four who believe in their duty to kill if necessary."
Significantly, Mehl-Laituri did not seek discharge; he sought "to continue military service as a
noncombatant conscientious objector." Moreover, after leaving the army, he went to Palestine with the Christian Peacemaker Teams, who seek to be as willing to risk their lives in nonviolent activism as military professional are willing to risk their lives in the violence of war. The seek to embody a response to the following prophetic call:
What would happen if we in the Christian church developed a new nonviolent peacekeeping force of 100,000 persons ready to move into violent conflicts and stand peacefully between warring parties in Central America, Northern Ireland, Poland, Southern Africa, the Middle East, and Afghanistan? Frequently we would get killed by the thousands. But everyone assumes that for the sake of peace it is moral and just for soldiers to get killed by the hundreds of thousands, even millions. Do we not have as much courage and faith as soldiers?
There is much more to Mehl-Laituri's story. If your curiosity is piqued, I commend his book to you: Reborn on the Fourth of July: The Challenge of Faith, Patriotism & Conscience.
On this Independence Day in addition to celebrating the many freedoms we enjoy in The United States, I invite you to reflect on what it could mean to work toward greater interdependence of all human beings in all places.
(Bonus: This author also taught me a new word: echthrophiliac, "one having an abnormal love for one's enemies.")
For Further Study
Visit Patheos' Book Club website for more free resources related to this book.
The Rev. Dr. Carl Gregg is a trained spiritual director, a D.Min. graduate of San Francisco Theological Seminary, and the pastor of Broadview Church in Chesapeake Beach, Maryland. On July 9, 2012, he will start as the Minister of the Unitarian Universalist Congregation of Frederick, Maryland. Follow him on Facebook (facebook.com/carlgregg) and Twitter (@carlgregg).