This list is not my favorite new releases; instead, it is the best of the albums I listened to since this time last year. This list is also in alphabetical order because agonizing over a precise order would take all the fun out of remembering these albums:
Andrew Bird, Hands of Glory / Break It Yourself (Deluxe)
Two CD edition including both the critically-acclaimed full-length Break It Yourself and Hands Of Glory in which the full band plays to a single microphone with an entirely acoustic setup.
The Black Keys, Brothers
Guitarist Dan Auerbach and drummer Patrick Carney illustrate the durability of their few-frills sound, a mysterious and heavy brew of seventies-vintage rock, classic R&B and timeless, downhearted blues.
The Civil Wars, Barton Hollow 
This duo's chance meeting fueled an immediate songwriting chemistry and creative synergy. Their second show ever, performed at a sold out Eddie's Attic, was recorded and released as a free digital album.
Bob Dylan, Tempest
This highly-anticipated 35th studio album coincides with the 50th anniversary of his 1962 eponymous debut album. Bob Dylan's four previous studio albums have been universally hailed as among the best of his storied career, achieving new levels of commercial success and critical acclaim for the artist.
Divine Fits, A Thing Called Divine Fits 
A "super group" from Britt Daniels of Spoon and Dan Boeckner of Wolf Parade. 
Fleet Foxes, Helplessness Blues
This record see the band heighten and extend themselves, adding instrumentation (clarinet, the music box, pedal steel guitar, lap steel guitar, Tibetan singing bowls, vibraphone, etc., along with more traditional band instrumentation), with a focus on clear, direct lyrics, and an emphasis on group vocal harmonies. One of the prevailing themes of the album is the struggle between who you are and who you want to be or who you want to end up, and how sometimes you are the only thing getting in the way of that.
Jonny Greenwood and Krzysztof Penderecki, Threnody for the Victims of Hiroshima / Popcorn Superhet Receiver / Polymorphia / 48 Responses to Polymorphia
An album of works by Polish composer Krzysztof Penderecki and composer/Radiohead guitarist Jonny Greenwood. The artists' work was presented side-by-side in two concerts in September 2011, highlighting Penderecki's influence on younger composers. London's Independent called Penderecki "Poland's godfather of the musical avant-garde" and Greenwood "the doyen of English art-pop," describing their concert as "rapturously received."
I'm also a much bigger fan of Greenwood's work on The Master Original Motion Picture Soundtrack than I am of the film, although I generally love P.T. Anderson's movies. For more, see my review, "Does The Master Have Clothes?"
Head and the Heart, The Head and the Heart 
So many decisions come down to a tug between the logic in our heads and the hot red blood beating through our hearts. This Seattle band find joy and beauty wedged there. Their music pulses effervescently both explosively danceable and intuitively intelligent. With Americana roots and strong vocal harmonics that swell like a river, this band finds its anchor in solid songwriting that has even the jaded humming along by the second listen.
Magnetic Fields, 69 Love Songs 
Initially conceived as 100 love songs arranged in alphabetical order for theatrical revue performance, Stephin Merritt–indie-pop songsmith and Magnetic Fields spearhead–downsized his ambitious concept project to 69 Love Songs. Parleyed into three volumes, Merritt, as on other outings, is joined by a rotating cast of musicians including manager Claudia Gonson. These players take on the role of orchestra and cast to Merritt's madcap composer, librettist, and performer, augmenting his lo-fi electronic-based rock with sparkling instrumental touches and narrative vocals for a portion of his absurdly wondrous ditties. Endlessly intriguing, the Fields revisit not only earlier themes of love both shunned and requited, but continue to forge a seemingly impossible synthesis of country-tinged Euro-pop and old-school musical theater. No stranger to melancholy, Merritt's twinkly music-box world, in shades of resplendent violet, is beautifully peopled with incurable romantics who drop pop-culture references and shed gender identity as often as most folks change their underpants. Not surprisingly, 69 Love Songs is delicious defeat on the romance front while pulling ahead as Merritt's most coherently engaging listen.
I really enjoyed listening to this album while reading LD. Beghtol's Magnetic Fields' 69 Love Songs: A Field Guide.
Yo-Yo Ma, et al, Goat Rodeo Sessions (CD/DVD Deluxe Edition)
 The Goat Rodeo Sessions has sold over 160,000 albums, debuted at #23 on the Billboard Top 200 chart (Yo-Yo Ma's highest debut), #1 on Billboard s Classical Crossover and Classic'l Overall charts, and debuted and remained at #1 for 11 weeks on the Billboard Bluegrass chart. The CD includes the original bestselling album with five additional songs: two studio tracks and three songs recorded live at House of Blues in Boston.
 Bonus
Magin and I have both been catching up on Leonard Cohen this past year through his Complete Studio Albums Collection. I intended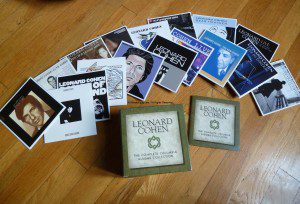 to buy only one of Cohen's albums, and stumbled onto this eleven CD box set containing all of the Canadian singer/songwriter's albums from 1968 to 2004, which comes out to only $5.57 per album. And it all started with listening to his new album Old Ideas.
A standout single of the year for me is the track "Animal Life" from Shearwater's Animal Joy, although I didn't love the rest of the album nearly as much.
What are some of your favorite albums or songs from this past year?
What should I be listening to in 2013?
I welcome your feedback in the comments section.
Previous Lists
Top 10 Best Albums Listened to in 2011
Related Posts
Top 10 Best Books Read in 2012
The Rev. Dr. Carl Gregg is a trained spiritual director, a D.Min. graduate of San Francisco Theological Seminary, and the minister of the Unitarian Universalist Congregation of Frederick, Maryland. Follow him on Facebook (facebook.com/carlgregg) and Twitter (@carlgregg) . 
Learn more about Unitarian Universalism:
http://www.uua.org/beliefs/principles/index.shtml