[The following is a both a sponsored book review that is part of the Patheos Book Club and a guest post by my friend The Rev. M. Michael Morse.]
"Good my Lord, will you see the players well bestowed? Do you hear, let them be well used, for they are the abstract and brief chronicles of the time." -Shakespeare's Hamlet
Jeanne Murray Walker has lived in that unfortunate long line of those who have witnessed firsthand the devastating disease of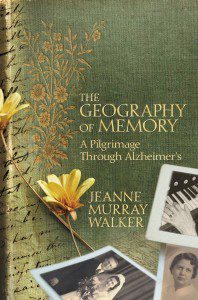 Alzheimer's in a family member. Her experience has served as a catalyst for a brilliantly written story of her family. In-depth portraits emerge in these pages not only of her diseased mother, Erna, but also of her two brothers, one of whom died right after he entered college, a sister, an uncle, her husband, and of course herself. Through one flashback after another we are taken on an incredible journey through time, from childhood and adolescence to young adulthood, to maturity, from places in the Midwest and then to Dallas, Texas, with stops along the way in Philadelphia, and a riveting and harrowing experience in Paris at the very end of the tale. Those of us who are in our later years of life recognize the benchmarks Walker sets before us not only of our own journeys toward adulthood and on, but also of the ways in which our society has changed through the years.
Walker says she has written this account "because I believe the news about Alzheimer's is more hopeful than what we hear on the street." That may, indeed, be the case, yet scant mention is made of the research being done, grossly underfunded by our society, to eradicate this disease or find a cure for it. Walker ends her preface by stating the obvious for those of us who are presently undergoing a journey similar to hers: "Alzheimer's is bleak. It is. But it is not all horror. My mother's last years reveal that for all the heartache, there can still be joy and laughter, insight and love." This is a profound truth which encourages those of us on the journey to see within it what she has seen, namely the gifts of the past with family members, especially the one with Alzheimer's.
Walker does a splendid job on the one hand, of separating the Alzheimer's person from the disease, yet making bridges through what she calls metaphor, with the personality of the past. So she is able to see in the dementia of her mother those precious, idiosyncratic, irritating, loving characteristics of the past, still present in the progression of the disease.
Those looking for a linear account of the progression of Alzheimer's in one person, will be frustrated by this book, for it is much more. It is not only about the geography of memory being lost, but also of memory being refreshed and brought into bold relief for a whole family. It is rich and powerful. In one of her Field Notes, Walker writes, "History has everything to do with memory. If we don't write down what we've witnessed, we will forget it and lose it entirely….I am trying to record in these pages what I witnessed."
Visit Patheos' Book Club website for more free reviews and resources related to this book.