Yesterday I posted on Is Your Job Predictable? Immigrants Aren't Coming for Your Job, *Robots* Are. An overarching question is whether Artificial Intelligence is "progress"? Or are we programming our own obsolescence? For instance, Kurt Vonnegut's (1922 – 2007) first novel, Player Piano, published in 1952 is about an "automated economy in which industrial machines managed by a tiny technical elite did virtually all the work, while the vast majority of the population faced a meaningless existence and a hopeless future" (32). Vonnegut's science fiction seems increasingly less fiction and more science.
Consider that:
YouTube was founded in 2005 by three people. Less than two years later, the company was purchased by Google for about $1.65 billion. At the time of its acquisition, YouTube employed a mere sixty-five people, the majority of them highly skilled engineers. That works out to a valuation of over $25 million per employee.

In April 2012, Facebook acquired photo-sharing start-up Instagram for $1 billion. The company employed thirteen people. That's roughly $77 million per worker.

Fast-forward another two years to February 2014 and Facebook… which purchased the mobile messaging company WhatsApp for $19 billion. WhatsApp had a workforce of fifty-give—giving it a valuation of a staggering $345 million per employee. (175)
"Contrast that with the automotive industry. At peak employment in 1979, General Motors alone had nearly 840,0000 workers but earned only about $11 billion—20 percent less than what Google raked in, in 2012, while employing fewer than 38,000 people. And, yes, that's after adjusting for inflation" (76).
How then, should we help build a more hopeful future with "peace, liberty, and justice" for all, not merely for some? Among a list of contemporary prophets, many would include the writer, environmental activist, and cultural critic Wendell Berry (1934-). One of the central questions he asks has stuck with me since I first read it many years ago: What are people for?
The U.N. Declaration of Human Rights, upholds "The inherent worth and dignity of every person." This value has the potential to help us shape a very different sort of society than one in which humans are only valued for the profit margins our labor can generate for corporations.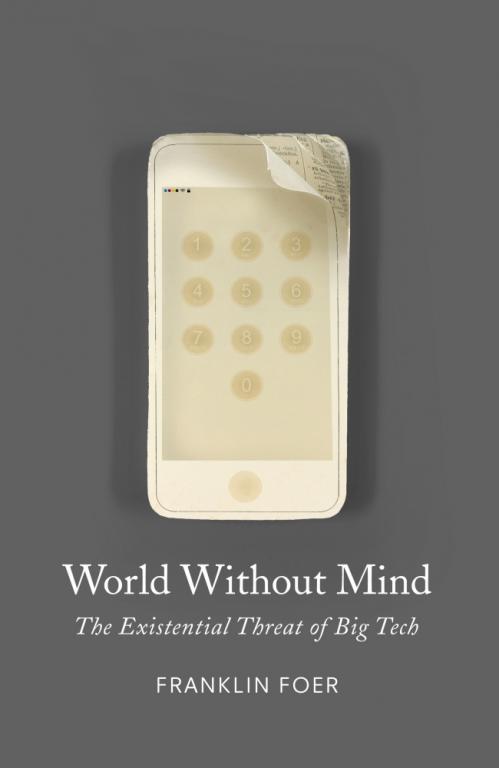 If you are interested in exploring this topic further, at least equally important to Martin Ford's Rise of the Robots is a bestseller that The New York Times named as one of the top 100 books of 2017, World Without Mind: The Existential Threat of Big Tech by Franklin Foer (Penguin Press). Foer has a particular interest in this topic. He was hired to be the editor of the New Republic in 2012, when that media organization was bought by Chris Hughes, who had been roommates at Harvard with Mark Zuckerberg, the co-founder of Facebook. This purchase was originally hailed as a prime example of the way that some of the profits these new tech companies were making could be merged with traditional media. But, a little more than two years later, Hughes fired Foer, saying the profit margins were too slow to rise (7-8).
And recent headlines are siren calls that things can go really badly within our new world of twenty-first century technology. Witness the ways Russian hackers helped manipulate the American public in order to help elect a Reality TV star as President of the United States (221). Or consider just the first lines of an article from this past week's New York Times: "Cambridge Analytica, the political data firm with ties to President Trump's 2016 campaign, suspended its chief executive, Alexander Nix, on Tuesday, amid the furor over the access it gained to private information on more than 50 million Facebook users.
Reflecting on the growing power and influence of the big four tech companies—sometimes abbreviated GAFA (Google, Apple, Facebook, and Amazon)—Foer writes:
We have deluded ourselves into caring more deeply about convenience and efficiency than about the things that last. Compared to the sustained nourishment of the contemplative life and the deep commitment to text, many of the promiscuous pleasure of the Web are vanishing. The contemplative life remains freely available to us through our choices—what we read and buy, how we commit to leisure and self-improvement, the passing over of empty temptation, our preservation of the quiet spaces, an intentional striving to become the masters of our mastery. (232)
But the technology corporations are actively trying to exploit our human weaknesses, keeping us enthralled to their products, giving them increasing amounts of data about ourselves, and augmenting their quarterly profits, even as they, in turn, use our attention and data to lure advertising dollars.
We need a "triple bottom line" one that accounts for people, planet and profit–not merely profit alone. Unfortunately,  the incentives for short-term profits are too great to expect corporations to do the right thing on their own. To be even more direct, as best I can tell, there is a three-word answer that is the best way of responding to the rise of the robots, and that is a Universal Basic Income. I said a lot more about what that would mean in a Labor Day post titled "Beyond $15: The Sturdy Floor of a Universal Basic Income." And I was interested to read this line near the end of Martin Ford's Rise of the Robots: "Some form of guaranteed income is probably the best overall solution to the rise of automation technology" (272).
For now, regarding the choices before us as a species, I will leave you with these words from Wendell Berry's book What Are People for?:
I knew a man who, in the age of chainsaws,

went right on cutting his wood with a handsaw and axe.

He was a healthier and a saner man than I am.

I shall let his memory trouble my thoughts.
The Rev. Dr. Carl Gregg is a certified spiritual director, a D.Min. graduate of San Francisco Theological Seminary, and the minister of the Unitarian Universalist Congregation of Frederick, Maryland. Follow him on Facebook (facebook.com/carlgregg) and Twitter (@carlgregg).
Learn more about Unitarian Universalism: http://www.uua.org/beliefs/principles