Today's post is by a guest contributor: writer, photographer, and filmmaker Cassidy Hall. 
Photo by Cassidy Hall.

…your silences will not protect you…

— Audre Lorde
I used to be a quiet kid that sat in the corner of the room when I'd get overwhelmed. If I was upset, you could find me crying somewhere alone or sprinting to the prairie-land just behind my childhood home for some comfort from the wide open sky. These were the ways in which I met myself; the ways I paid attention to the world and my internal voice's direction.
However, moments like this don't come as easily anymore. As an adult, living in Los Angeles, finding a wide open, and clear, sky is nearing impossibility and sometimes escaping to the corner of a room creates new sounds of it's own. I'm assaulted by my to-do lists, the things I've left undone, and even my own internal noise. The bombardment upon my senses from sights and sounds is constant and it seems that no one is exempt from this violent hazing from the world's noise.
And, it's not just our senses.
We also see the noises of inequality arise: in our political system–the bursts of noise in the form of pursuing domination and minimizing love, the places where inequality is blatantly violent, the times where we see barefaced racism, sexism, homophobia, xenophobia… Not only does it seem our silences in verbal form imply indifference, but it also insinuates consent to any injustices before us. How can I live out a centeredness in silence amid all the violence and injustice?
Because of the awareness that love and domination cannot coexist, there is a collective call for everyone to place learning how to love on their emotional and/or spiritual agenda.

— bell hooks
Allowing our words and actions to be informed in the pauses of our lives is becoming almost impossible. Because we're too busy. Because we're occupied. Meeting ourselves and our stance in the silences that inform our very personhood is becoming nearly extinct. Yet, it is the silence that still informs my way of being. It is the silence that stills me and informs my necessary actions in a world that demands we stand up for one another. It is the silence that does not exempt me from taking a stand, but empowers me to do so.
When we ask the marginalized to wait for equality as we have slow conversations, we're asking them to waste their one life.

— Sarah McBride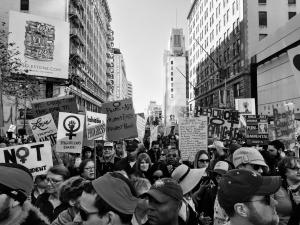 Silence stills me to hear what is being asked of me to be spoken into and stood up for for in these times. Without the silence, I am anxiously flailing in a sea of things that need to be done and am as good as a drowning person flapping around in the water. But it is the silence that disarms my ego and mobilizes my compassion. It is the silence that disrupts my personal agenda and points me towards humanity. Silence strips me of my preconceived notions and assumptions so that I may be unified with the rest of humanity. In this way, silence is a place of humility, recognition, and transformation.
Greedy contemplatives want to possess themselves of the light without bothering about compassion. Merely good people try to be compassionate and refuse to bother about the light. It's a question of making the best of both.

— Aldous Huxley, Islands
The contemplative seems to have an inner soreness that is never alleviated because they truly are intertwined with each being in this world. This inner soreness can often be debilitating in a world engulfed with pain, particularly if we're not tending to both our interior and exterior world (or as Huxley put it our compassion and our light). This inner soreness does not justify inaction, but provides a unique depth of unity to act from.
Contemplative experience and nonviolence, it seems, require simultaneous embrace in a dance of mutual reinforcement.

— Gordon Oyer
So I take the time to lean into the sacred pauses, the stillnesses, the silences, the moments I often must enforce upon a day for the sake of re-centering. Because these sacred pauses buoy up the quiet whispers of who I am and make me more deeply connected with my fellow human…. the fellow human whose rights are at risk, the fellow human whose lives are on the line, the fellow human who is a part of who I am.
I'm still the quiet type. The one you can find weeping over injustices or internal agonies and stirrings of my soul. But I've seen the way these silent places of connection with myself become a bottomless well of connection with others. I've touched and encountered this infinite well of silence that never fails to point me to the infinite capacity of compassion within me.
Cassidy Hall is a writer, photographer, filmmaker with a MA in Professional Counseling. She co-produced the documentary film In Pursuit of Silence, and is in process of completing a companion book, Notes on Silence, which will feature a portion of this essay. Notes on Silence is co-authored by Director Patrick Shen and can be pre-ordered here. To learn more visit www.cassidyhall.com, and/or connect with her on Twitter, Instagram, and Facebook.
---
Enjoy this post?


Click here to learn about (and support) another project
Carl and Cassidy are working on together.

---