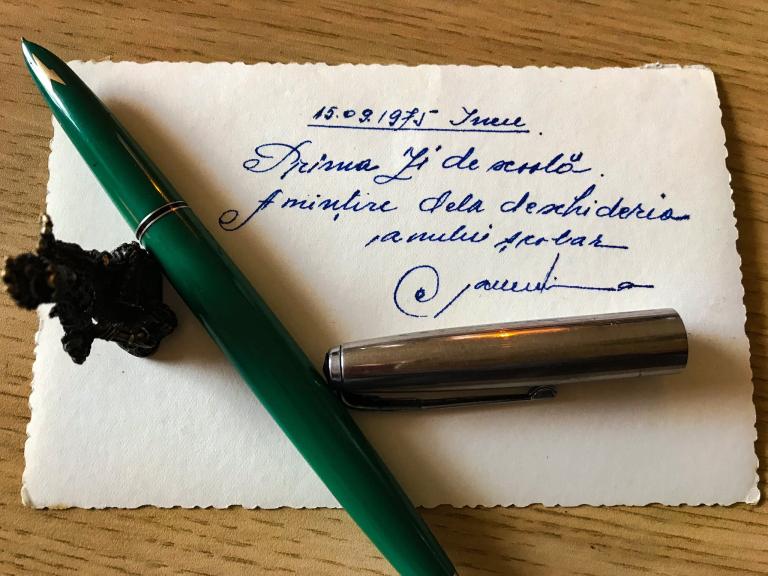 My first day in school in 1975 I got a fountain pen from my parents.
I posed for a photograph that my father immediately inscribed with my new Hero. The Hero Rainbow (tribe) Chinese pens were all the rage at the time.
I had a crush on his handwriting. I have as yet to see a more beautiful writing style.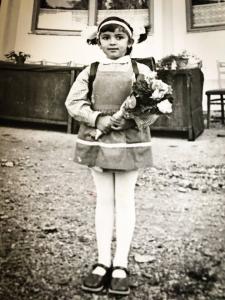 The fountain pen and my father's calligraphy started for me a collector's phase. I ended up owning hundreds of calligraphy and fountain pens. The best of them got lost. As did my desire to attain my father's perfect writing.
But guess what. As fate would have it, I still have my first fountain pen. And it still works. I can safely say that it was, and still is, the best fountain pen I've ever had. When I hold it in my hand, some strange magic happens.
Although my scribbling and doodling changed character and form many times since my childhood days, one thing never changed: My attitude towards what I perceive is beauty in writing maintained by balance between the lines, ink pressure, and the white space.
When I respond to particularly beautiful handwriting with a simple, 'Ah,' sinking also into the sublime, I hear my father whisper: 'Yes, yes, yes, keep going. It's exactly like this.'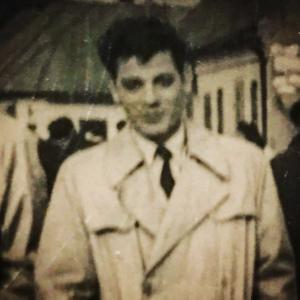 My father died when I was 8, so I didn't get to share much with him. But this I remember: His instruction on how to hold the fountain pen for the most flowing cursive impression.
To be honest, I absolutely hated his teaching, as he used to tie my index finger to a slate since I resisted keeping it as straight and parallel to the tip of the pen as possible.
I hated him deeply for that, as I insisted that I had most control when I kept my finger bent in a certain way. He, on the other hand, insisted the opposite. He insisted that the kind of control I was talking about was an illusion. Of course, a young girl of 8 knew everything, and her father was wrong about everything. Just look at my own handwriting here…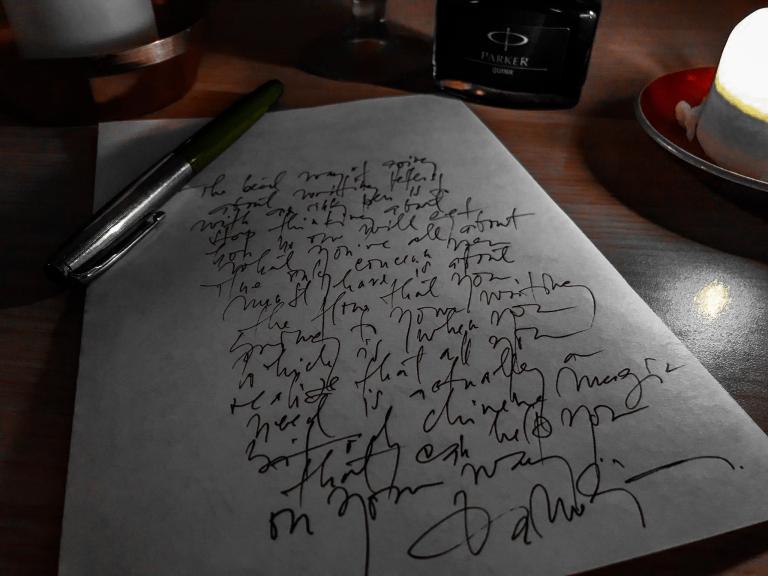 Some forty years pass…
I never shared any of my calligraphy interests in the public space, but it so happened that when I turned 49 this year I got a Chinese calligraphy set from a magical woman, Aitzie Olaechea, student of cartomancy, card collector, Feng Shui and I Ching master, calligraphy lover and stone carver. Little did she know…
I threw myself over her box with a lot of force. I even got new professional brushes from Shanghai, dug out my Chinese vintage ink sticks from the 50s and 60s – I do happen to have such things in the house – acquired a whole lot of rice paper, and started giving my doodling a new form again.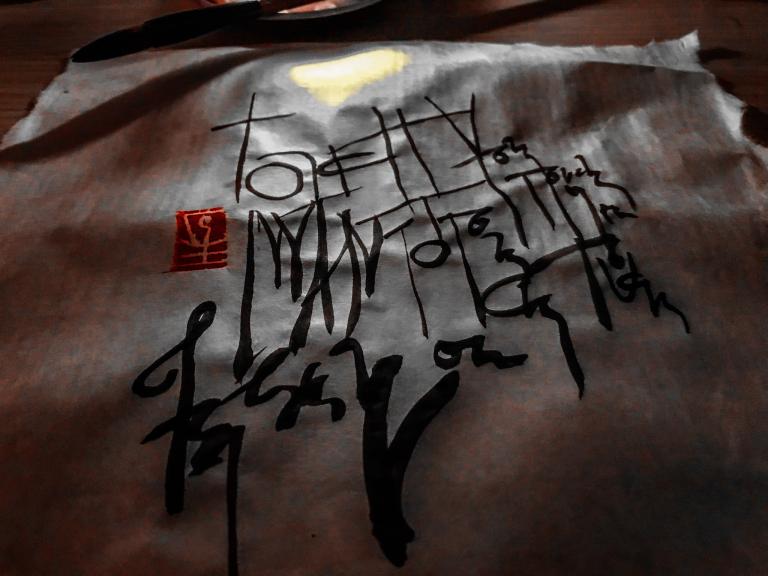 Aitzie decided that all this required more action. She designed a name seal for me, according to the old and venerable Chinese tradition. She went for the Shang dynasty script. Why the Shang dynasty? Well, because we owe them our writing skills; skills developed on divination with bones. Of course…
Aitzie decided that the 4 characters on the seal she designed for me – based also on parts of my name – represent my dharma name. I won't disclose it here what it is, as it's personal, but it should be easily recognizable to those accustomed to appreciating the art of chop stones in stamping action.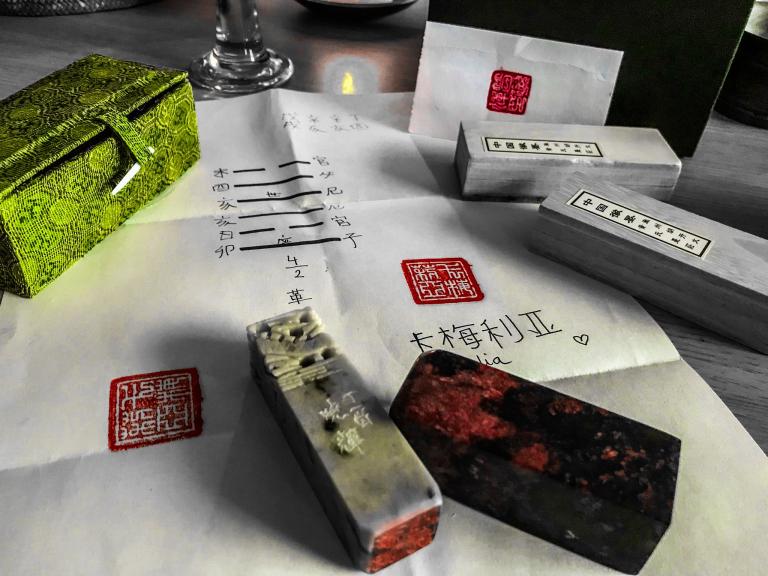 The stamp
The point of this post is simple, as it's prompted by my denial. Every time someone said anything about my handwriting and interest in the aesthetics of writing manifested as 'word and image', I'd make a dismissive gesture, saying always that 'it's nothing'.
That is a lie. It's not 'nothing'. It's a lot. Making an effort to keep your index finger in a certain way so you can hit the sublime cursive is not nothing.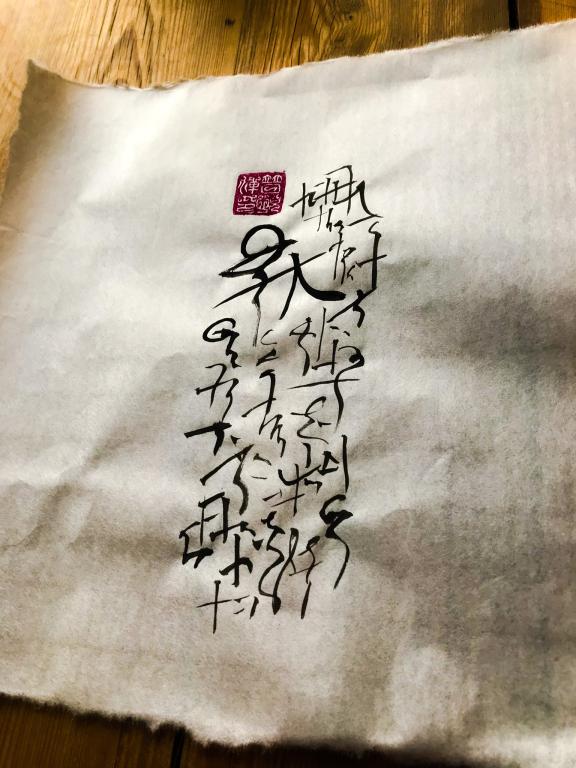 So today I want to thank my father, my masters, and the magical woman who 'accidentally' tapped into my deepest memories, bringing back to life what has been repressed.
It's 'official.' My youthful folly is going somewhere. I've no idea where, but this I know: It's going where all the other enchantment cards have been going, my divination and talismanic art.
How very wonderful to be able to stamp it all in such an exquisite way.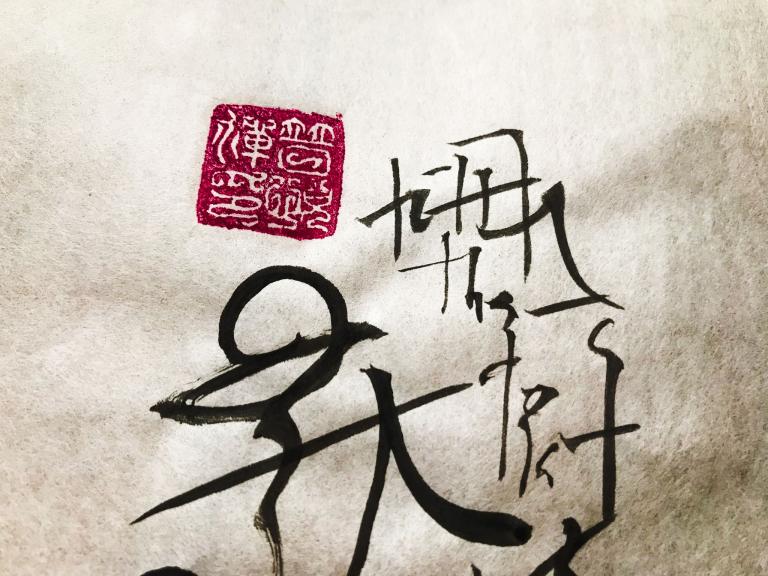 What do you know of your lineage of choice or blood?
Here's a specific question for you to ask your cards of where the transmission of a lineage is concerned:
What am I in denial of?
In my case: I'm in denial of the King of Clubs consolidating my heart's desire.
Perhaps the scribbling tradition is always self-established. Somehow I think that my Zen masters would approve, while hitting me with a stick, urging me also to keep going.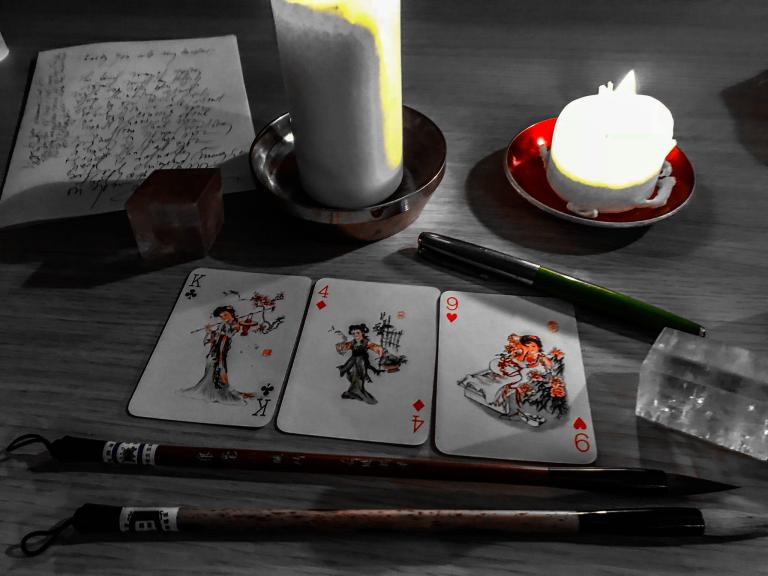 ♠
In the pipeline: The popular Tarot Prompts, this time on the topic, Cards and Coffee.
Stay tuned for the call on December 1, via The Art of Reading newsletter.