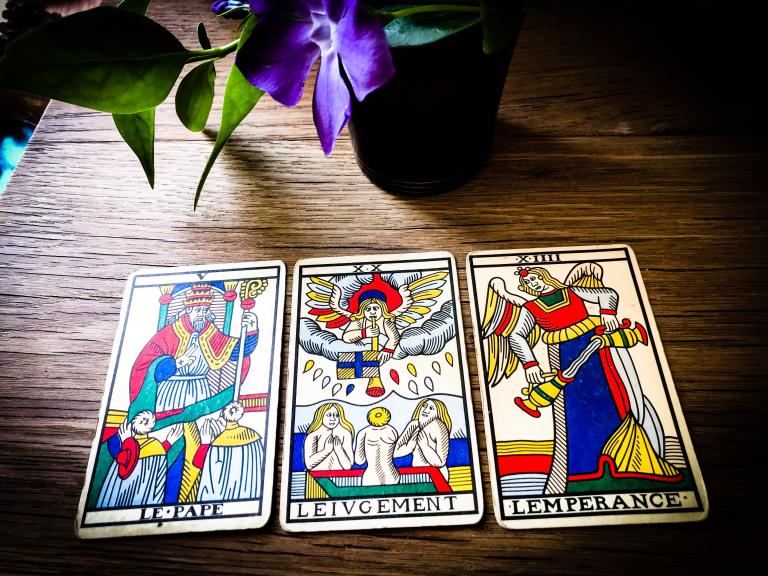 I'm looking at these cards, Pope, Judgment, and Temperance, and an odd idea befalls me.
Judgment is about alternative history. When we say that this card is about revelation or awakening, what are we really talking about? Alternative history.
In a way all resurrection stories are about waking up to a new reality. But in quantum physics parlance, the 'new' reality is not new at all, as it's been there all along.
I would like to see the Popes of the world stressing the idea that we live in a world of illusion. Our language, name, fate, gods, and will-power are all part of a system that maintains the dream of self as separate from the dreamer. What a waste…
But even as I say this, I realize that here's only so much preaching you can do. People will do what they will do, and most don't even like it at all that you tell them what to do.
So I won't say a word, especially since I'm in no 'believer camp' advocating for a 'new dawn', or for what is right or wrong.
If I have a wish at all, then it's the wish that people see how alternative realities and histories can be mixed up in all sorts of ways, especially since they are not even separated from what we call ordinary reality.
Healing from deep wounds in the soul, or from any kind of physical trauma, can occur if you realize that there are at least two versions of you that exist concomitantly: one that dies and one that awakens to a new life, one that loses and one that wins, one that loses and wins at the same time, and one that wins and loses at the same time.
In other words, you're surrounded by alternative histories of the present. The big awakening is to make that realization.
Part of the occult lore has already acknowledged this, and we see that a lot of discourse draws on knowing and understanding what the higher self has to say and what the unconscious has to say. What we call magic has already been established as being all about honing your conversational skills with all that we call the spirit world, the higher or alternative self, in other words, your deep mind.
I myself play a game with my cartomancy students that involves divining for what the self on the path not taken has to say.
For my own entertainment, I also divine a lot for the alternative history of historical events. My favorite genre is the Japanese warring era between 1467-1603.
For instance I ask the cards: What would have happened if Oda Nobunaga, the first general to attempt the unification of Japan, would not have been assassinated in 1582, in a very strange, fraction of a second, twist of fate?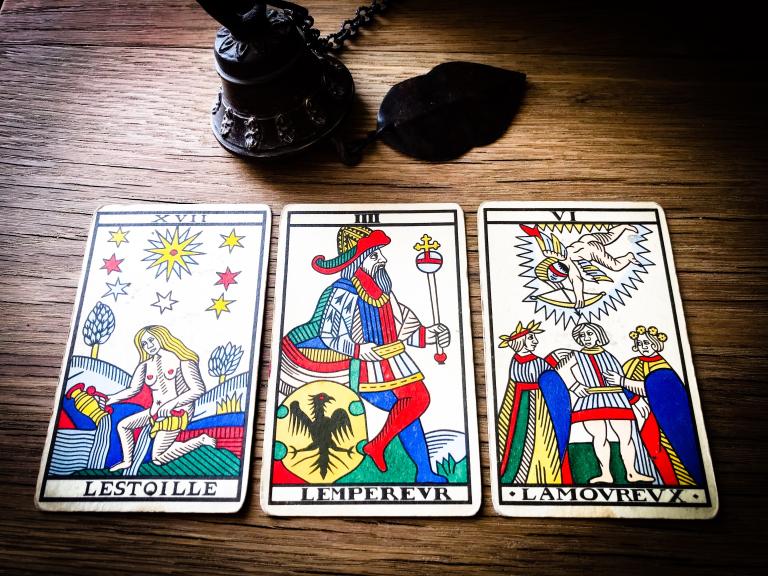 Star, Emperor, Lovers
The cards say: He would have ruled as the grand man of vision that he was, pursuing his dream of eradicating the court and elevating the Samurai to the absolute top position. Alas, however, his subalterns would have been forever vacillating, thus failing to see the big picture.
You may try to ask your cards similar questions, bearing in mind that any revelation carries the seed of the alternative story or history with it.
If Nobunaga came to me for advice, based on his cards here, I would say to him that what he needs is to make his vision crystal clear to the others, so that the possibility for misunderstanding and doubt would be minimized.
In a way he died precisely because of the fact that he gave up on the many and settled with just three who understood what he was all about. He lost patience with the ones who didn't get it, and they got him instead.
The advantage of posing questions about alternative events or paths or courses of action is that it gives you insight into what you can tweak in your current attitude towards life.
If you need more patience, or a strategy that enhances your magnanimity, what would you do? Where would you start?
The cards can give surprising and not so surprising answers. Take these answers and merge them into the story of you, now containing also the story of what you could have been, or might be in the future.
There's isn't any separation between the these versions, other than the one in your own head. Therefore the practice here is one of enlarging your field of vision so that it encompasses all of you: the past you, the present you, and the future you.
What if Justice informs you all the way through, stuck on the true self and nothing but, or the Devil suppresses your alternative selves, or enslaves you to them, or Temperance mixes up your various selves, thus creating a third mind? Would you even know the difference?
A flash of insight into your alternative history can change your path entirely. It can wake you up to new discovery and wholeness.
♠
Stay in the loop for cartomantic activities. Next in line is a workshop in June in reading Art Tarot.