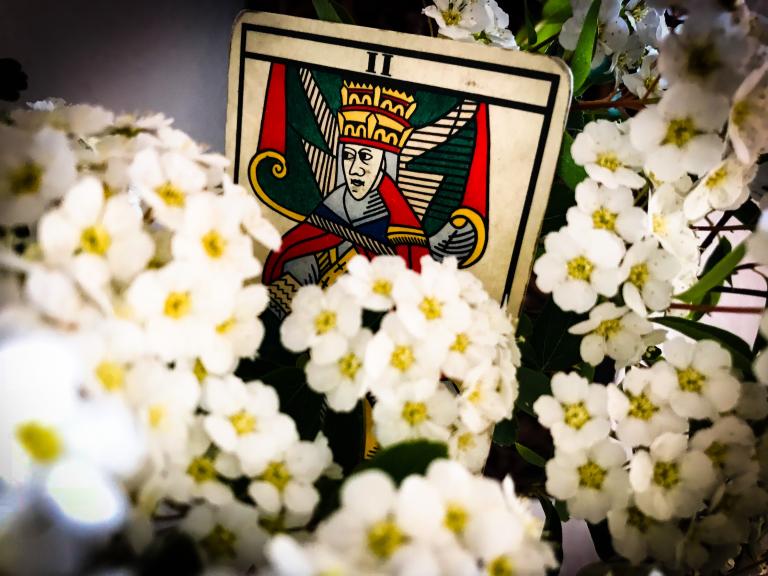 I've always been fascinated with ghostwriters, and I've had the pleasure of reading the cards for a few of them.
One of their common concerns is the following two-part lamentation:
'I'm writing for a schmuck, who has a name and an idea that gained commercial traction.'
'I'm embarrassed to have MY idea misrepresented.'
The first refers to private and personal frustration. The second refers to misguided public representation.
What bothers the disgruntled ghostwriters is that the 'writers' they write for are guilty of failing to make an important distinction between knowledge and wisdom.
Nowhere is this more apparent than at public shows connected with the launch of a book.
The ghostwriter's report goes as follows: The 'writer' is good at rehashing the principles that the ghostwriter has been good at formulating, thereby giving the impression of knowledge.
But the thing about principles is that they are based on basic understanding. You can have a lot of knowledge or be good at synthesis, but if you don't also have understanding of what you know, then you can be sure that this lack of wisdom is going to piss off a few people what happen to know the difference.
For instance, one way in which I distinguish between books is by looking precisely at what the author actually understands regarding his or her topic. There's always something in the book that will disclose the level of understanding that's based either on reflection or on borrowed ideas.
I made a whole career in publishing and making distinctions between knowledge and wisdom, and I can say with some degree of certitude that what moves the heart is wisdom, not knowledge in action.
Apart from books that fall into the category of what I'm trained to assess – literature and culture – I like to read martial arts manuals. Textbooks are the best examples of how you can train your discernment, as it's easy to see who writes because the topic is popular and easy to gather information about that is then flung to the desiring public ever so fast, and who writes because they actually have a basic understanding of what underlies the principles behind a style or a school.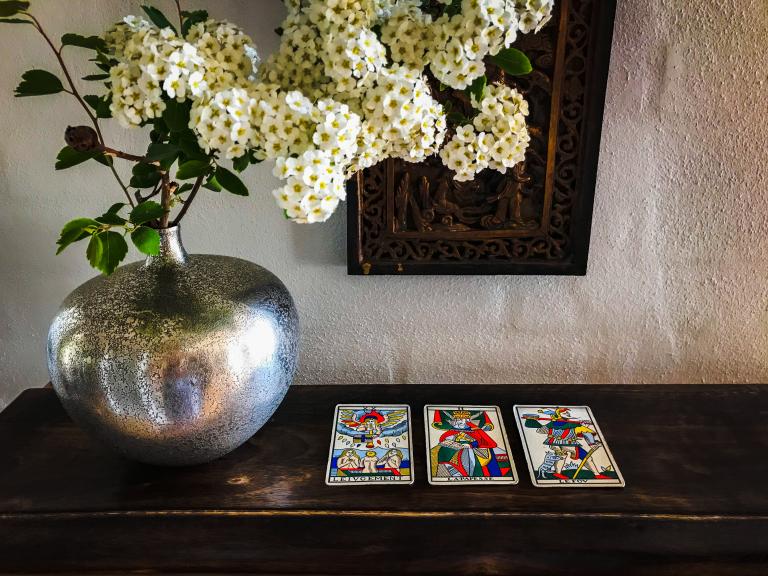 Going back to the Popess, I see her as a representation of not only what it means to know secrets – the meaning often associated with her function in esoteric tarot – but also what it takes to not divulge them.
When ghostwriters complain about their frustration, what they complain about is the secret that cannot be revealed regarding due authorship.
Many Marseille tarot enthusiasts have noticed the fact that the Popess looks into the void. She holds her book in her hands, in a gesture that's almost suggestive of dropping it, but her gaze contains a mysterious message. Perhaps what she's thinking is precisely this:
You are not to divulge the identity of the Fool you're writing for.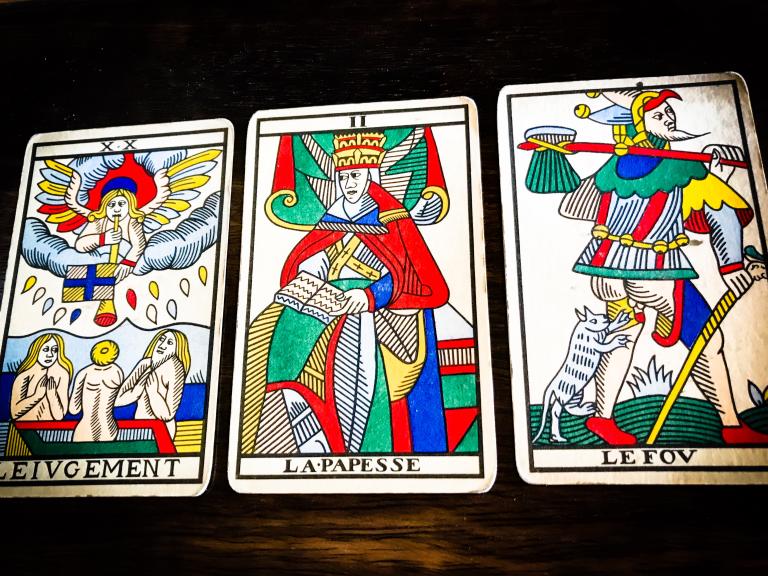 For a story about mainstream publishers that hire celebrity editors to make hot names famous, I recommend Rebecca Miller's collection of short stories, Personal Velocity. This volume is written with women in mind, and is initiated by the story of Greta, an editor also called the Grim Reaper, who does what there's to do to advance the author and herself – a better scenario than that of the ghostwriter who can only participate in advancing the 'author'.
Each of the seven stories features a woman who can be said to represent a version of the Popess who's challenged in her keeping or divulging a secret.
In between keeping and divulging a secret I see this principle at work: Action and temperament underlies the binary oppositions between writer and ghostwriter, woman and muse, wife and victim.
The point I'm trying to make here is that the way in which we read the cards follows our desire to go beyond the information and knowledge we can gain from the cards. Without processing the visual cues and information we receive, it's not very likely that we can gain understanding of predicament or of what we're generally dealing with.
Next time you see the Popess, think about words, the words that go into a narrative on all levels, as a reader of the cards, as a reader of books about cards, as a teacher of cards.
Is what know the result of real understanding, or is is based on textbooks rehashing lists of principles and meanings devoid of wisdom?
When the Popess is the ghostwriter, she invites you to contemplate precisely what sits between the secret and its revelation, between knowledge and wisdom, between claim and understanding.
♠
Stay in the loop for cartomantic activities. Next in line is Art Tarot. Latest essay on Taroflexions: Foliage in Pips: Unite or Divide.