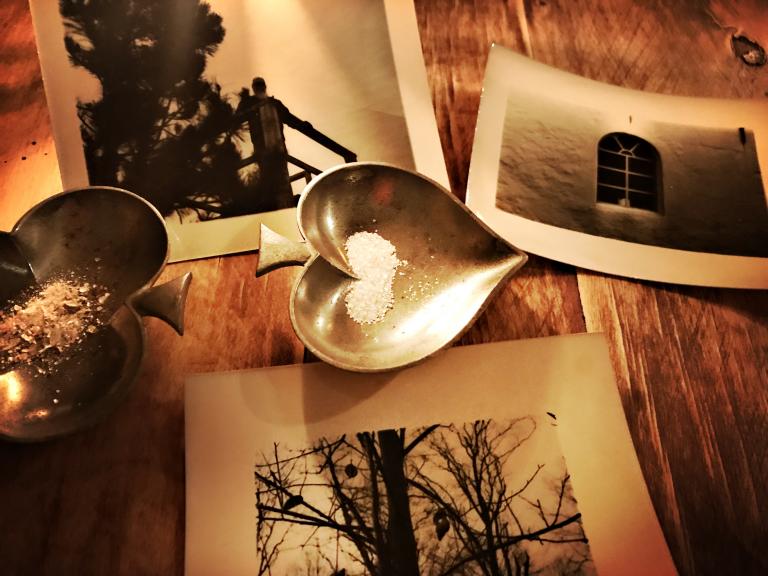 What I like about working with the cards is the possibility to invent new spreads. There's the classical ones, for instance the 3-card spread for past/present/future relations or the 4-card focus spread on love, money, health, and work, and then there's the original ones. The ones you think up yourself simply because you can, and because you're not invested in keeping up with Baba Yaga's cartomantic tradition, and whose descendent you are in a direct line.
Every morning with my coffee I invent something. You're welcome to today's concoction here, based also on a series of events.
Earlier this week I was visiting a hut in the nearby woods. Let's call it Baba Yaga's Hut. Outside the hut there was a tree decorated with shell fish, crabs, and conches. I was armed with an old Leica that can only shoot at one speed. It's a tall order to get anything on the film inside it. One of the shots of the witchy tree, however, made to the silver surface.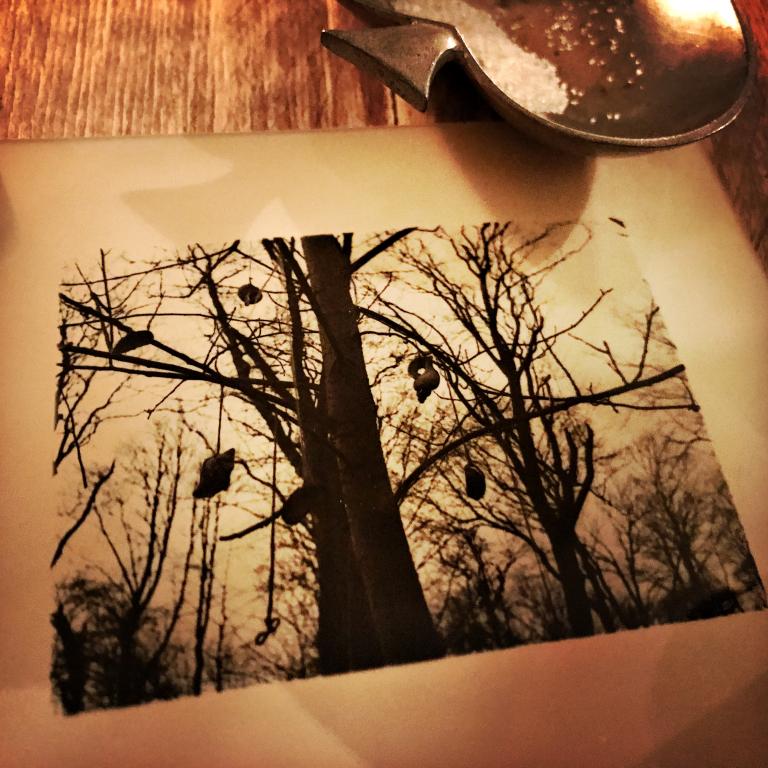 I got home, developed the film, enlarged the picture, and processed it in the darkroom. Baba Yaga was behind me, grinning at my frustration. Out of three important variables, only one works. The camera is busted, and there's light leakage from the enlarger. But the darkroom is goddamn dark. I made sure of that.
I toned some of the images in something that's called Antique Dye. While perusing the result, I kept hearing 'language' in my head.
I wasn't sure about it. There's hardly anything that's not 'language'. If Baba Yaga is grinning it's because she has linguistic power over me. I simply think, in mainstream terms, 'nasty woman', and the spell is on. If I went over to some social media focus groups and declared that Baba Yaga can also be a fertility goddess, I'd be instantly bashed for it. I may get away with suggesting that she was raped and we therefore need to show compassion, but still… You get the picture. It's a clear picture of how language works and what shit we fall for.
I laid down 6 cards in 3 double sets. Because I felt like it. Then I went: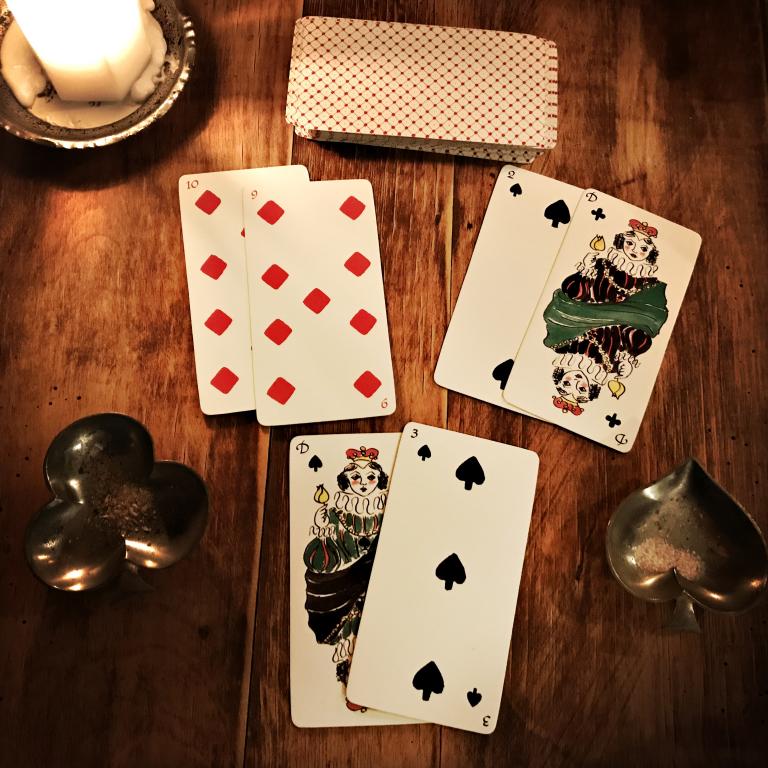 I know what I know. Conflicts take working. A nasty woman is nasty.
The point of going through the cards like this got interesting when 'language' entered my head in a different way by the time I got to the third pair: Queen of Spades/3 Spades.
Here the immediate phrasing was not, 'a nasty woman is nasty' – which makes sense in the context of knowing what function the spades perform – but rather, 'live and let live'.
With the spades you stab to death – why bother inflicting only a little pain at all, if stabbing you must – so where the idea of 'live and let live' came from was one of those little mysteries that you only get to encounter when you play with the cards.
But today, I blame it all on Baba Yaga. She made me say it. I'm looking at my gelatin silver photographs and all the bloody pain that went into producing them when your technology is working against you. I can her her grin.
Live and let live. Conflicts are there to be worked out. You know what you know. Others are welcome to this knowledge.
Hop onboard the Playing Cards Foundation Course, and learn to read like the Devil, aka Baba Yaga.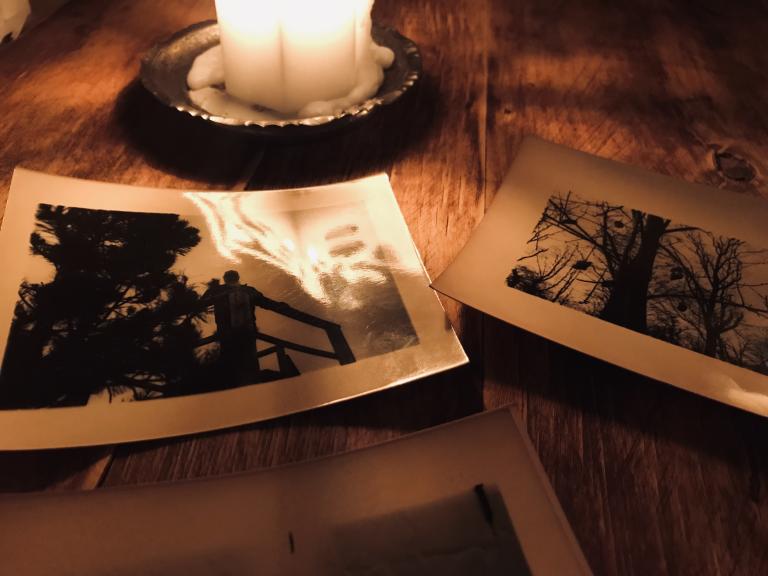 P.S. Thank you to my partner and Aradia Academy colleague for daring to climb up to Baba Yaga's hut, and from there impart her wisdom like a true oracle – to my beloved camera.