Sometimes you think you're the diviner with the proper clarity. You think that your hands and eyes are the most important.
But here's what I say. A good face-to-face divination session starts with paying attention to the following:
The hands and the eyes of the sitter.
Their strong posture, or lack of it.
Their curious gaze.
As for you:
Always know what you're saying. Be prepared to back up what you're saying with evidence from the cards.
Catch the sitters when they are listening, trying to reflect on what you're saying.
Stare at them. Don't think it's rude to stare. Quite the contrary. Staring disclosing your lucidity, if you have it. If you don't have it, then by all means, use averted gaze, but know that that will not make a strong session.
Observe what disturbs, distracts, or attracts.
Think of what would happen if you thought of your cartomancy as martial arts. If you were a martial artist, where in the body would your skill sit?
Is your availability to the sitter tenacious? Not all subjects, ailments, and worries grab the heart. You read the cards because you can, not because you think that all lives are glorious, needing nothing but a push of empowerment from you. Miracles don't happen every day, because people are not in the habit of thinking about miracles every day. You are what you think, when your thinking is not of the beyond of you-as-culture.
Think about your hands and your eyes. Is there a difference between them and those of your sitter?
Now, this is what I think it's interesting to consider. But what do the cards say?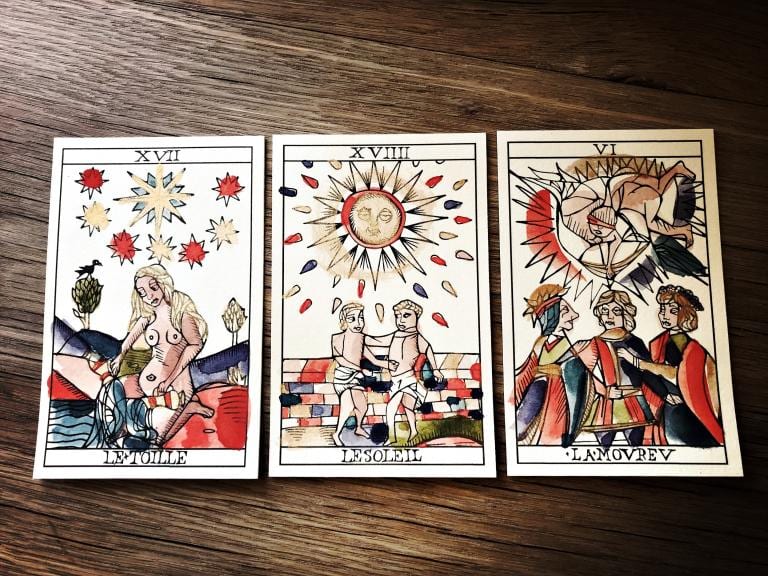 Star, Sun, Lovers
There's play of hands here: Giving hands, petting hands, snatching hands. Eyes too.
Pay attention to what's being poured onto your table. Is comforting appropriate? What's the distance between you and the sitter? You may want to lean in closer, get your head into the other's head, for a true tête-à-tête.
Are there any third party hands? Can you identify the influences the sitter is under? Can you go against them? How do you point to your sitter that there's the possibility of too many hands in the deal?
I could go on, but you get the picture.
You'll go far with your eyes on the eyes and the hands. They speak more than volumes. They point you in the right direction.
♠
Stay tuned for cartomantic activities. Cards and Magic opens for registration in April.