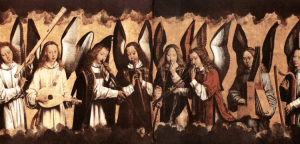 Hey, your reading and listening to the latest and greatest Catholic-themed and inspired music in the Catholic blogosphere. I'm the Catechist and your jamming with the angels on B.A.R.D. Come and listen to some favorites or discover something new in the world of Catholic music.
First up we present a husband and wife duo, Adam and Andrea Melia and their Nashville-made indie folk style of music. They've played over 140 shows across 39 states. Lets get on the Bandwagon with Adam & I right here on your favorite Catholic music station, Catholic B.A.R.D.
Musical theater is a great way to sing and express songs in the setting of a story. And this popular form of music is evident in the musical Alter Boyz which at the same time is a satire of boy bands and in particular Christian boy bands. One of the members even sings about coming out as a Catholic. The boy band members are Matthew, Mark, Luke and Juan and Abraham the one Jewish member. It's a fun and funny time at the theater. And since the theater is temporarily closed here is Davenport Theatrical letting you know that they still believe. And I Believe that your tuned to the best in Catholic music here on B.A.R.D.
One of the best recording artists of all time is hands down 'Weird' Al Yankovic. Well the Catholic world has their own version of Weird Al in the form of Nick Alexander. Here Nick is singing I Love St. Bart's – Parody of I Love This Bar by Toby Keith. You get parody and country music rolled into one right here on Catholic B.A.R.D.
Tom Booth has been composing music for the last four decades. He has written songs for prayer, worship and also personal reflection. He has performed for both St. Mother Teresa and St. John Paul II. Here is the St. Peter Catholic Church Youth Choir singing one of his songs with lyrics adapted by St. Mother Teresa for you. Right here on Catholic B.A.R.D.
Singer Celine Dion has said that "if God would have a singing voice, he must sound a lot like Andrea Bocelli". He is an Italian opera singer, songwriter, tenor and record producer who went blind at age 12. But not being able to see has not stopped his voice from belting out a glorious sounding voice. Here he is reminding you that you'll never walk alone here on B.A.R.D.
Back when I went to Franciscan University, they had a popular Christian band give a concert at the beginning of each school year. I believe it was the first year I was there that the modern Irish band CEILI RAIN played a concert there. From the moment they entered in the gymnism dancing down the isle playing their music with flare and enthusiasm, loved them. The lead singer Bob Halligan, Jr., has had over 140 songs recorded by well-known rock artists, including Cher, Michael Bolton, Judas Priest, KISS, Kathy Mattea, Bob Carlisle, Rebecca St. James, Jump 5, Maire Brennan and countless others. He has published over 975 songs and his songs have sold more than 30 million units.
Here is a little info about the name of the band taken from their website.
"Ceili"(say: KAY-LEE) is a Gailic (Irish) word that means "party" specifically one with the musicians, cancing, general merriment
, an all-ages chrowd. "Coeli" is a form of the Latin word for "heaven". Rain is that stuff that falls from the sky. Thus, Celli Rain
is a "downpour of heavenly partiness." May it be ever thus!!!"
So lets party and Jam with the Angels and Ceili Rain. I can see this song coming Like A Train here on Catholic B.A.R.D.
Here is another Irish band to remind you and all of us that everyone has a place in God's choir. Here is Irish Thunder.
The Daughters of St. Paul are a great grovey group of nuns who run bookstores and sing for all kinds of people. Their religious congregation founded in 1915 in Italy. They are part of the worldwide Pauline Family, one of the ten institutes founded by Blessed James Alberione, and operates in 51 countries around the world. And here they are on your favorite Catholic music station B.A.R.D.
Going from the calm serene voices of the Daughters of St. Paul, we switch to the very dope beats coming from the hip-hop priest, Fr. Stan Fortuna. Fr. Stan is one of the eight original members of the Community of Franciscan Friars of the Renewal, a Franciscan order established by Cardinal John Joseph O'Connor in 1987. The eight original members included one of my favorite authors of all time, Fr. Benedict Groeschel, and also another popular author named Fr. Andrew Apostoli, and five others. Father Stan was ordained as a priest in the Bronx in 1990.
He spreads his evangelical beat through his non-profit Francesco Productions. When he's not making music or rapping helping take care of the poor and suffering. And Fr. Stan reminds us in our next song on our musical journey into Catholic music that 'Everybody Got 2 Suffer.
OK. We've heard worship style prayerful song of Tom Booth. We've heard the jam of Fr. Stan. They both bring different styles to the table. But when you combine the two of them singing about the legendary Saint John Paul 2, you get an interesting lively upbeat song you can actually dance to. So if your sitting down, stand up and move your feet to the funky beat of Giovanni Paolo.
We now go from the hip-hop beat to something anciently neat. Im' reading to you now from Wikipedia… Gregorian chant is the central tradition of Western plainchant, a form of monophonic, unaccompanied sacred song in Latin (and occasionally Greek) of the Roman Catholic Church. Gregorian chant developed mainly in western and central Europe during the 9th and 10th centuries, with later additions and redactions. Although popular legend credits Pope Gregory I with inventing Gregorian chant, scholars believe that it arose from a later Carolingian synthesis of Roman chant and Gallican chant.
take off your dancing shoes and get in a prayerful state and join us for some peaceful meditative Gregorian Chant taken from a Benedictine Seminary. Let Catholic B.A.R.D. be your sanctuary.
Moving from ancient chant to modern times, the German band Gregorian headed by Frank Peterson performs Gregorian chant-inspired versions of modern pop and rock songs. The band features both vocal harmony and instrumental accompaniment. Sounds different and unique and here is a peck into this wonderful and different style of music. Here is Gregorian channeling Coldplay, Chant Style, right here on B.A.R.D.
Next up on your favorite Catholic music station we have a woman whose music is all heart. That is Sarah Hart one of the leading figures in contemporary Catholic music today. Energetic, funny deep faith, great musician and you get to listen to her right here on B.A.R.D.
One particular Christian recording artist's songs are song in both protestant and Catholic circles. Matt Maher has Penned numerous songs recorded by Christian artists such as Chris Tomlin, Crowder, Third Day, Jeremy Camp, Matt Redman, Hillsong, Casting Crowns, Meredith Andrews, Jesus Culture, Jars of Clay, and Passion. In 2013 he got to perform the Vigil Mass presided by Pope Francis, in front of a crowd of three, that's three million people for World Youth Day in Rio de Janeiro. Two years later he performed again for the Pope in downtown Philadelphia as part of the World Meeting of Families, appearing along with some secular singers, The Fray, Aretha Franklin, Juanes, and Catholic celebrities Jim Gaffigan, and Mark Wahlberg, among others. It wouldn't be a Catholic music station if we didn't include him in the rotation. Here he is singing about something you don't usually associate with a rocking beat, the Holy Eucharist. Right here ,to borrow a phrase from radio super star Lino Rulli, your source for pure Catholic enjoyment B.A.R.D.
I can't play any musical instrument at all. And so for man who can play a musical instrument with his feet because he has NO FEET is beyond amazing to me. Here is Tony Melendez playing for St. Pope John Paul 2 and for you all right here on B.A.R.D.
Another artist who performed for the pope in 2015 is Catholic recording artist Marie Miller. She has also opened for the BackStreet Boys, toured with American Idol winner Kris Allen and singer/songwriter Five For Fighting, and had songs featured on pop radio and ABC's Dancing with the Stars. Even after all this, Ms Miller still gets excited at the thought of performing even for at least of 50 people.
She says "Each one of us has a unique quest, something only we can do to make the world more beautiful, more humane, more fraternal. If it feels like we're too small, it's a mistake." And here she is making beautiful music on America's Catholic music station, B.A.R.D.
Once upon a time I volunteered at the Steubenville youth conferences in my home state of Massachusetts. The big cheese leading the praise and worship was a fellow named Bob Rice. This is the first I had ever heard of him, and I liked him ever since. He is one of the best Catholic Musicians I have ever had the privilege of hearing. I had him for a professor years later when I went to Franciscan as a grad student. My friend who had a cleaning business at the time even cleaned his house. He has written books, been a speaker at youth conferences and does a weekly podcast with Fr. Dave Pivonka, TOR, called They That Hope. He is currently a candidate for the diaconate. He is also one year and a day younger than me. Besides recording rocking songs for youth conferences, praise and worship songs he put out a bluegrass album. He has proven to be quite the diverse musician and here he is strumming on his guitar inviting all Ye Sinners to come and listen to him right here on your favorite Catholic music station B.A.R.D.
Another resident and musician of Steubenville is Bob Lesnefsky, a.k.a. Catholic rapper "Righteous B". He is a good friend of Bob's and has performed with him on many occasions. They even did a comedy act together back in the day. Bob like Bob is also a youth leader and like Bob has 7 kids. In 2005 he started Vagabond Missions, which serves under-served inner city youth in cities around the United States. Bob's degree is in Theology and Catechetics, and his motto is "Preach the Gospel at all times, if necessary use rap." And now here are some more Catholic rap beats, right here on B.A.R.D.
Our next song comes from a man who had a Chickering baby grand in the living room of his childhood home. There he learned the wonder of Bach, Beethoven, Clementi, and Mozart, among other classical composers, providing a fitting soundtrack for the majestic waters of Narragansett Bay where my wife grew up. He has played and written praise and worship music. But the song I'm going to play for you today is Barry Russo's ode to all things 80. I'm a Child of the 80's also, and here we go once again back to that glorious time when E.T. hadn't phoned home yet and an actor was the president, and the Karate Kid had learned to kick, right here on B.A.R.D.
I used to teach CCD to kids with short attention spans who didn't go to mass. Trying to teach the faith to kids is hard. But it's easier to do if you present truth and catechetics in the form of a sing. I can think of no better song to do this then I'm A Catholic by Jim Shoulak. Your gonna want to learn this one folks. It's catchy and fun, and here it is.
In 1973 Dan Schutte co-authored "The St. Louis Jesuit Mass". It became the most-used Mass setting in the United States during the 1970s and 1980s, driving Latin-Mass Gregorian Chant loving music lovers up the wall. And love or not, Here He Is Catholics on B.A.R.D.
John Michael Talbot is a bestselling musician, author and founder of a monastic community known as the Brothers and Sisters of Charity. He is a also a legend in Catholic music, composing music sung in liturgical celebrations and for private mediation and contemplation. Here is the master musician singing from solitude on B.A.R.D.
From the hermitage of John Michael Talbot to the city of Portland, OR we bring the rock sounds of The Thirsting. Their mission is to rock for the Lord and get other souls to know, love, and serve Jesus Christ in the Eucharist. And here is hoping you'll be thirsting for more of their music as they Step into the Day right here on B.A.R.D.
Probably one of the biggest Christian music artists in our rotation is Kathy Troccoli . She is enjoying almost four decades of ministry.
The Official Web Description says KT's numerous accolades include 24 recordings, 18 number-one radio hits, 19 Dove Award nominations, 2 Dove Awards, and 3 Grammy nominations. In addition to her success in Christian music she has made quite an impact in the mainstream arena as well, scoring a top charting hit with Everything Changes as well as a top 10 single with the iconic Beach Boys, entitled I Can Hear Music. She's just as comfortable singing her heart out in a stadium alongside Billy Graham to Pope John Paul—as she is belting out a big band tune or crooning her velvet voice on a jazz standard at the iconic Metropolitan Room in New York City.
Kathy sings and encourages us to Go and Light Your World, which is what we are trying to do here on Catholic B.A.R.D. by bringing you the finest in Catholic music.
Well it's been great VJING for you. My blog post is over and I am out of here. I want to end with the offspring of the original Catholic music group, The von Trapps (formerly The von Trapp Children) This group is made up of Sofia, Melanie, Amanda, and August (formerly Justin) von Trapp, descendants of the original Trapp Family Singers. They are the grandchildren of Werner von Trapp, who was portrayed as Kurt in The Sound of Music, and the great-grandchildren of Georg Ritter von Trapp and his first wife Agathe Whitehead, and the step-great-grandchildren of Maria von Trapp, Georg's second wife. So here they are and here I go. Thanks for listening to the best in Catholic music, right here on B.A.R.D>