1847
The Mexican–American War was being waged.
Yerba Buena, California was renamed San Francisco.
The state of Michigan formally abolished the death penalty.
Children's Author Hans Christian Andersen began his first visit to Britain, during which he meets Popular Author Charles Dickens.
Births
March 3 – Alexander Graham Bell, inventor of the Telephone is born (d. 1922)
November 8-Dracula Author Bram Stoker is born (d. 1912)
In Literature
Anne Brontë (as Acton Bell) – Agnes Grey
Charlotte Brontë (as Currer Bell) – Jane Eyre
Emily Brontë (as Ellis Bell) – Wuthering Heights
And one of the great tragedies of the 19th century occurred when a nasty fungus-like organism called Phytophthora infestans paid a visit to Ireland and destroyed the staple of Irish food. The Potato.
Po-tay-toes! Boil em, mash em, stick em in a stew.
Lovely big golden chips with a nice piece of fried fish.
– Sam from Lord of the Rings
Beginning in 1845 and ending in approximately 1852, this menace killed around a million Irish people from starvation other related causes and caused about a million more to flee their homeland as refugees. It was known as the Great Irish Famine. In 1847 this terrible plight caught the attention of the newly elected pope who had taken the papal office just the year before.
Blessed Pius IX (Count Giovanni 2Maria Mastai-Ferretti, O.F.S.) The Secular Franciscan Order
May 13, 1792 –February 7, 1878
Pope from June 16, 1846 –February 7, 1878 (31 years, 236 days)
Feast Day: February 7th
Blessed Pius IX would later define the dogma of the Immaculate Conception (1854) and convene the 1st Vatican Council (December 8, 1869 – October 20, 1870). But in 1847 during the Potato Plight of the Irish, he wrote an encyclical.
But letters reach Us daily from Ireland, bringing news of the calamity worsening. We are distressed and again want to help that nation. Ireland deserves our aid for so many reasons. The clergy and people of Ireland have always revered the Apostolic See. Indeed that nation has persevered in professing the Catholic religion in all distressful times, and the Irish clergy has worked industriously to spread the Catholic religion in the farthest parts of the globe. Finally the Irish nation zealously honors and understands divine Peter whose humble representative We are, and whose dignity, to quote the words of Leo the Great, "does not fail in the person of an unworthy heir.
-Bl. Pius IX Praedecessores nostros (3) On Aid for Ireland
Thus Pope Pius used his papal powers to help fellow Catholics in need. He articulated this particular need in an encyclical which is a a papal letter sent to all bishops of the Roman Catholic Church and eventually all the people of God. Popes can also use other mediums of writing such as apostolic letters and even books to spread his papal thought.
In this article I want to take a look at some papal thoughts through the years and the times in which it was written.
We next jump 44 years to 1891 during the papal reign of …
Pope Leo XIII (Gioacchino Vincenzo Raffaele Luigi Pecci, O.F.S.)
March 2, 1810 –July 20 1903
Pope from February 20, 1878 –July 20, 1903 (25 years, 150 days)
Canadian-American gym teacher James Naismith in Springfield, Massachusetts invents the game of Basketball.
The Wrigley Chewing Gum Company is founded in Chicago.
December 22 – Asteroid 323 Brucia becomes the first asteroid discovered using photography.
Births
January 13- Blessed Miguel Pro is born (d. 1927)
April 5 – Blessed Laura Vicuña,is born (d. 1904)
October 25-Controversal radio priest Charles Coughlin is born (d. 1979)
In Literature
"A Scandal in Bohemia" printed in the July issue of the Strand Magazine introduces the world to Arthur Conan Doyle's private consulting detective Sherlock Holmes.
The Flight of the Shadow by George Macdonald
Tourmalin's Time Cheques (1891) M. R. James
This was the world in which Pope Leo XIII wrote his encyclical on the Rights and Duties of Capital and Labor (Rerum Novarum). This papal writing is considered a foundational text of modern Catholic social teaching. It discusses such things as the rights of labor to form unions, it rejects socialism and unrestricted capitalism, and it affirms the right to private property.
Rights indeed, by whomsoever possessed, must be religiously protected; and public authority, in warding off injuries and punishing wrongs, ought to see to it that individuals may have and hold what belongs to them. In protecting the rights of private individuals, however, special consideration must be given to the weak and the poor. For the nation, as it were, of the rich, is guarded by its own defenses and is in less need of governmental protection, whereas the suffering multitude, without the means to protect itself, relies especially on the protection of the State. Wherefore, since wage workers are numbered among the great mass of the needy, the State must include them under its special care and foresight. Pope Leo XIII Rerum novarum, (54)
We next jump 12 years to 1903 during the papal reign of St Pius X…
St. Pope Pius X (Giuseppe Melchiorre Sarto, O.F.S.) in his first year as Pope.
Motto: Instaurare Omnia in Christo ("Restore all things in Christ")
June 2, 1835 – 20 August 20, 1914
Pope from August 4, 1903 –20 August 20, 1914
Feast Day August 21st
June 16, 1903 – Ford Motor Company was formed in Detroit, MI by Henry Ford.
July 1–19 – The first Tour de France bicycle race is held; Maurice Garin wins it.
October 1-13 – First modern World Series: The Boston Red Sox defeat the Pittsburgh Pirates, in 8 games.
December 17 – Orville Wright flies an aircraft with a petrol engine, the Wright Flyer, at Kitty Hawk, North Carolina, in the first documented and successful powered and controlled heavier-than-air flight.
Births
March 10-American author, politician, U.S. Ambassador and public conservative figure is born (d. 1987)
May 3 – Singer and Actor Bing Crosby is born (d. 1977)
May 29 – Comedian and later Catholic Bob Hope is born (d. 2003)
June 25-1984 author George Orwell is born (d. 1950)
Deaths
April 11 – St. Gemma Galganidi dies (b. 1878)
In Literature
Jack London's novel The Call of the Wild begins serialization in the Saturday Evening Post.
December 19 – The first of G. K. Chesterton's short stories in the series The Club of Queer Trades, "The Tremendous Adventures of Major Brown", appears in Harper's Weekly.
Rebecca of Sunnybrook Farm by Kate Douglas Wiggin is published.
At the Movies
The Great Train Robbery, directed by Edwin S. Porter, starring Broncho Billy Anderson. Regarded as a milestone in film history for its innovative composite editing, camera movement, and cross cutting.
The Life and Passion of Jesus Christ (La Vie et la Passion de Jésus Christ), directed by Ferdinand Zecca;
Visionary Film Maker Georges Melies continues to make lots of films.
This is the world in which Pope Pius X published his encyclical On the Restoration of all Things in Christ
Now the way to reach Christ is not hard to find: it is the Church. Rightly does Chrysostom inculcate: "The Church is thy hope, the Church is thy salvation, the Church is thy refuge." It was for this that Christ founded it, gaining it at the price of His blood, and made it the depositary of His doctrine and His laws, bestowing upon it at the same time an inexhaustible treasury of graces for the sanctification and salvation of men. (9)

For it is not true that the progress of knowledge extinguishes the faith; rather is it ignorance, and the more ignorance prevails the greater is the havoc wrought by incredulity. And this is why Christ commanded the Apostles: "Going forth teach all nations" (Matth. xxvii., 19). (16) –St Pius X E supremi
We next jump 11 years to 1914 during the papal reign of
Pope Benedict XV (Giacomo Paolo Giovanni Battista Della Chiesa, O.F.S.) in his first year as Pope.
Motto: In te, Domine, speravi: non confundar in aeternum. ("In thee, o Lord, have I trusted: let me not be confounded for evermore.")
November 21, 1854 –January 22, 1922
Pope from September 3, 1914 – January 22, 1922 (7 years, 141 days)
January 5 – Ford Motor Company announces an eight-hour workday, and a daily wage of $5.
May 14 – Woodrow Wilson signs a Mother's Day proclamation.
June 28 – The Assassination of Archduke Franz Ferdinand of Austria: triggers World War 1
February 3- George Nissen, An American gymnast and inventor of the trampoline is born. (d. 2010)
April 2- Star Wars and Fr. Brown Catholic Convert Alec Guinness is born. (d. 2000)
September 14 – The Lone Ranger Clayton Moore is born (The Lone Ranger) (d. 1999)
September 15- American children's author and illustrator Robert McCloskey is born. (d. 2003)
November 25 – Baseball legend Joe DiMaggio is born. (d. 1999)
Deaths
May 3 – Servant of God Élisabeth Leseur, dies (b. 1866)
In Literature
G. K. Chesterton – The Flying Inn
L. Frank Baum- Tik-Tok of Oz
Edgar Rice Burroughs – Tarzan of the Apes (book publication)
At The Movies
Charlie Chaplin's first film, Making a Living is released.
The Squaw Man directed by Cecil B. "Ten Commandments" DeMille and Oscar C. Apfel. This Western was DeMille's directorial debut and the first feature film to be shot in what is now Hollywood.
The serial The Perils of Pauline is an early example of the damsel in distress in film.
Winsor McCay's Gertie the Dinosaur greatly advances filmed animation movement techniques.
Tess of the Storm Country makes Mary Pickford an icon in the US and a celebrity around the world.
This is the world in which Pope Benedict XV published his encyclical Appealing For Peace. A world at war. The most devastating war the world has ever seen.
On every side the dread phantom of war holds sway: there is scarce room for another thought in the minds of men. The combatants are the greatest and wealthiest nations of the earth; what wonder, then, if, well provided with the most awful weapons modern military science has devised, they strive to destroy one another with refinements of horror. There is no limit to the measure of ruin and of slaughter; day by day the earth is drenched with newly-shed blood, and is covered with the bodies of the wounded and of the slain. Who would imagine as we see them thus filled with hatred of one another, that they are all of one common stock, all of the same nature, all members of the same human society? Who would recognize brothers, whose Father is in Heaven? Yet, while with numberless troops the furious battle is engaged, the sad cohorts of war, sorrow and distress swoop down upon every city and every home; day by day the mighty number of widows and orphans increases, and with the interruption of communications, trade is at a standstill; agriculture is abandoned; the arts are reduced to inactivity; the wealthy are in difficulties; the poor are reduced to abject misery; all are in distress.
-Pope Benedict XV (3) Ad beatissimi Apostolorum
We next jump 11 years to 1925 during the papal reign of …
Pope Pius XI (Achille Ambrogio Damiano Ratti, O.F.S.)
Motto: Pax Christi in Regno Christi ("The Peace of Christ in the Kingdom of Christ")
May 31, 1857 –February 10, 1939
Pope from February 6, 1922 –February 10, 1939 (17 years, 4 days)
January 27–February 1 – The 1925 serum run to Nome (the "Great Race of Mercy") relays diphtheria antitoxin by dog sled across the U.S. territory of Alaska, to combat an epidemic.
Scopes Monkey Trial: The trial of John T. Scopes takes place because of his teaching Darwin's theory of evolution.
August 8 – The Ku Klux Klan, the largest fraternal organization in the United States, demonstrates its popularity by holding a parade with an estimated 30,000-35,000 marchers in Washington DC
St. Therese of Lisieux is canonized.
In Literature
F. Scott Fitzgerald – The Great Gatsby
Ernest Hemingway – In Our Time (short stories)
Ronald A. Knox -The Viaduct Murder
Hugh Lofting – Doctor Dolittle's Zoo (5th in a series of 13 books)
The Last of the Dragons- E. Nesbit
At the Movies
Bed Hur
The Freshman with Harold Lloyd
The Gold Rush with Charlie Chaplin
Go West with Buster Keaton
Births
Baseball Legend Yogi Berra
Read more about 1925 in St. Therese and the Hidden Life Exposed
This is the world in which Pope Pius XI published his encyclical On the Feast of Christ the King.
While the good pope publishes this encyclical, this bad man publishes this…
Adolf Hitler – Mein Kampf
Christ as our Redeemer purchased the Church at the price of his own blood; as priest he offered himself, and continues to offer himself as a victim for our sins. Is it not evident, then, that his kingly dignity partakes in a manner of both these offices?

It would be a grave error, on the other hand, to say that Christ has no authority whatever in civil affairs, since, by virtue of the absolute empire over all creatures committed to him by the Father, all things are in his power. Nevertheless, during his life on earth he refrained from the exercise of such authority, and although he himself disdained to possess or to care for earthly goods, he did not, nor does he today, interfere with those who possess them. Non eripit mortalia qui regna dat caelestia.[27]

Thus the empire of our Redeemer embraces all men. To use the words of Our immortal predecessor, Pope Leo XIII: "His empire includes not only Catholic nations, not only baptized persons who, though of right belonging to the Church, have been led astray by error, or have been cut off from her by schism, but also all those who are outside the Christian faith; so that truly the whole of mankind is subject to the power of Jesus Christ."[16-18] Pope Pius XI' encyclical Quas primas,
We next jump 5 years to 1930 to another encyclical of Pope Pius XI On Christian Marriage.
You can learn about the world of 1930 by going to 100 Posts and 100 Years Ago…
This encyclical stressed the sanctity of marriage, prohibited Roman Catholics from using any form of artificial birth control, and reaffirmed the Catholic prohibition on abortion.
Those who hold the reins of government should not forget that it is the duty of public authority by appropriate laws and sanctions to defend the lives of the innocent, and this all the more so since those whose lives are endangered and assailed cannot defend themselves. Among whom we must mention in the first place infants hidden in the mother's womb. And if the public magistrates not only do not defend them, but by their laws and ordinances betray them to death at the hands of doctors or of others, let them remember that God is the Judge and Avenger of innocent blood which cried from earth to Heaven.
–Pope Pius XI Casti connubii (67)
We next jump 20 years to 1950 during the papal reign of…
Ven. Pius XII (Eugenio Maria Giuseppe Giovanni Pacelli, O.F.S.)
Motto: Opus Justitiae Pax ("The work of justice [shall be] peace")
March 2, 1876 – October 9, 1958
Pope March 2, 1939 – October 9, 1958 (19 years, 221 days
He served as pope during World War 2 and gave us the dogma of the Assumption of Mary.
You can learn about the world of 1950 by going to 100 Posts and 100 Years Ago…
This is the world in which Pope Pius XII published his encyclical Concerning Some False Opinions Threating to Undermine the Foundations of Catholic Doctrine.
This encyclical declares evolution to be a serious hypothesis, that does not contradict essential Catholic teachings.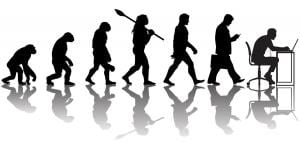 For these reasons the Teaching Authority of the Church does not forbid that, in conformity with the present state of human sciences and sacred theology, research and discussions, on the part of men experienced in both fields, take place with regard to the doctrine of evolution, in as far as it inquires into the origin of the human body as coming from pre-existent and living matter – for the Catholic faith obliges us to hold that souls are immediately created by God. However, this must be done in such a way that the reasons for both opinions, that is, those favorable and those unfavorable to evolution, be weighed and judged with the necessary seriousness, moderation and measure, and provided that all are prepared to submit to the judgment of the Church, to whom Christ has given the mission of interpreting authentically the Sacred Scriptures and of defending the dogmas of faith. Some however, rashly transgress this liberty of discussion, when they act as if the origin of the human body from pre-existing and living matter were already completely certain and proved by the facts which have been discovered up to now and by reasoning on those facts, and as if there were nothing in the sources of divine revelation which demands the greatest moderation and caution in this question. -Pope Pius XII Humani generis, (36)
We Know Jump to Papal Thought and the World Around It: Part 2