As we approach Christmas haulin' through the snow at a frightening speed,
Do we know that its' Advent and Not Christmas?
But regardless I want to Welcome you to my pre-Christmas post
I'd like to write about all the things
Your eyes and mind can see
So hop aboard this article and
Oh step into Christmas with me
So let's Haul out the holly
Put up up some sparkly Christmas Movies before our spirits fall again
It's still advent and
I may be rushing things but deck the halls again now
For we need a little Christmas, right this very minute
Candles in the window, carols at the spinet
Yes, we need a little Christmas, right this very minute
So here's a little Christmas stories now…
Before It's Wonderful Life it was The Greatest Gift
"My father, Philip Van Doren Stern, was shaving on Saturday morning, February 12, 1938, while he explored the idea for the story The Greatest Gift—which became the basis for the movie, It's a Wonderful Life. The idea had come from a dream he had during the night. As he wrote in his notes: "The idea came to me complete from start to finish—a most unusual occurrence, as any writer will tell you, for ordinarily a story has to be struggled with, changed around and mixed up." In contrast to his other writings, mainly on history, he said that the idea for The Greatest Gift had emerged full blown, and he had never considered changing it. What he had to do, he said, was to learn to write it."
― Philip Van Doren Stern, The Greatest Gift: A Christmas Tale (1944)
About writing Christmas stories…
Christmas stories are much harder to write than they look, partly because the subject matter is fairly limited, and people have been writing it for nearly two thousand years, so they've just about rung all the changes possible on snowmen, Santas, and shepherds.
Stories have been told from the point of view of the fourth wise man (who got waylaid on the way to Bethlehem), the innkeeper, the innkeeper's wife, the donkey, and the star. There've been stories about department-store Santas, phony Santas, burned-out Santas, substitute Santas, reluctant Santas, and dieting Santas, to say nothing of Santa's wife, his elves, his reindeer, and Rudolph.
We've had births at Christmas (natch!), deaths, partings, meetings, mayhem, attempted suicides, and sanity hearings. And Christmas in Hawaii, in China, in the past, the future, and outer space. We've heard from the littlest shepherd, the littlest wise man, the littlest angel, and the mouse who wasn't stirring. There's not a lot out there that hasn't already been done.
Connie Willis, A Lot Like Christmas: Stories (2017)
Listen to this story from the book
In Coppelius's Toyshop (Asimov's, December 1996)
Or Read some free Christmas SF stories and Classic Christmas Tales
and 4 Dickens Christmas Stories You've Probably Never Heard Of.
And a version of a Christmas Carol you've probably never watched..
Chasing Christmas (2005)
In a world where the holidays are run by the efficient Bureau of Yuletide Affairs, a bitter and burned-out Ghost of Christmas Past decides to go AWOL while on a "mission" and leave his "target" stranded in 1965.
Some grand Christmas stories have come out in the past several years…
Like The Christmas Chronicles (2018) with Kurt Russell playing one of the best versions of Santa Claus I've ever seen put on film.
Best Xmas film in years! #Believe
I was blown away by this film. I don't usually do anything Xmas until December but this caught my eye. I was ready for a run of the mill Xmas movie which I could have on in the background. Kurt Russell was a big reason I gave it a go. Boy was I surprised! The humour was spot on, the story was great, the feels were there. Honestly, I felt like a kid again with that magical heart flutter and excitement at –the prospect of– being a believer. I did shed a tear or two, and I'm not embarrassed to admit it. But I also had many many giggles. Will definitely watch again. The elves were cute and had great personality, I loved the interaction, and fairytale feel they offered. The reindeer were spot on and so beautifully mastered.

This was beautifully written and masterfully brought to life. It had all the elements of a decent, well thought about, family film. The effects were superb and if I had been to the cinema to see it on the big screen, I would not have been disappointed.

Well done Netflix, you really excelled with this one. Especially with the casting. It's going to get another watch before Xmas!

I have to go now and write my letter to Santa. Merry Christmas! X

jenny-talksalot23 November 2018 IMDB
Followed by The Christmas Chronicles 2 (2020) which has a connection to the first christmas with the Power of the Bethlehem Star which powers Santa's village and a revelation that he is the real St. Nicholas.
Mrs. Claus says he was "a bishop who discovered the joy of giving." In a flashback, Bishop Nicholas is seen putting coins in shoes and fruit in stockings (later customs associated with the eve of St. Nicholas' feast day, on Dec. 6, and Christmas).

Then, the tale veers into magical forest elves (presumably still living in Turkey, because Santa Claus has to head back there to find them at one point) who present Bishop Nicholas with a sliver of energy from the Star of Bethlehem. Encased in crystal, it gives him his own magic, keeps him from aging, and powers the eventual Santa Claus Village at the North Pole.

(Sadly, there is no mention in the movie of the story of Nicholas slapping the heretic Arius at the Council of Nicaea, more's the pity.)

Kate O' Hare, Netflix's 'The Christmas Chronicles 2' Puts Christianity in Christmas, Sort Of (SPOILERS) (November 26, 2020) Kate O'Hare's Pax Culturati @ Patheos Catholic
For some reason Netflix seems to sparke in Christmas Joyful movies.
Klaus (2019)
Beyond the approachable storytelling, fun cast, and revisionist mythology, however, lies the stunning craftsmanship of the animation itself. –Jared Mobarak, Jaredmobarak.com (February 4, 2020)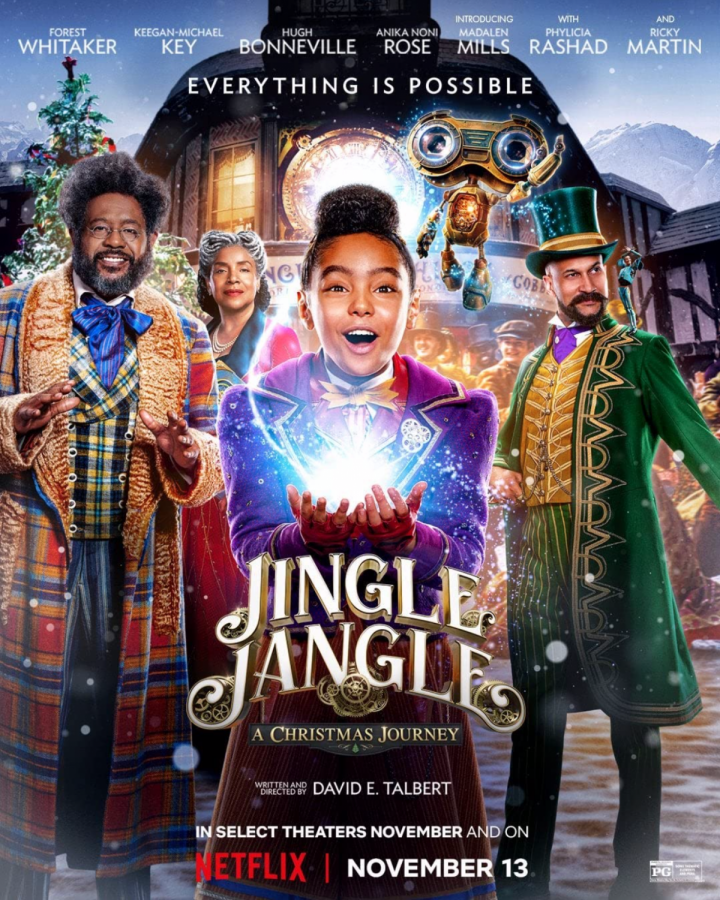 Jingle Jangle: A Christmas Journey (2020)
"Colorful" is not a colorful enough word to describe a fantasy movie musical so maximalist that even the title is overstuffed. "Jingle Jangle: A Christmas Journey" packs a lot into the movie's title, including two character names and the dual ideas of something cute and something a little more heartwarming, with a touch of the spiritual.
It has all of that and more, more, more. But Christmas is a time of excess, and the many pleasures of this overflowing Christmas stocking of a film are sure to make it a family favorite, and most likely a family tradition. Originally conceived as a musical play, it retains the liveliness of an in-person production. The exceptionally strong and nearly all-Black cast gives the film a fresh perspective, and it is heartening to see Black characters in a story that is not just about their being Black.
Nell Minow, Jingle Jangle: A Christmas Journey (Roger Ebert.com
And then there are some interesting and good retellings of older Christmas Classics…
The Grinch (2018)
And now
The Grinch: The Musical (2020)
And not all of these stories revolve around magic and Santa. You need a little romance for the chick flick lover.
Last Christmas (2019)
Christmas is inherently trashy. There's the garish, spiky strands of tinsel and the itchy novelty jumpers; the sloppy, drunken corporate get-togethers and the feigned niceties shared between people who absolutely despise each other. So shouldn't a good Christmas film be a little trashy, too? That seems to be the logic behind Last Christmas, a star-studded romcom that plays like an expensive Hallmark film. It's also meant to be, as the title suggests, inspired by the songs of George Michael. They appear on the soundtrack, but the musician's presence is barely felt.- Clarisse Loughrey, Last Christmas review (December 6, 2019)
Tom: It's good luck you know.
Kate: What is?
Tom: Getting pooed on by a bird.
Kate: I'm busy, you're weird, good-bye!
And what's Christmas without a little mystery. Yes there is the mystery of God becoming man.
Christmas celebrates the Nativity, or the birth of the Savior. It doesn't celebrate the Incarnation, which occurred at the Annunciation (commemorated on March 25, exactly nine months before Christmas).

Theologically–and even biologically–I think one could say that God taking flesh is a greater, and more mysterious, thing than God-who-already-has-taken-flesh being born. His being born nine months after taking flesh is what one would expect. His taking flesh in the first place was entirely unthinkable, until it happened.

Thus, if I were looking ahead from, say, A.D. 50, I would have expected the Annunciation to end up with a higher liturgical standing than Christmas.
– Karl Keating, (December 14) On Facebook
Then their are non-supernatural mysteries such as who murdered so and so at Christmas time.
While most of us are busy shopping for gifts for those we love, or decorating a home and putting up a Christmas tree and hanging mistletoe, and generally enjoying the extra warmth of hellos from friends and shopkeepers, these unsympathetic souls will find solace in the fact that crime, violence, and even murder continue to flourish at what should be a time of peace, joy, and love.

Mystery fiction set during the Christmas season has been with us for a long time, and it is astonishing how many authors have turned their pens and wicked thoughts to this time of year. Perhaps this is because violence seems so out of character, so inappropriate, for this time of year that it takes on extra weight. Think of how often terrible events have been recounted with the sad or angry exclamation, "and at Christmastime!"The Big Book of Christmas Mysteries (2013)
And with Christmas Murder, why not then Christmas Horror?
My personal friend R. C. Mulhare wrote this chilling little Christmas tale called The Black Coach found in O Horrid Night: Chilling Holiday Tales for the Black-Hearted (2016)
The story takes place on December 24th, 1898 in the Northern Territory Australia. It's a A very nice portrait of a Christmas eve in Australia. The language and setting make this a very vivid read with a nice ghost story creeping up on ya. Complete with an array of interesting Australian and Irish names.
"When Father Christmas comes this far south, he changes teams, even changes his sled for a wagon, and he hitches up six big, white 'roos, like the wee lost joey that Black Tom found, to pull it." (p. 90)

Sheilagh felt her blood turn cold, even on this warm night, and the teacup, all but forgotten, fell from her nerveless fingers to crash on the decking. What she had taken for a wagon, she saw was an enclosed coach, of the kind she had seen on the streets of Dublin and again in Sydney. Four horses pulled it, A coachman all in black held the reins, not turning toward her, not that he would if he could, for she saw that he lacked a head.
–O Horrid Night: Chilling Holiday Tales for the Black-Hearted (pp. 92-93). FunDead Publications
And then there are these bits of Christmas Chills…
Rare Exports (2010)
In the depths of the Korvatunturi mountains, 486 meters deep, lies the closest ever guarded secret of Christmas. The time has come to dig it up. This Christmas everyone will believe in Santa Claus.
Krampus (2015)
When young Max turns his back on Christmas, his lack of festive spirit unleashes the wrath of Krampus, a demonic force of ancient evil intent on punishing non-believers.
Anna and The Apocalypse (2018)
And then there are stories that focus in on the real meaning of Christmas and not just Santa, Magic, Music, Sci-Fi, Fantasy, Romance, Murder of horror…
The Chosen pilot episode The Shepherd tells a unique retelling of the life of Christ.
Then there is this forgotten blast from the Past…
The Small One (1978)
Angela's' Christmas (2017) and Angela's Christmas Wish (2020) take place in Catholic Ireland and show a creche and people praying devoutly at Mass. They were not made as children's movies but movies made for people from Limerick Ireland and their grandchildren. So said my wife, whose grandparents knew who the McCort's were. Frank McCourt is the author of the stories these films are based on.
I want to close with this bit of very merry merriment and Christmas Cheer. An classic of Christmas Comedy.