CB WIRE March 22 – March 28, 2021
FEAST DAYS ,HOLIDAYS AND THIS WEEK IN HISTORY
Mon March 22, 2021

1630 – The Massachusetts Bay Colony outlaws the possession of cards, dice, and gaming tables.
1794 – The Slave Trade Act of 1794 bans the export of slaves from the United States, and prohibits American citizens from outfitting a ship for the purpose of importing slaves
1872 – Illinois becomes the first state to require gender equality in employment.
1931- William "Captain James T. Kirk" is born.
Tuesday March 23, 2021
Saint Turibius of Mogrovejo, Bishop
1909 – Theodore Roosevelt leaves New York for a post-presidency safari in Africa. The trip is sponsored by the Smithsonian Institution and National Geographic Society.
1980 – Archbishop Óscar Romero of El Salvador gives his famous speech appealing to men of the El Salvadoran armed forces to stop killing the Salvadorans.
Wednesday March 24, 2021
1829 – The Parliament of the United Kingdom passes the Roman Catholic Relief Act 1829, allowing Catholics to serve in Parliament.
1958 – Rock 'n' roll teen idol Elvis Presley is drafted in the U.S. Army.
Thursday March 25, 2021
Solemnity THE ANNUNCIATION OF THE LORD
Newspaper Headline 2021 years ago: Virgin Teen Pregnant!
She claims to have seen an angel who told her she was with child. She claims the angel even told her what to name the baby. A boy who will be named Jesus because the angel said so to Mary. She will be visiting her cousin before heading to Bethlehem with her betrothed Joseph for the census.
Mary is said to be a kind, generous and prayerful Jewish woman. No fowl play is suspected we will keep you abreast of her story as more information become available.
708 – Pope Constantine becomes the 88th pope. He would be the last pope to visit Constantinople until 1967.
1655 – Saturn's largest moon, Titan, is discovered by Christiaan Huygens.
1807 – The Slave Trade Act becomes law, abolishing the slave trade in the British Empire.
1925 – Flannery O'Connor (March 25, 1925 – August 3, 1964) was an Catholic Southern American novelist, short story writer and essayist. She wrote two novels and thirty-two short stories, as well as a number of reviews and commentaries.
1927 –Marie-Alphonsine Danil Ghattas (4 October 1843 – 25 March 1927) was a Palestinian Christian nun who founded the Dominican Sisters of the Most Holy Rosary of Jerusalem (the Rosary Sisters), the first Palestinian congregation. She was canonized on May 17, 2015.
Friday March 26, 2021
1830 – The Book of Mormon is published in Palmyra, New York.
1997 – Thirty-nine bodies are found in the Heaven's Gate mass suicides.
Saturday March 27, 2021
Jewish Passover Begins
Jewish Acapella Guys bring you Uptown Passover
1935 – Stanley Rother, American Roman Catholic priest and missionary (d. 1981)
2016 – Mother Angelica, American Roman Catholic religious leader and media personality (b. 1923)
1866 – President of the United States of America Andrew Johnson vetoes the Civil Rights Act of 1866. His veto is overridden by Congress and the bill passes into law on April 9.
Sunday March 28, 2021
PALM SUNDAY OF THE PASSION OF THE LORD
1990 – United States President George H. W. Bush posthumously awards Jesse Owens the Congressional Gold Medal.
1515 – Teresa of Ávila, Spanish nun and saint is born. (d. 1582)
NEWS HIGHLIGHTS OF THE WEEK
Deadly Killers
It seems as if going to a spa for some relaxation or to the supermarket for groceries could be a dangerous risk that could end in death or serious injury. The latest violent gun massacre occurred in a Boulder Colorado King Soopers grocery market leaving 10 people dead. Archbishop Samuel J. Aquila said in a statement...
"I am deeply saddened by the tragic and sudden deaths of 10 people yesterday afternoon in the shooting at a King Soopers in Boulder. I have been praying for all those impacted by this senseless act of violence and want to express my spiritual closeness to them. While we still do not know what led up to this terrible event, incidents like this have become far too common in our country and our state. We must work to promote deeper conversion of hearts so that our lives are characterized by the virtue of charity, which allows us to love God and our neighbor, strengthening the fabric of society and preventing senseless acts of violence such as this one."
May their souls and all the souls of the faithful departed rest in peace.
Meanwhile the Boston Archdiocese calls for life without parole for Boston bomber, after Supreme Court agrees to consider death penalty
"The pain and suffering caused to the victims of the bombing and to their loved ones is as clear and real today as it was nearly eight years ago," they said. "As we have previously stated, Catholic teaching does not support the taking of life as a means of achieving justice. The incomprehensible suffering of so many caused by this heinous crime should appropriately be met with a sentence of imprisonment for life with no possibility of parole," and that the memories of those lost in the bombing will be honored by "a renewed commitment to root out violence and evil in our society by way of solidarity with Jesus' call to love one another."
Do not be overcome by evil, but overcome evil with good.-Romans 12:21
THE KIDS, THEY'RE COMING TO AMERICA
As Americans are constantly complaining about our country and how much it sucks, you never see our citizens sneaking across the border into Mexico going to live there. You see people from the southern side of our continent thinking their country sucks and coming to live here. In our country we complain that our government might restrict our access to guns, in Mexico and Central America there's not much debate about how to stop the violence that people live in constant threat and fear of. The chronic violence, grouped together with constant corruption, and a lack of economic opportunity compels many of citizens of those countries to seek a better life in the land of the free and the home of the brave. Many of those people are unaccompanied minors.
The Texas town of Roma is one such destination for immigrants hoping to come to America. "CBP reported that it took 681 unaccompanied children into custody Wednesday. That total excludes Mexicans, who are typically returned immediately."
And "The U.S. Department of Health and Human Services says more than 10,000 migrant children from the U.S. border with Mexico have arrived at shelters across the country, including 1,500 at Kay Bailey Hutchison Convention Center in Dallas. The U.S. Department of Health and Human Services is paying $8 million to lease the convention center for 75 days. Up to 3,000 teenagers could be housed there. "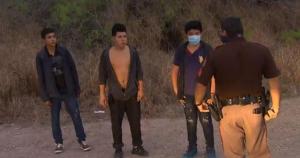 Some families are stepping up to help foster these kids.
Hundreds of foster families have taken on the short-term care of migrant children through organizations like Bethany, Lutheran Immigration and Refugee Service (LIRS), and the United States Conference of Catholic Bishops (USCCB), two other faith-based organization that assists with placing migrant children in temporary foster care. All three organizations however, are trying to work as quickly as possible to hire qualified staff and get more foster families certified to take in migrant children to try to meet the current need.
Joe Biden recently talked about his in his first ever press conference as our new president.
And those who are coming across the border, who are unaccompanied children, we're moving rapidly to try to put in place what was dismantled, as I said. For example, of all the children who are coming across the border, over 70 percent are either 16 or 17 years old. We're not talking about people ripping babies from mothers' arms or little three-year-olds standing on the border. Less than — I think it's one and a half percent fall in the category of the very young.

So what we're doing is we're providing for the space, again, to be able to get these kids out of the Border Patrol facilities, which no child — no one should be in any longer than 72 hours.
Here is a roundtable discussion on the matter by child advocates.
BEATIFICATIONS GOING FORWARD
Some individuals see crises like the ones described above and rise to the occasion to make it an occasion to become God's hands and feet and bring his presence to the situation.
Brother Pedro Manuel Salado de Alba, who died in Ecuador in 2012 after saving seven children from drowning in the ocean is up for beautification.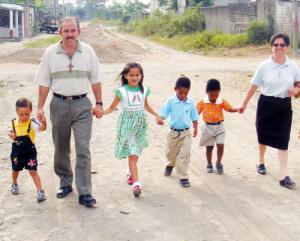 Another beautification cause going forward is for Józef and Wiktoria Ulma known as the"Good Samaritans of Markowa" and their 7 children (including one unborn) from poland. They hid Jewish people in their home and when discovered by the Nazi's were shot for it.
"We give thanks for the example of the Ulma family's life. Their gift of life is a sign for us that sometimes we have to sacrifice our lives to save other people. Today we are asking for the gift of their beatification".
-Archbishop Adam Szal of Przemyśl: Homily during liturgy on the National Day of Remembrance of Poles Rescuing Jews under German Occupation.

MEANWHILE OFF THE PLANET
In what should someday be a science fiction story written by someone, The Wright Brothers Go to Mars.
NASA's Martian chopper, named Ingenuity, will take flight on the red planet some time in April, and attached to the helicopter is a fabric swatch from aeronautical history. A piece of muslin from the Wright brothers' first airplane has made the trip to Mars and will be part of the first helicopter ride there. NASA requested the historic artifact and the Carillon Historical Park in Dayton, Ohio, the Wrights' hometown, agreed to donate a stamp-size piece of fabric from the plane's bottom left wing.
While the Wright Brothers are all set to travel to the Red Planet, remains of impact that created the Moon may lie deep within Earth
Scientists have long agreed that the Moon formed when a protoplanet, called Theia, struck Earth in its infancy some 4.5 billion years ago. Now, a team of scientists has a provocative new proposal: Theia's remains can be found in two continent-size layers of rock buried deep in Earth's mantle. If Theia's remnants do lie deep in Earth's mantle, they may not be alone. Seismologists are increasingly seeing small, ultradense pockets of material in the deep mantle, only a few hundred kilometers across, often near the edges of the LLSVPs. Maybe they are the sunken remnants of iron-rich cores from other miniature planets that hit early Earth, Jenkins says. Theia, in fact, might be just one grave in a planetary cemetery.
If you have watched enough science fiction movies, you know that exploring the depths of the earth only releases giant monsters that will come out and destroy the earth.
STAR TREK LIVES ON
The City of Boston already declared March 26th to be Leonard Nimoy Day, but the city isn't stopping there when it comes to honoring its native son turned Star Trek icon. There are plans in development to build a 20-foot "Live Long and Prosper" statue in the shape of the Vulcan salute, the signature gesture of Nimoy's Spock, at Boston's Museum of Science. Nimoy's family announced the endeavor, designed by David Phillips, on Friday, what would have been the actor's 90th birthday and the first official Leonard Nimoy Day in Boston. Nimoy was born in Boston's West End, not far from the museum.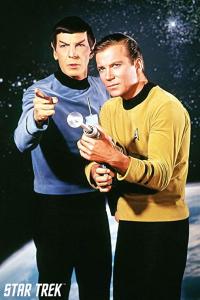 Monday March 26, 2021 was William 'Captain Kirk' Shatner 90th Birthday.
Easter Bunny Tree Frogs and Pepsi Pizza Peeps
In the Christian hierarchy of holidays and feast days, Easter takes pride of place in terms of celebration. That is in the religious aspect of the holiday. The reason being is that if Christ has not been raised from the dead, then our faith is in vain (1 Corinthians 5:14). Besides the religious celebration in which we remember Christ being raised from the dead, just like Christmas, there is a secular celebration of Easter. In the secular celebration of Christian holidays , the arrival of Santa with toys on a sleigh pulled by reindeer outweighs the Easter Bunny handing out eggs in terms of magical anticipation, as well as movies, songs and books. I personally find eggs disgusting and would rather have toys. But in terms of magical food that people anticipate at holidays, Easter has a more satisfying remedy to satisfy this hunger. It joins Valentine's Day, Halloween, and April Fools Day in a day to give out Chocolate and other candy such as Peeps.
And why limit the power of what peeps can do.
You can put Peeps on Pizza, combining the sweet candy taste mixed with creamy tomato (A fruit technically) sauce and lucious cheese. Is there anything you can't do with cheese?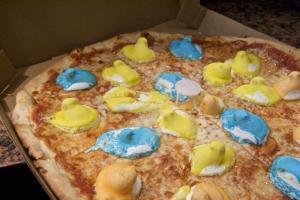 And if you can combine pizza and peeps, you can also combine the peak peep taste with thirst quenching soda such as pepsi.
Peeps has partnered with Pepsi to create Marshmallow Cola, which comes in a three-pack of cute little 7.5-oz. cans. Sadly, these won't be available on grocery store shelves this year, but fans can enter the sweepstakes to win some by hashtagging "#HangingWithMyPEEPS" on their social media photos. The cans come in blue, pink, and yellow, although there is no difference in flavor. We got a first taste of the drink and can confirm that it does, in fact, taste like marshmallows—with a flavor that's vaguely reminiscent of Lucky Charms.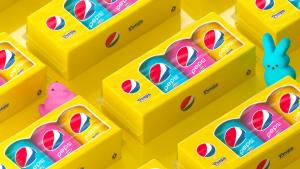 There is nothing you can't do with with Peeps, such as stir it into Chilli while teaching philosophy. It's bad philosophy, but then again maybe you shouldn't actually mix peeps with chilli.
And if you can mess with the nature of peeps, it wouldn't stop someone from messing with the tradition of who brings you candy at Easter. Why stick to just a bunny? Cadbury Chocolate in an effort to expand the egg deliver's diversity, has had their 3rd annual Cadbury Bunny Tryouts. This years' winner is an Australian White's tree frog named Betty.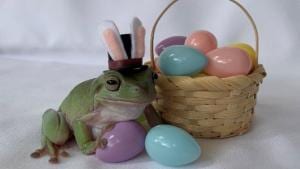 "When Betty heard about the opportunity to be this year's Cadbury Bunny she knew she had to try out," said the introduction video on the Cadbury website. "Betty knows what it's like to be different and she'd like the chance to show everyone that our differences are what make us who we are and they are something to be proud of."

Betty, who currently resides in Orlando, Florida, is less than one year old which means she's celebrating her first Easter. Beating out other worthy contenders from across the nation, Betty hops away with a cool $5000 cash prize plus the opportunity to star in the 2021 Cadbury Clucking Bunny commercial. Cadbury will also be donating $15,000 to The American Society for the Prevention of Cruelty to Animals in honor of the contest. That's a pretty unfrogettable win!

There was some pretty wild competition for this year's title. Betty beat out several adorable mammals including dogs, a cat, an alpaca and yes, even a bunny.
Kids, look out for a bunny frog named Betty to bring you your Pizza Pepsi Peeps and Chilli. And if you can't eat em, wear em.
POPE FRANCIS'S WORDS OF THE WEEK
The main pathway" of Christian prayer is "the humanity of Jesus."
In fact, the confidence typical of Christian prayer would be meaningless if the Word had not become incarnate, giving us in the Spirit His filial relationship with the Father. […] Christ is the Mediator, Christ is the bridge that we cross to turn to the Father (see Catechism of the Catholic Church, 2674). He is the only Redeemer: there are no co-redeemers with Christ. He is the only one. He is the Mediator par excellence. He is the Mediator.Each prayer we raise to God is through Christ, with Christ and in Christ and it is fulfilled thanks to his intercession. The Holy Spirit extends Christ's mediation through every time and every place: there is no other name by which we can be saved: Jesus Christ, the only Mediator between God and humanity (see Acts 4:12).
Mary has a privileged place in both the lives and the prayer of Christians.

Her presence is everywhere in Christian iconography, sometimes very prominently, but always in relation to her Son and in connection with Him. Her hands, her eyes, her behavior are a living "catechism," always indicating the hinge, she always points out the center: Jesus. Mary is completely directed toward Him (see CCC, 2674) to such an extent that we can say she is more disciple than Mother. The directions she gave at the wedding at Cana: "Him; do whatever he will tell you." She always refers to Christ. She is the first disciple.
March 25 is the date many scholars believe marked the beginning of Dante's journey in the Divine Comedy.
"The mystery of the Incarnation, which we celebrate today, is the true heart and inspiration of the entire poem. On this anniversary, the voice of the Church can hardly be absent from the universal commemoration of the man and poet Dante Alighieri. Better than most, Dante knew how to express with poetic beauty the depth of the mystery of God and love.

His poem, one of the highest expressions of human genius, was the fruit of a new and deeper inspiration, to which the poet referred in calling it: 'the Poem Sacred / To which both heaven and earth have set their hand' (Par. XXV, 1-2)."

In Dante we can almost glimpse a forerunner of our multimedia culture, in which word and image, symbol and sound, poetry and dance converge to convey a single message. But the work of the supreme poet also raises provocative questions for our own times. What can he communicate to us in this day and age? Does he still have anything to say to us or offer us? Is his message relevant or useful to us? Can it still challenge us?"
NEW BOOKS OF THE WEEK

The Word on Fire Vatican II Collection

The Word on Fire Vatican II Collection features the four central documents that most fully articulate the vision of the council—Dei Verbum, Lumen Gentium, Sacrosanctum Concilium, and Gaudium et Spes—with illuminating commentary from the postconciliar popes and Bishop Robert Barron interspersed throughout, along with beautifully carved linocut art. The collection also includes the opening address of Pope St. John XXIII, the closing address of Pope St. Paul VI, a foreword from Bishop Barron, an afterword from theologian Matthew Levering, and helpful appendices listing key terms and figures and answering frequently asked questions. The Word on Fire Vatican II Collection is a robust but readable journey into the true history and purpose of the Second Vatican Council, and a compelling call for an enthusiastic return to its texts today.

The Zoologist's Guide to the Galaxy: What Animals on Earth Reveal About Aliens–and Ourselves by Arik Kershenbaum

New Music of the Week

A Week Away is a Christian Musical on Netflix with music by

Steven Curtis Chapman,

Amy Grant,

Michael W. Smith,

Audio Adrenaline,

Rich Mullins,

For King and Country

And some original songs like this one…

The Jewish Acapella Parody Masters are back with a new tune.

And finally here is the latest from Carrie Underwood.

YOUTUBE VIDS OF THE WEEK

Sometimes we as Christians love to slam those we consider more sinful then they ought to be. But as Matt Fradd suggests at the beginning of this video, it's better to not heap on contempt of the person when doing so. Prays a decade of the rosary for a particular person at the end of the video as opposed to just ranting about them. He also asks the question of how we know what pornography is.

This Week on
MYS147: Rumors have surrounded the Vatican Secret Archives for ages and some think the Vatican is hiding shameful or shocking secrets.
Jimmy Akin and Dom Bettinelli explore the history of the Archives, what they contain, and how secret they really are.
If you're looking for juicy secrets that fulfill all your wildest conspiracy type dreams about aliens, evidence for or against Jesus existence, religious artifacts the real 3rd secret of Fatima and other far out fantasies, I would look elsewhere. You will be disappointed. If however you want to learn about some realistic cool historical things about the Vatican's record keeping over the years, you won't be disappointed, in the last Mysterious World. Jimmy and Dom clearly have one foot in the heavens and another on earth providing a mind blowing experience for the listener.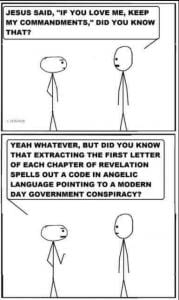 American Masters: "Flannery O'Connor", 8 p.m., PBS
Thursday, Mar. 25
The Runaway Bunny, HBO Max
Caught by a Wave, Netflix [movie] Secret Magic Control Agency, Netflix
Friday, Mar. 26
– – Invincible: Season 1 (2021) Amazon Prime Video
It's the Easter Beagle, Charlie Brown, Apple TV+
Inside Pixar, Disney+
The Mighty Ducks: Game Changers: Season 1, Disney+
A Week Away, Netflix [movie] The Irregulars: Season 1, Netflix
Deaths of the Week

The one and only comedy on TV I go out of my way to watch these days is The Goldbergs. It is the only TV comedy that I've seen that is based on real life. It is about the mis-adventures of Hollywood writer and producer Adam Goldberg's wacky family and of growing up in the iconic 80's. They often have interviews with the real life people the characters on the show are based on. They even show footage of Adam's old movies he made when he was a kid. Adam was a lot like me, except he grew up to make movies and I worked in a cable studio for a few months. Anyway one of the characters on the show is Adam Goldberg's grandfather Albert "Pops" Solomon played by George Segal (February 13, 1934 – March 23, 2021) who just recently died. He will be missed as he was a winning personality and brought a tender picture of a loving relationship between a grandfather and his grandson.

Segal was also an accomplished banjo player. He released three albums and performed with the instrument in several of his acting roles and on late-night television.
A plenary indulgence can be obtained during Holy Week for oneself or for a deceased person if one of the following works established by the Church is performed.

Holy Thursday

1. If during the solemn reservation of the Blessed Sacrament (typically on a side altar), which follows the Mass of the Lord's Supper, you recite or sing the Eucharistic hymn "Tantum Ergo."

2. If you adore the solemnly reserved Blessed Sacrament for a half hour.

Good Friday

1. If you venerate the Cross in the solemn celebration of the Lord's Passion.

2. If you piously participate in the Stations of the Cross

Holy Saturday

1. If two or more people pray the Holy Rosary.

2. If you attend the celebration of the Easter Vigil at night and renew your baptismal promises, which is part of the liturgy of that Mass.