The Slimey Award Season is upon us.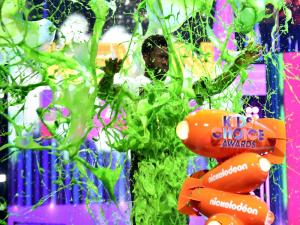 The first fruits of this season where we hand out awards for excellence in the cultural arts
were handed out at the Golden Globes on February 28, 2021.
Nomadland won Best Picture for Drama. ON HULU
After losing everything in the Great Recession, a woman named Fern embarks on a journey from her emotional gully to one on the road of self discovery through the American West, living as a van-dwelling modern-day nomad in a van down by the river.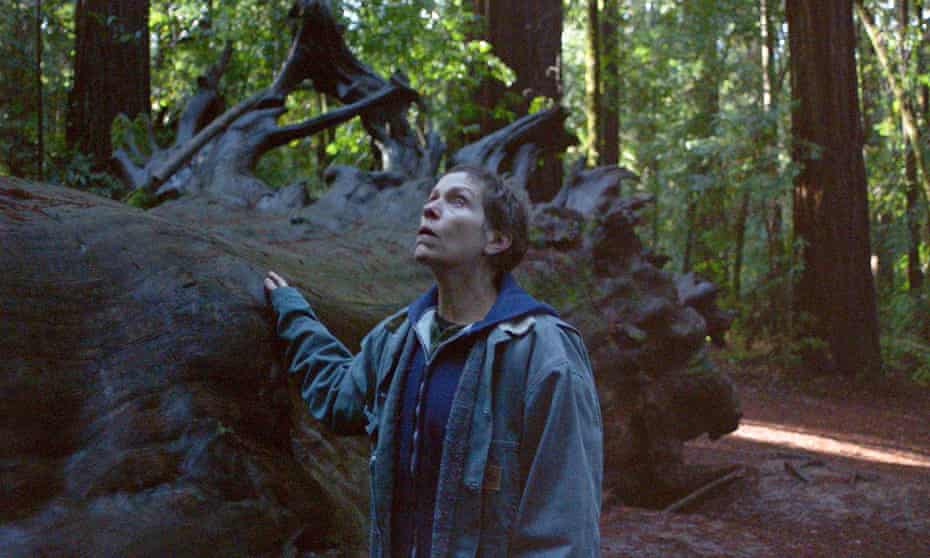 Borat Subsequent Moviefilm won Best Picture for Musical or Comedy.
Sacha Baron Cohen returns as Borat who returns from his country of Kazakhstan back to America in a sequel to 2006's Borat: Cultural Learnings of America for Make Benefit Glorious Nation of Kazakhstan. This time he reveals more about the American culture, the COVID-19 pandemic and the political elections in a funny amusing way that only he could.
Minari (USA) won Best Foreign Language Film
Minari (2020)
The one 2020 film that most stayed with me all year, since I first saw it a year ago at Sundance, is Lee Isaac Chung's semi-autobiographical pastoral drama about a Korean family moving from California to the Arkansas Ozarks, where the paterfamilias (Steven Yeun) hopes to farm. A sometimes-painful tale of emotional struggle and hardship, it's scattered with warmth and humor along with devastating insights. Every scene, almost every shot, is fraught with an immediacy that seems like memory rather than construction. (Teens and up) –Deacon Steven D. Greydanus
Soul won Best Animated Feature Film and Best Original Score
While it doesn't quite pack the emotional wallop of Inside Out, Soul is cut from the same creative cloth. Visionary, stylistically inventive, grand in scope and ambition, it's a true event film in everything except, alas, its small-screen debut on Disney+.

A decade ago, "a Pixar event film" would have been a redundancy, like "an action-packed Jackie Chan movie." Today, alas, it's is very nearly synonymous with "a Pixar movie directed by Pete Docter." Deacon Steven D. Greydanus
And Best Original Song went to a song called "Io sì (Seen) in a movie called The Life Ahead
In seaside Italy, a Holocaust survivor named Madam Rosa who was also a former prostitute who runs a daycare business for other working women takes in a 12-year-old street kid named Momo who recently robbed her. They develop a deep bond and she tries to help him find his way in life.
The film is based on Romain Gary's novel, The Life Before Us, and also on Madame Rosa, the film version of the novel directed by Moshé Mizrahi in 1977 and featuring Simone Signoret
The 2021 Oscar Nominations will be announced bright and early on Monday, March 15.
Some people honestly could care less about an award ceremony (like my wife, who finds this type of article boring as dirt) that hands about little trophies to rich celebrities telling them how great they are. But if we're honest with ourselves we enjoy their movies, listen to their music and watch their TV shows. And some of us are just curious to see if our favorite show, movie or song gets the coveted prize so we pay attention to see who gets what. This is despite the fact that a good deal of the movies or music often nominated with high honors we've never ever heard of or would probably not want to see if it was the last movie playing on screens after the apocalypse or song being played on the radio.
This weekend there are two major award shows being broadcast on TV. The 63rd Grammys on Sunday March 14, 2021 on CBS and the Kids version of the Golden Globes and the People's Choice Awards, The 34th Nickelodeon's Kids' Choice Awards, on Saturday, March 13, 2021 on Nickelodeon. This annual awards ceremony in which average everyday kids pick out the movies and music they like has been going on since 1988 when the R Rated Beverly Hills Cop 2 won the first award for favorite movie. Who will it be this year?
Some of the notable nominee's out of the 22 categories this year include
Pixar's Onward-Favorite Animated Movie/Favorite Voice Chris Pratt as Barley Lightfoot
Onward is the tale of the two Lightfoot brothers voiced by Tom Holland (Spider-Man) as Ian and Chris Pratt (Starlord) as Barley. They happen to be elfs that live in a world where mythical creatures are the main occupants. But the world that was once abundant with magic here, there and everywhere has abandon it for technology. After receiving his dad's magic staff on his 16th birthday Ian uses a spell that will bring his dead dad back for a day, but something goes wrong and they only get the bottom half of their father. The brothers then go on a quest to find a gem that will bring the rest of their dad back, but they only have 24 hours to do it.
Soul-Favorite Animated Movie/Favorite Voice Tina Fey as 22 and Jamie Foxx as Joe Garner
See above if you've lost your synopsis Soul.
Sonic the Hedgehog– Favorite Movie /Jim Carrey –Favorite Movie Actor as Dr. Robotnik
It was nice to see Jim Carrey back to his comedic high standard as Dr. Robotnik as he clashes with an anamorphic animated hedgehog who can run as fast as Quicksilver in X-Men.
Favorite Family TV Show-Cobra Kai,Stranger Things, The Mandalorian
These shows bring back the glorious 80's to the 2020's.
BIG SNUB IN THIS CATEGORY- The Goldbergs
OneRepublic– Favorite Music Group (No Grammy Nominations)
This has been one of my favorite bands in recent years. It's good that kids are given a choice of musicians who actually rock and don't rap.
BTS-Favorite Music Group/ Favorite Song: Dynamite/Favorite Global Music Star
These guys deserve an award for bringing the world a song created with great artistry and beauty, that we can all sing along to.
Taylor Swift– Favorite Female Artist/Favorite Song: Cardigan/Favorite Global Music Star
I believe that lately Taylor is one of the most productive, proactive, and hardest working woman creating and putting out songs for people today. She put out an album in 2019 followed by 2 more last year in 2020 which included the catchy nominated Cardigan from folklore.
Post Malone– Favorite Male Artist
Out of all the new artists I've listen to in trying to learn about the new grammy nominees, this is the artist I've liked the most and will probably explore more of his music.
The Weekend-Favorite Male Artist/Favorite Song: Blinding Lights (No Grammy Nominations)
I've enjoyed a few of The Weekend's stuff and thought he was OK at the 1/2 time show. Interesting he got no Grammy nods.
They have a few other interesting categories including Favorite Social Star, Athlete and video game. They also have some former categories they aren't using this year which include Favorite Book, Animal Star, Buttkicker and Wannabe award. One of the things that happen on this awards show you won't see on any other awards show is that celebrity hosts get slimed. This would be great if other award shows picked this up.
Interestingly Nickelodeon's international networks have different nominees for different countries such as Africa, Latin America, and Poland. The Kids Choice Awards appears to be a more fun and diverse show then the adult version of awards shows.
And now here are some of the notable nominee's of the 63rd Annual Grammy Awards out of the 83 categories.
Taylor Swift–6 nominations including Album/Best Pop Vocal Album (Folklore) and Song (Cardigan) of the year and Pop Duo/Group Performance(Exile" featuring Bon Iver) She is scheduled to perform at the 63rd Annual Grammy Awards.
Coldplay-Album (Everyday Life) of the year and Best Recording Package (No KIds Choice Awards)
I really like Coldplay but not this particular album save a few songs.
Post Malone-Album (Hollywood's Bleeding) and Song/Record (Circles) of the year. They are scheduled to perform at the 63rd Annual Grammy Awards.
BTS-Best Pop Duo Group Performance for Dynamite. They are scheduled to perform at the 63rd Annual Grammy Awards.
Best Traditional Pop Vocal Album-James Taylor/Harry Connick Jr./Renée Zellweger
It's interesting that these two legends are still singing after all these years and I never knew Renée Zellweger could sing.
We the Kingdom-Best Contemporary Christian Music Album (Holy Water) /Best Contemporary Christian Music Performance/Song (Holy Water)
This is one of the best new CCM bands to come along. The more I listen to this band, the more I'm liking them. The blending of and harmonizing of male and female voices of this multigenerational family of musicians, producers and songwriters giving their all rocking and having a good time singing about the joy of their Christian faith is catchy and inspiring.
Zach Williams & Dolly Parton Best Contemporary Christian Music Performance/Song: There Was Jesus
It's amazing that Dolly is still singing strong.
Best Comedy Album– Jim Gaffigan/Jerry Seinfeld/Patton Oswalt
The Grammys don't only honor the best in music but outstanding comedy.
Spoken Word-Charlotte's Web (E.B. White) – Meryl Streep and Full Cast/Alex Trebek – The Answer Is… – Ken Jennings
It's nice to know that books are recognized in a major award category.
Movies are also represented at the grammys.
Best Song Written For Visual Media– Pixar's Onward/Disney's Frozen II
Best Score Soundtrack For Visual Media – Star Wars: Rise of Skywalker/1917/Frozen II
Best Compilation Soundtrack For Visual Media-
A Beautiful Day in the Neighborhood
Bill and Ted Face the Music
Eurovision Song Contest: The Story of Fire Saga
Frozen II
JoJo Rabbit
And now we wait for the only award ceremony that most people seem to care and talk about.
The Academy Awards or the Oscars.
Maybe somebody will get slimed.