For those who want to dive deeper into the movie Father Stu and learn more about it,
This resource guide is to you.
In it you will find Mark Wahlberg talking to the best and brightest Catholic media personalities to talk about this unknown Catholic personally.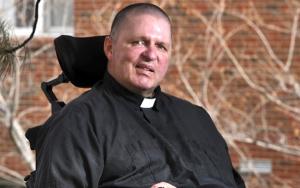 I couldn't help but think of Father Stu as Fr. Wilson was talking about being washed from sin, the importance of confession, the priesthood, and my wife being stuck in the kneelers. It is the phenomenal new film starring Mark Wahlberg, Mel Gibson, and Malcolm McDowell. It is about the life of the irreligious hard-drinking foul-mouthed boxer who eventually became a priest. A priest who consecrated the Eucharist and forgave people's sins in the confessional. Kristin and I saw it right before going to Mass and the overall tone and emotional impact of the film stuck in my mind as I prayed and participated in the mass. The film brought laughter and tears to both of us as it told a very human and spiritual story.
Fr. Stu Unstuck and Washed From Sin | Mark Wilson (patheos.com)
A dramatic failing of too many faith-based films is presenting conversion either as the climax or as the answer to all the protagonist's troubles. Harry Cheney, who teaches at Chapman University's Lawrence and Kristina Dodge College of Film and Media Arts, wrote nearly four decades ago in a Christianity Today film review of a Billy Graham production that "an encounter with Christ should propel the action, not end it." Very few conversion-themed religious films made in the intervening years satisfy that maxim. Father Stu is one of the few that does.
Steven D. Greydanus–Father Stu is a mostly endearing, shaggy redemption story – Catholic World Report
The story of a foul-mouthed boxer turned priest dying of a degenerative disease isn't a pitch likely to open doors either in Hollywood or in the faith-based film community, where the R-rated language was an issue. But Mark Wahlberg, who heard about Stu's story from one of his parish priests, persevered for six years—almost as long as Fr. Long's ministry—ultimately partly funding the film itself.Steven D. Greydanus "Everything happens for a reason": Mark Wahlberg and Teresa Ruiz on Father Stu – Catholic World Report
Father Stuart Long was a real priest who served countless Catholics across Montana before succumbing to a fatal disease that almost kept him from the priesthood.
Traveling to Helena, the diocese where Father Stu served as a priest to attend the premiere of the movie offered a great opportunity to not only meet the actors and producers of the film, but also Father Bart Tolleson, a close friend of Father Stu's who was ordained alongside him. Having such an intimate knowledge of his life, he also worked closely with the movie crew including producer and actor Mark Wahlberg and screenwriter Rosalind Ross to achieve an authenticity to the real life of this unlikely priest.
Is the 'Father Stu' Movie Based on a True Story? 9 Things to Know About the Real Father Stuart Long| National Catholic Register (ncregister.com)
Knights of Columbus also made this  An Interview with Mark Wahlberg on Father Stu 
Wahlberg went back to his native Boston for a guest appearance on "The Greg Hill Show" on WEEI-FM to tout "Father Stu."
In an April 5 interview that was aired April 6, Wahlberg said it was on a Saturday when he met two priests from Good Shepherd Parish in Los Angeles who met him after hearing confessions for a 5 p.m. dinner — "the old guy dinner," said the 50-year-old actor.
"All of a sudden Father Ed starts pitching me on this movie," Wahlberg said. "And I'm (thinking), 'Why is he pitching me on this movie? Doesn't he have a job?' … It dawned on me this is something I should be paying attention to … to take Father Stu's story and bring it to the world."
Father Stu's story, in short, is that of an impulsive renegade who quits an amateur boxing career in Montana to become a movie star in Hollywood. He meets an attractive woman and becomes a Catholic for her.
But a near-death experience convinces him the priesthood is his true calling. As he nears ordination, he is stricken with an ultimately fatal disorder. But he was ordained nonetheless in 2007 and served as an example of unshakable faith, even in infirmity, until his death in 2014.
Wahlberg, on interview trail, says 'Father Stu' found him, not the opposite. Published Apr. 8 2022. Nation. (thebostonpilot.com)
CatholicTV also produced this  Father Stu Red Carpet In Boston
So, what makes Father Stu a Catholic movie, as opposed to just being a faith-based story?
It's got cursing, fighting, fierce conflict and sin, but it also has truth, beauty, grace and redemption. It may shave several years off, and compress, the story of how non-religious former boxer, bouncer and all-around-tough-guy Stuart Long (Mark Wahlberg) became Father Stu, only to die young of a progressive muscle disorder, but it retains the core message of his life:
The world is a hard place, suffering has value and can be redemptive, and God doesn't just lay His hand on the godly.
'Father Stu': What Makes a Catholic Movie? | Kate O'Hare (patheos.com)

I wish I could think of more recent examples of movies about Catholicism that had such a galvanizing effect, but there hasn't been such a reverent and healing Catholic film featuring this level of star power for many years. 'Father Stu': Tribute to Catholicism | National Review
 Catholic-Link also made this.  Father Stu Interview with Mark Wahlberg  and  Father Stu Catholic Movie Review 
When Amy hears people talking about sainthood and miracles in connection with her brother, she can't help but laugh.
"I think it's amazing, and I think it's hysterical. All I can think of is the stuff he used to do as a kid and I'm like, 'Oh my gosh!'" she said.
"Same thing with the movie… Mark Wahlberg is playing my brother and Mel Gibson's playing my dad. Mel Gibson was one of his favorite actors. It's hysterical. It makes me just laugh out loud every time I think about it. Oh my gosh! His sense of humor was always first and foremost, all the way to the end," she said.
"Everyone was saying, 'He failed in Hollywood.' And I'm like, 'No. He didn't. Look, there's a major motion picture coming out with his name as the title. He is laughing his butt off right now.' He didn't fail. He's been very successful." Meet Fr. Stu – the real priest, and true story, behind Mark Wahlberg's new movie (pillarcatholic.com)
Why do you think you're one of the rare Catholic actors that has found great success in Hollywood?
I don't know. I attribute a lot of my personal and professional success to my faith. But I don't know to necessarily call it within Hollywood, I don't jam my faith down everybody's throat, but I don't hide it. I just kind of live and exist with lots of people from lots of different walks of life. And I think, you know, I'm judged on what I bring to the table with each individual role that I play, and every movie that I produce and make, and the success of what I've brought to each project that I do.
EXCLUSIVE: Mark Wahlberg chats with Aleteia about Father Stu, faith, raising teens, and more
Bishop Barron also made this.  Providence and Vocation in "Father Stu" 
Wahlberg recently called the film the "most important movie I've ever done, and…the best movie I've ever been a part of." Considering he has been nominated for two Academy Awards ("The Fighter" and "The Departed") and has served as executive producer of iconic shows like HBO's "Entourage" and "Boardwalk Empire," that is quite a statement.
Interview: Mark Wahlberg has been wanting to make a movie like 'Father Stu' for years | America Magazine
There is a lot of muck in this movie to get to this payoff. But there was a lot of muck Stu had to walk through on his way to the priesthood. This was the arc of his life, at least in the movie version. All the nastiness in the beginning makes sense given where he ends up: a holy priest changing lives. I hated this movie until the end when it kind of made sense.
Austin Ruse-Father Stu: A Flawed Story of Redemption (crisismagazine.com)
Reading the obituary of the late Father Stuart Long, it's easy to find references to the many lives this remarkable man touched, even as he ministered within the walls of a long-term care center that became his final priestly post. "Father Stu" helps us also imagine how his humble love drew those closest to him, his own parents Bill and Kathleen, to love Jesus and to repair their relationship with one another. Stu never shied from a fight. Even as his health declined, he taught his flock and his own family that redemptive suffering can be a powerful life mission.
"All our outer nature is wasting away, but our inner nature is being renewed every day," Father Stu preaches at his ordination Mass from his wheelchair. "This life, no matter how long it lasts, is a momentary affliction preparing us for eternal glory. We shouldn't pray for an easy life."
From boxer to priest: 'Father Stu' offers an inspiring, gritty look at conversion – Our Sunday Visitor (osvnews.com)
Wahlberg also spoke of the deep devotion Father Stu's father had in caring for his son during his most critical days.
"There are so many messages in the film," Wahlberg told the Register, but he singled out "that message of the father-son relationship — to see how wonderful Bill was in coming back and really being able to take care of Stu in the time that was most needed, and redeem himself in the way that he did."
The real Bill Long, a self-effacing man of few words, also spoke to the Register April 4. He didn't see anything remarkable in the devotion he had caring for his son, not to mention his wife, who was terminally ill around the same time. Long said, "That's the promise I made" in the sacrament of marriage.Father Stu and the Gift of Divine Mercy| National Catholic Register (ncregister.com)
For the premiere of the @fatherstumovie, we are excited to release Father Stu's favorite prayers, read by @markwahlberg, exclusively on @hallowapp!
You can now pray with Mark:
The Holy Spirit Prayer
The Rosary
The Anima Christi
For More Videos Click Here
For More Articles See Below
INTERVIEW: Mark Wahlberg Says God Was Behind New Film 'Father Stu,' Speaks Out Against Culture's Lack of Grace | CBN News
Mark Wahlberg: How Our Lady Helped Make "Father Stu," Actor Reveals in ChurchPOP Interview –
Mel Gibson, Mark Wahlberg talk about 'Father Stu' — and the 'Passion of the Christ' sequel | Catholic News Agency
Mel Gibson, Mark Wahlberg talk about 'Father Stu' — and the 'Passion of the Christ' sequel – Catholic World Report
Raising Father Stu: On-screen dad Mel Gibson and real-life dad Bill Long discuss beloved priest – Catholic World Report
What did the critics think of 'Father Stu'? – Deacon Greg Kandra (thedeaconsbench.com)