Doing weekly TV reviews is an exhausting exercise of mental concentration and creativity.  As much as I would like to partake in this exercise I started about a month ago, I find I lack the mental resources to turn out in-depth quality commentary on the shows I watch and like. But She-Hulk and Rings of Power gave us their epic conclusions and I have a sense of writing reasonability to say something about them, especially seeing I said something about the episodes leading up to those final episodes, even though I don't have the power reserves to do so at the moment. But life goes on and my desire to say something about it scratches at my brain. Besides, there was a neat and thought-provoking mind-bending episode of The Simpsons that needs to be talked about, and Star Wars Andor brings us to the half-way point of its 12-episode first season as well.  I also cannot fail to mention the continuing underwhelming quality of the new Quantum Leap and the other few comedy shows I partake in every week.
Fortuanlly there are plenty of others out there that do have the talent to comment on the shows I am too tired to comment on. I humbly rely on their wisdom and imaginative juices of well-produced thought in the form of well-crafted YouTube videos to do what I would do if I possessed the same level of energy and memory to do so. I may not always have the clever words to say what I would like to say but recognize those who do and then put them on display. What I lack in originality I make up for in assembling and putting stuff together in one place for others to partake in and read.
NOTE: After revisiting this article, I added more small stuff I didn't know I had it in me to write.  My first draft was as undeveloped as the new Quantum Leap.
I couldn't sleep knowing my subpar work was going out to the public.
Still I could do more, but also did more then I thought I could.
I hope it amuses someone.
The Simpsons Season 34 Episode 3 Sundays FOX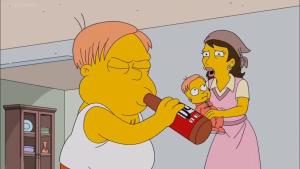 The Simpsons puts weird possible fan theories in an episode that will blow your mind with craziness.
Learn which Simpsons character never really existed.
Learn which Simpsons character is not who he appears to be.
Learn how the Simpsons predict the future.
A parody of Quantum Leap is not out of the question for future episodes.
But watch this video that explains these curiosities and more.
Quantum Leap 2022 Season 1 Episode  4  Mondays NBC
Overall I haven't found the new continuation of QL to have the WOW impact of the original.
The big thing going for QL is some of the connections to the original.
This review emphasizes the type of YouTube review I would love to do.
Here is the big reveal of the episode.
Magic reveals that not only Sam leaped into him when he was younger, but that he is a former Ghostbuster.
The next episode teases Ben leaping back much further then his own lifetime in the Old West.
Perhaps he will meet up with Marty McFly and use the Delorean to get to his desired point in time. Universal owns both franchises so why not?
The series doesn't feel like it can stand entirely on its own two feet yet. The callbacks, Easter eggs, and references are helpful tools for drawing in the older demographic while putting fresh faces to the fore to pull the younger generations into the show's orbit. However, there's a fear that Quantum Leap might rely too heavily on those nods and bank too hard on nostalgia to wade through its freshman season.

So far, the series misses some of the original's charm and heart. That's not to say it's fully devoid of those qualities. We see glimpses of that charm and heart lingering between Ben and Addison and in the scene with Ian and Jenn. But that's it. The show ostensibly tiptoes around that without going all-in.

It makes one wonder whether we would've been better off not essentially starting the pilot with Ben's leap. We still don't fully know these characters yet, and the chemistry leaves something to be desired. There's also a certain woodenness in the acting, with the dialogue occasionally weighing down those performances.

Quantum Leap Season 1 Episode 4 Review: A Decent Proposal | Tell-Tale TV (telltaletv.com)
La Brea Season 2 Episode  3 Tuesdays NBC
Even though La Brea is not a great spectacular show, it happens to be the better time travel show on NBC.  And now it just got better as the sci-fi is based on something real.
From Wikipedia. La Brea Tar Pits is an active paleontological research site in urban Los Angeles. Hancock Park was formed around a group of tar pits where natural asphalt (also called asphaltum, bitumen, pitch, or tar; brea in Spanish) has seeped up from the ground for tens of thousands of years. Over many centuries, the tar preserved the bones of trapped animals. The George C. Page Museum is dedicated to researching the tar pits and displaying specimens from the animals that died there. La Brea Tar Pits is a registered National Natural Landmark. The La Brea Tar Pits (@labreatarpits)  is on  Twitter.
Seeing there on the same network there is no reason why there can't be a crossover with Quantum Leap. It can't make the show any better or worse.
Star Wars: Andor Episode 6   (1/2 Way Done) Wednesdays Disney +
What if Ben leaped into a Galaxy Far Far Away?
This episode displays how great and just the Rebellion is against the Empire is,
by having the rebels threaten to kill the wives and children of Imperial officers.
I'll admit that their were some really cool great visuals. of stuff that doesn't happen in our universe.
It also  felt a little more like Star Wars with Tie-Fighter pilots crashing into things and blowing up trying to shoot the good… protagonists.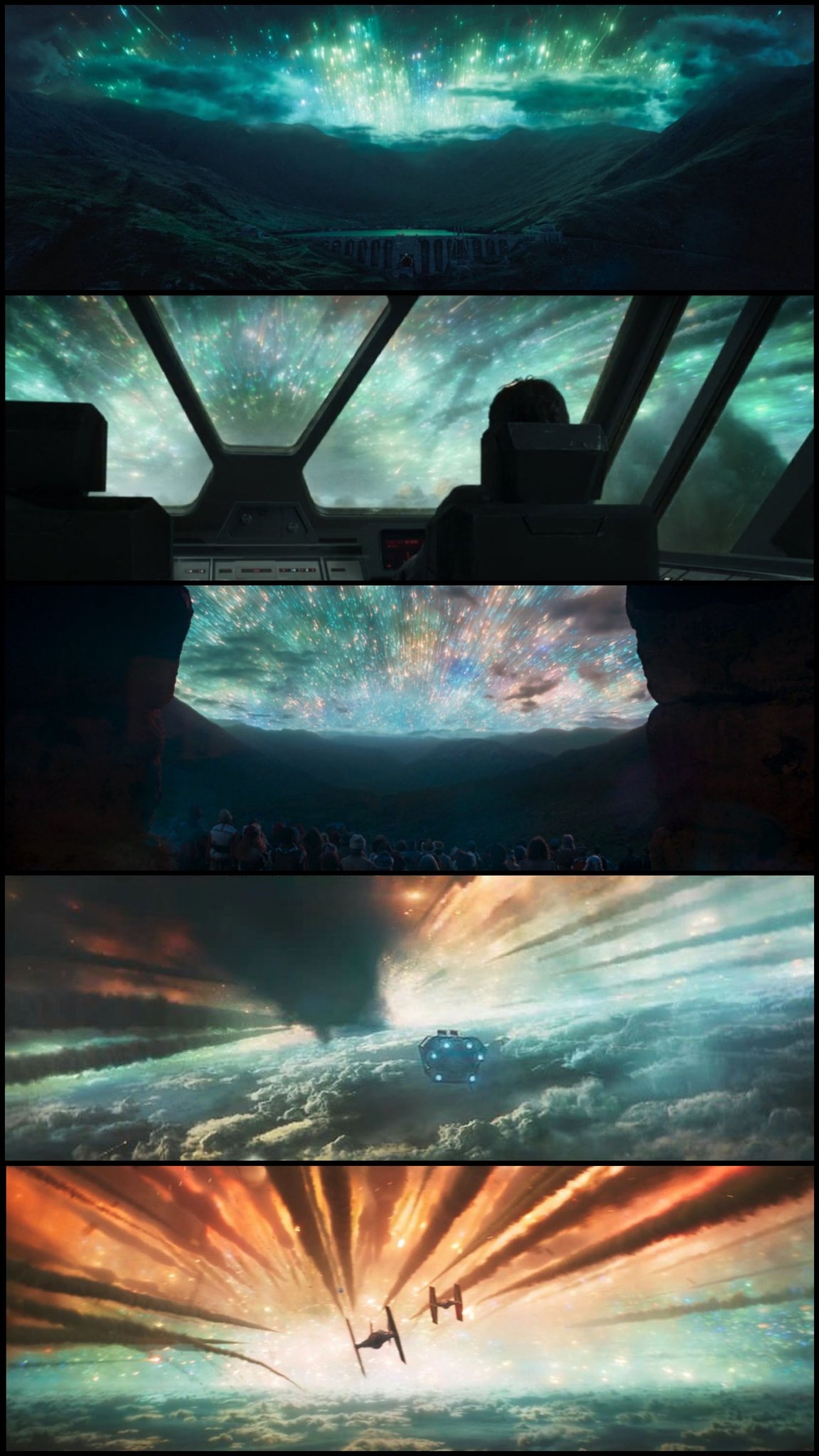 Alice Grimm@Alice_J_Grimm:  Andor has me excited about Star Wars for the first time to since I was a teenager. I love how petty and incompetent and miserable the empire is.

I love how not-special the rebels are. I love that the Empire will lose to this group.

A Senator no one's listens to, a weird old art dealer, an hyperactive kid writing a manifesto, a woman out for revenge, a murderer, a man who would rob his companies if he had the chance, a guy angry he didn't get promoted, a former fascist w/ authoritarian tendencies

The rebels have violent and deadly internal conflicts and don't agree with each other ideologically and are neither nice nor kind.

A story where a deeply imperfect group is what ends galactic empire feels really important.
The Goldbergs Season 10 Episode 4 Wednesdays ABC
Have you ever wondered what became of Knight Rider/Baywatch/ singing sensation David Hasselhoff?
Dave along with other 80's icons has cemented his legacy by guest starring on the show that gives weekly homages to one of the greatest decades of the 20th century,
The Goldbergs.
Ben could leap, no it's the 80's, Scott Bakula should guest star and leap into a Goldberg's character. Say Jon Glascott, Johnny Atkins or how about Barry or even Adam himself.
Adam: Hey, Bar, it's me. Open the door.
Barry: I don't want to talk to you.
Adam: I get it, but I have someone here you will want to talk to. It's your personal hero.
Barry: Is it Carl Weathers?
Adam: No.
Barry: Chuck Norris?
Adam: No.
Barry: Lou Ferrigno?
Adam: No.
Barry: Jean-Claude Van Damme?
Adam: No!
Barry: Tony Danza?
David Hasselhoff: No! Just open the damn door! It's David Hasselhoff!
Barry: ( Gasps ) David Hasselhoff from "Knight Rider"? Is KITT here, too?
David Hasselhoff: I should be enough.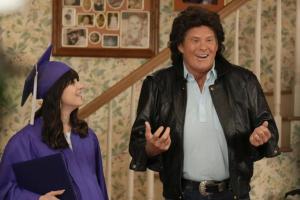 She-Hulk: Attorney at Law Season 1 Episode  9   SERIES FINALE
The most offensive thing about She-Hulk is the level of promiscuity displayed in a show that younger impressionable people will watch. Otherwise I really can't see justification for all the hate. The show has its charm and wittiness.
This final episode was a lot of fun as were other episodes of the show.
We got Wong doing his wizard stuff.
We were introduced to the wonder of Madisynn.
Daredevil entered the MCU kicking a lot of ass.
Great 4th wall action with She-Hulk
We learned the truth about Kevin Kevin Feige.
We got more Smart Hulk.
We got to meet Hulk's son Skaar.
A reformed Abomination who writes great Haikus.
our hearts beat the same
if i say im the monster
what does that make you
Seriously Ben leaping into a character on the show would just fit in with the wacky element She-Hulk has been presenting us with.
Lord of the Rings: Rings of Power: Season 1: Episode  8 SEASON FINALE
While I was filling out menus for residents at work today, a woman had on the TV on the other side of the room.
I heard the sounds of action in the background but my back was turned away from it, so I couldn't see what was going on.
I finally went over to see  what was on the tube and low and behold it was Lord of the Rings: Fellowship of the Ring.
Aragon was busy cutting Orcs in half as they shouted "Find the Halflings."
I informed her that was the movie she was watching and she seemed to not know much about it.
In this final episode of Rings of Power it breaks the continuing streak of making this exciting fantasy world boring by revealing
The Harfoots have pluck and bravery and try to defend the Stranger.
The possible identity of the Stranger. Gandalf? A Blue Wizard? A Jedi Knight from another Galaxy?
The true identity of Sauron.
The possible fling between Sauron and Galadriel.
The forging of the Elven Rings of Power.
The beginning of the Adventures of a Wizard and a Hobbit.
Below is just one of many videos of real geeky nerds explaining all the Easter Eggs and Tolkien reverences made in the final episode.
Seeing Ben can possibly leap anywhere, he could leap into a character in this series, providing NBC and Amazon can cut a sweet deal.
Peter T. Chattaway on FB:  In a day and age where Marvel, Star Wars, and Star Trek shows are constant letdowns — and considering how cringe the Hobbit trilogy was — I'm weirdly relieved that The Rings of Power started out "surprisingly okay" and stayed "surprisingly okay" right to the end.
Ghosts Season 2: Episodes 3
CONTENT WARNING: Some Sexual references
CBS's American Ghosts is currently in its second season.  While BBC's British Ghosts is in season 4.
One of its Ghosts got sucked off to the real afterlife.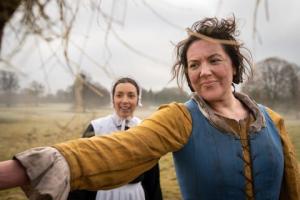 I think I would have to sign up for HBO Max in order to actually watch it.  I'm not ready to add another service to my arsonal of streaming services.
I can be entertained by this clip from the show though.
While this is going on in England, here is what is going on in America.
Ghosts CBS Fans@GhostsCBSFans (Oct 11. 2022) "Ghosts" — which is co-produced by Lionsgate Television, BBC Studios, and CBS Studios
— is the first comedy to take the No. 1 position with its Season 2 premiere since "The Simpsons" in 1991. #GhostsCBS
What if Ben leaps into a person on the Ghosts property and then dies. He would be stuck as a time-traveling Ghost.
Oh the possibilities.
To end this imperfect quick pick bunch of TV reviews here is a review of a show I started watching and just finished called
The Imperfects  (Netflix)
It would be interesting if Ben could leap into the character Juan on the show who was able to turn into a chupacabra.
SPOILERS