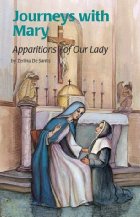 Journeys with Mary – Apparitions of Our Lady by Zerlina De Santis is part of the Encounter the Saints Series published by Pauline Books.  This book is a wonderful collection of nine Marian apparition stories for young children.  The book states that these have all been approved by the Church.  The length of each story ranges from 6-16 pages with five of them containing an accompanying full page picture. (My daughter just wishes each story had such a lovely illustration to compliment it!)  The longest story is Our Lady of Fatima.  That particular story even includes the Angel of Peace's visits to the three children, so this easy to understand book does not skimp on details.  My daughters and I learned some new things about apparitions we already knew and also found out about some visions we never heard of before.  Some of the well-known ones include – Our Lady of Guadalupe, Lourdes, Fatima, Mount Carmel, and Miraculous Metal.  The rest of the book includes – Our Lady of La Salette, Knock, Beauraing, and Banneux.
Each story at some point includes the country and date of each apparition helping the young reader understand Mary has appeared many different times and places around the world.  It ends with a little synopsis of how the apparition is celebrated today including things such as – the feast date, how the apparition site is a Marian shrine or church today, visitors to the site, and beautification of the visionary.    Most importantly, it recaps how the apparition still applies to us today.  We still receive blessings by wearing the Scapular and the Miraculous Metal.  We still need to say the rosary and pray.  We still need to keep Sundays holy and not offend God.  No matter how long ago these apparitions happened, this delightful book teaches us that we need to continue to heed The Blessed Mother's requests even today.
I received a copy of this book for this review from Pauline Books and Media.You can learn more about the book on their website here.