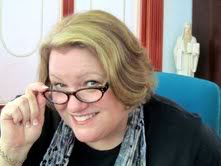 Yesterday I posted my review of Strange Gods : Unmasking the Idols in Everyday Life. You can find that review here. I was really excited when Elizabeth Scalia, The Anchoress, agreed to take some time out of her busy schedule to answer a few questions. So without further ado….here is my latest author interview.
Q: With a rather large and steady following on the internet, best known there as the Anchoress, how did you find time to write a book?
A: I have the best husband in the world, basically. At Patheos I run my own blog, manage and promote about 25 other writers and edit submissions, and I have regular column deadlines for First Things and The Catholic Answer, so most of the book writing happened when the workday was done. My husband had to deal with me complaining that by 10 PM my head was empty of brains, or whining about writer's block. He was magnificent, through the whole ordeal. He still is.
Q: Your most recent book for those who may not know is titled Strange Gods : Unmasking the Idols in Everday Life. The subject matter of idols in daily life is a huge issue in our non-stop, gotta have my info now, world. What in particular drove you to tackle the topic?
A: I hate to say "Saint Gregory of Nyssa and the Holy Spirit" because it makes it sound like I'm presenting myself as someone a lot holier than I am, or as someone "chosen" to write this (which, honestly, I'd roll my eyes at myself!) but I have long-believed that while none of us are worthy of a thing from God, our willingness is always put to use toward his purposes. Bono said once that when writing music, it sometimes seem to him as though the thing — the melody, the notion, the musical phrasing — is already "out there" and waiting for someone to be willing to grab it and develop it. The book was a little like that, for me. I kept pondering Nyssa's quote, "ideas lead to idols, only wonder leads to knowing" and at the same time I kept bumping into my own questions as to whether idolatry was churning beneath America's relentless ideological division (which I wrote about a few times in First Things), and then one night, I was trying to sleep and suddenly the outline popped into my head, fully formed. So, I got out of bed, typed it out, said "okay, Lord, if you want this, I'm willing!" and sent it to someone I'd been in touch with at Ave Maria Press, basically saying, "yeah, I think this is a book I'd be able to write…"
The funny thing about it — both funny-haha and funny-strange — is that the book was released right around the time Pope Francis began talking about idolatry with some frequency. That's why I think the book has nothing at all to do with me, but that the Holy Spirit means for us to think about, and talk about, what we're putting between ourselves and God, and what that habit is doing to our souls and to our relationship with a Creator who is always reaching out to us. If that's the case, then if I hadn't been willing to write Strange Gods, someone else would have. Sometimes, in the pope's words, I get a sense of urgency about it — that we really need to understand this.
Q: You mention a number of idols throughout the book. What do you feel is the most damaging idol a person can allow to consume them?
A: Wow, that's a really good and really difficult question. I imagine it is different for everyone, but perhaps the idol of hipness — of being cool and riding every trend — is the most damaging because it encourages a suspension of reason for the ease of parroting whatever the current slogan/philosophy is occupying our minds. We're not meant to give up our reason, but the zeitgeist, if it is embraced, demands that we do so: think the correctly-current thoughts or be seen as out-of-touch, or even as some sort of narrow-minded "hate-ist", and be despised.
It's an insidious idol, and one many parents train their kids to bow to, every single day, because they — the parents — are also unwittingly caught in its snares. It's an idol that foments cynicism and destroys the idea that anyone is ever dealing in good faith.
Q: As I work my way through the book I am finding a number of "that's me" moments. Did you experience the same thing as you wrote the book?
A: Constantly. The reason I was the right person to write the book is because I've been an idolator all my life. Hey, hey, we're the Monkees! I was right there plastering these pictures all over my walls; I'd read a book and allow myself to be so caught up in it, it would enter my dreams. In the last chapter of the book, I make confession about all of that and more.
Q: What is the main take away you hope every reader gets from Strange Gods?
A: God is reaching out to us, to every one of us. The commandment to honor him is not put there because he is an insecure God who needs us to be telling him how great he is, but to remind us to look at him — the Creator who loved us into being and is Eternal — and not at the world of illusion, division and temporary things; to look at him and let him love us. Pope Benedict XVI wrote often, and beautifully, about God's indulgent love for us, and Pope Francis is building on that in his forthright homilies. God is an abundance of love and it comes forth to us on his intention full of "yes." But we have to be able to receive it, willing to receive it, and then clear out some of the stuff cluttering the pathway.
Q: Are there any other books on the horizon or any ideas for potential books?
A: Oh, boy. Remember I told you my husband was "magnificent"? Yes. But I don't know if I can ask him to do that again. I have a million titles/notions in my head but so far none of them are waking me up and forcing me to type up an outline. Whatever God wants. I just kiss it all up to him and don't think about it.
Q: Time for my signature ending question. This is a blog about books. What is currently on your bookshelf to read?
A: I just finished reading Men on Strike by Helen Smith, PhD (a fast read on an important topic) and The Everyday Catholic's Guide to the Liturgy of the Hours by Daria Sockey (ditto), but I haven't had a chance to write about them, yet. Also just finished How the West Really Lost God by Mary Eberstadt — which ties in, in a way, with Smith's book. Perhaps we're meant to be pondering how the loss of the family foments loss of faith, and the importance of men in that whole equation.
Right now I'm cueing up On Heaven and Earth which is by the Holy Father (when he was still Cardinal Bergoglio) and Abraham Skorka, and I have The Miracle of Father Kapaun ready to go on my nightstand, and Mother Dolores Hart's The Ear of the Heart. But I'm also trying to re-read Catch-22, because I'm specifically looking for one paragraph that I want to write about in relation to something happening in the news. And because of the recent death of E.L. Konigsberg, I just re-read From the Mixed-Up Files of Mrs. Basil E. Frankweiler. Because I just love it.
Thanks again to Elizabeth Scalia to sharing some thoughts and taking the time out for some questions! Be sure to visit her Patheos blog here.