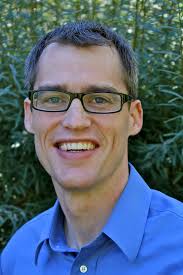 PETE: With multiple resources available to pool from, how difficult was it to select the specific subject matter for Through the Year with Pope Francis?

KEVIN COTTER: One of the biggest challenges in writing the book was reading through so much material. The good news is that Pope Francis is a very punchy and systematic preacher who is relatable and understandable. This was all very helpful in selecting powerful and memorable quotes for a daily meditation book. As I've continued to tell people, he's the best co-author a guy could ask for!

PETE: Why do you feel daily prayer and meditation, especially on the words of the Pope, are so important?

KEVIN COTTER: I'll answer your question with the words of Pope Francis, "Anyone who does not pray to the Lord prays to the devil." As Christians, our lives are a battlefield. The Lord seeks our redemption and the devil seeks our demise. If I didn't speak to my wife each day, we'd grow farther apart. The same applies to our relationship with the Lord. If we aren't concretely trying to grow closer to the Lord each day in prayer, we allow the devil to gain ground.

So, why then pray with the words of the Pope? Pope Francis, like so many popes in the past, seeks to communicate the message of the Gospel. Francis has as unique gift for communicating this Gospel in a way that is fresh and relatable. The Gospel is, at times, alarming, comforting, unbelievable, simple, radical, and even somehow all of these things simultaneously. We need to be put in touch with this Gospel if we are going to change the world and not let it change us.

PETE: Are there any other books on or by Pope Francis you recommend?

KEVIN COTTER: For the book, I read everything by Pope Francis that I could get my hands on which didn't leave much time for me to read too many books about our Holy Father. I'm looking forward to reading a biography or two in the near future.

I think the best place to start is reading the man himself. If you are hoping to read longer chunks than the daily meditations, here are the addresses and homilies I recommend:

1. Easter Vigil Homily


2. Vigil of Pentecost with the Ecclesial Movements Address
3. Rite of Confirmation Homily


4. World Youth Day Vigil Address
5. World Youth Day Closing Mass Homily
6. Divine Mercy Sunday Homily

I'd also recommend Evangelii Gaudium if you are looking for something even longer. Feel free to check out my summary on this apostolic exhortation.

PETE: You work with FOCUS and in particular played a role in PopeAlarm.com Can you explain a little about what each is and your role in each?

KEVIN COTTER: FOCUS stands for the Fellowship of Catholic University Students. FOCUS is a national outreach that meets college students where they are and invites them into a growing relationship with Jesus Christ and the Catholic faith. We send teams of full-time, post-graduate missionaries to college campuses around the country. We build personal relationships with students, invite them to small-group Bible studies, and mentor them to help them reach their peers with the Gospel. We currently have over 350 missionaries who work on 83 campuses nationwide.

I work for FOCUS from our headquarters just outside of Denver, Colorado. My title is Director of Web and Curriculum. In short, I oversee our websites and all of the resources for our missionaries and students on campus. This includes writing Bible studies and how-to guides on prayer, evangelization, and discipleship. These are made available for free at our resource website, FOCUSEquip.org.

Within this role in FOCUS, I developed PopeAlarm.com last year for the conclave that elected Pope Francis. PopeAlarm notified over 130,000 people via email and text messaging upon the election of the pope. The idea sprang from a personal dilemma I had – What if the pope was elected while I was sleeping? How would I be able to see the election live? I thought a text message would be the only thing that could wake me up in the middle of the night. From this idea, we created PopeAlarm as a way for others to hear the news wherever they were. 

On my end, I had a few sleepless nights, but it was a really fun project to work on. Not only did over 130,000 people sign-up, but we received an incredible amount of media coverage. Coverage included Diane Sawyer's ABC Nightly News and lead story for NPR's Morning Edition, along with other 4,000 online news articles in over 17 languages. Even though it's been a year since the election, I'm still in awe of the whole experience. It was by far the craziest week of my entire life!

PETE: Between working on this book and your PopeAlarm.com work you have had considerable exposure to info on Pope Francis. What are your thoughts on him now that he has been in the seat of Peter for nearly a year?

KEVIN COTTER: Overall, I'm in awe of him as a person. It's been a joy to encounter his witness to live and preach the Gospel. His words have affected my own relationship with Jesus and how I see the Gospel, the world, and other people. I am grateful for this.

In terms of a wider audience, the Church seems to have a new face and a new voice. I'm a huge fan of Pope John Paul II and Pope Emeritus Benedict XVI and I believe the style and message that they brought were necessary for the time that they lived. Building off of their work, Pope Francis is now about to communicate the teaching of the Church and the Gospel in a way people can relate to. Many times he isn't saying anything too terribly different than what was said before; the difference is that more people listen to his words and trust what he is saying. People's trust in the Church has taken a huge toll in the last 30 years and I think he is a doing a tremendous job of restoring that trust through the way he lives his life and carries himself. 

The secular media is of course helping promote Pope Francis. They carry a great hope for change and laud Pope Francis as the messiah for change in the Catholic Church. Pope Francis is changing the Church, just not doctrinally like the media is hoping for. It will be interesting to see the tug-of-war in the future as this honeymoon phase slowly wears off.

Finally, I really like the missionary spirit he's brought. In particular, his emphasis on a messy Church who is seeking to share the Gospel with others. As Catholics, we can sometimes worrying more about having everything right than the end result of preaching and sharing the Gospel. We should try to do everything right, but first and foremost we should have a passionate love for the Lord and a passionate love for people. Sometimes we can get distracted by things that are important, but not the most important. I think Pope Francis embodies this well. He has his priorities straight because he aligns them with the Gospel.

PETE: Time for my signature ending question. This is a blog about books. What is currently on your bookshelf to read?

I love this question! Here's what I'm reading right now:

On prayer

The Fulfillment of All Desire by Ralph Martin

33 Days to Morning Glory by Fr. Michael Gaitley

I'm also reading through my own book. I always feel a little funny to carry my own book around the office and in the chapel, but I continue to find fruit in meditating upon Francis' words.

Academic reading

Paul and the Faithfulness of God by N.T. Wright (I'm hoping to finish this 1600 page tome by the year 2020!)

The Unintended Reformation by Brad S. Gregory

Business

Platform by Michael Hyatt

The Advantage by Patrick Lencioni

With my children

Chronicles of Narnia – we are on the second to last book, The Magician's Nephew

___________________________________________________________________________________________________

Kevin Cotter serves FOCUS as the Director of FOCUS Equip and the Director of Web. Previously, Kevin served FOCUS as an on campus missionary at Benedictine College. Kevin holds a BA degree in Religious Studies from Benedictine College and a MA degree in Sacred Scripture from the Augustine Institute. Kevin currently resides in Denver, CO with his wife, Lisa, and their children. You can visit his blog at FOCUS here.