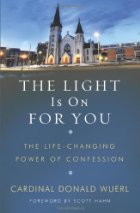 Have you been neglecting the sacrament of reconciliation? Are you new to the faith and want to learn more of what Confession is all about? Are you a regular confessor but would like a refresher in the sacrament? Than look no further than this book, The Light Is On For You: The Life-Changing Power of Confession by Cardinal Donald Wuerl.
The title of this book comes from the successful program of the same name that was started by Cardinal Wuerl and others. As the Cardinal states: "Leaving the light on is a basic family courtesy. It is  a beacon of love, care, concern and safety – the good things we associate with home." So it is with the confessional whose electric light is the sign for penitents to enter.
Cardinal Wuerl presents the reader with a very approachable, easy to understand book about and for confession. The beginning chapters lay out the basics of confession. Though you may be  familiar with these, I found it served as a great review of what this sacrament is all about. Starting with "Why Go To Confession?" we learn "There are many good reasons to go to Confession….it satisfies a genuine and profound human need. We need to confess because we have sinned, and sin brings about a decisive rupture in our relationship with God. God is merciful and always ready to forgive us, but he will not compel us to love or to be reconciled. God created us to be free – and he respects our freedom."
This base is built upon as we learn about the richness and value of the sacrament. Cardinal Wuerl covers the first sin committed by Adam and Eve, then progresses on to the horrible sin of Cain. "The sins of one generation cascade into the next leading to the flood in Noah's time, the confusion of languages at the Tower of Babel, the destruction of Sodom in the time of Abraham, the enslavement of Israel in Egypt, and the Babylonian exile. All these later catastrophes trace their genealogy to that first sinful action – the fundamental breakdown that we call original sin."
All hope is not lost lost however as we have been left with a wonderful gift from Christ himself. The opportunity to repent and experience the road to conversion. "Our purpose in life is to be transformed into Christ. We want to have the mind of Christ, be the body of Christ, share the blood of Christ, bear the name of Christ, have the Spirit of Christ, and even feel with the affection of Christ."
Included in the book is the chapter, Celebrating the Sacrament. This chapter features a 10 step detailed process on the Sacrament itself. An excellent resource for those new to confession or away from it for a period of time and in need of a refresher. Also of interest is Obstacles, Real and Imagined. This chapter contains reasons people give for staying away from Confession. "Some are very common objections. Others will sound strange, perhaps, but, I assure you, I'm not making any up." Some of these include: I don't know how to go, I would shock Father, I'm too busy, I'm too old. I don't sin anymore and I'll just say, "I'm sorry" directly to God in the privacy of my own home. To each of these the Cardinal gives responses  that gently point out why each are not accurate ways of thought.
Additional inclusions in the book are personal stories titled "From the Pews." Each are anonymous but beautiful stories from individual experiences with Confession. There are 5 appendixes that include the steps and prayers used inside the confessional. Also included are two very helpful ones a brief and a longer examination of conscience. All very helpful tools that can be used for future reference.
The Light is On For You is a wonderful little book that provides the reader with a solid resource on Confession. This often neglected, frequently misunderstood sacrament benefits from the down to earth writing of Cardinal Donald Wuerl. He has presented the reader with an invitation to come back and partake of the joy and healing of Confession. It would be wise for us to accept.
________________________________________________________________________________________________________
I received a copy of the book for this review from Word Among Us Press
You can read my interview with Cardinal Wuerl about the sacrament of confession and his book The Light Is On For You here.