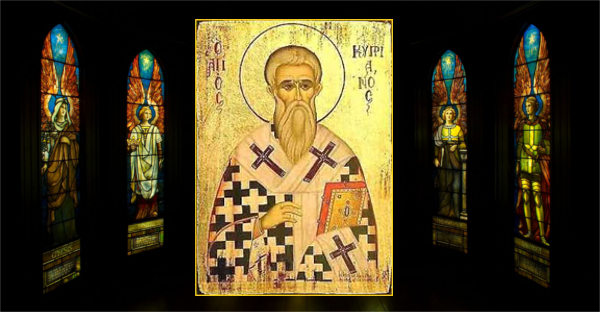 St. Cyprian tells a group of Christian prisoners that their sufferings are earning them greater honors than the proud officials who confine them there will ever have. They have missed a whole year of changing seasons in the outside world, but their suffering brings them far better rewards in heaven.
Forget the judges and governors. Let them puff themselves up with the symbols of their dignity, which lasts for only a year. The heavenly dignity in you is already sealed by the brightness of a year's honor, and its victorious glory contin­ues into another year.
The changing months have passed, and winter is gone; but you, shut up in prison, suffered the winter of persecution instead of the inclement weather out­side. After winter came the mildness of spring, rejoicing with roses and crowned with flowers; but you had roses and flowers from the gardens of paradise, and heavenly garlands wreathed your brows.
Now the summer bears its fruitful harvest, and the threshing-floor is full of grain; but you sowed glory, and are reaping the fruit of glory. On the Lord's threshing-floor, you are seeing the chaff burned with unquenchable fire. Like grains of wheat, winnowed and precious, purged of chaff and gathered in, you see prison as your granary.
Nor does autumn lack spiritual graces for the tasks of the season. The vin­tage is pressed outside, and the grape that will soon flow into the cups is pressed. You, rich bunches from the Lord's vineyard, branches with fruit already ripe, pressed by worldly troubles, fill your wine vat in the torments of prison, and shed your blood instead of wine. Standing up bravely to your suffering, you willingly drink the cup of martyrdom.
So the year rolls on for the Lord's servants. Thus we celebrate the changing seasons with spiritual honors and heavenly rewards.
–St. Cyprian of Carthage, Letter 15
IN GOD'S PRESENCE, CONSIDER . . .
Do I grumble about my sufferings?
How can I learn to see them as "roses and flowers from the gardens of paradise"?
CLOSING PRAYER
Lord, you set captives free, you raise up the downtrodden, you give hope to the hopeless and help to the helpless; you lift up the fallen; you give refuge to the shipwrecked and justice to the oppressed. Have mercy on all who are in prison, or on trial, or in bondage in any way. Grant that they may find mercy and compassion from those who have led them captive, and deliver them from their captivity.
---
Remember to subscribe to my feed to so you will not miss a day! This recurring feature at The Catholic Book Blogger is possible through the cooperation of author Mike Aquilina and publisher Saint Benedict Press. To get your own copy of this book, click below.