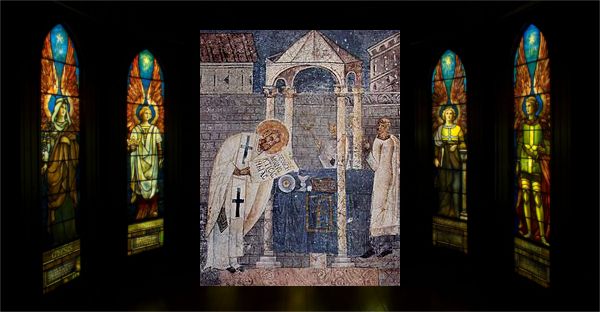 Secular learning is good and useful, says St. Basil, when we understand that our true goal is heaven. By understanding history and science and other things the world teaches, we exercise our minds for understanding the higher truths of Scripture.
Young men, as Christians we believe that this human life is not supremely valuable. We do not recognize anything as an unconditional blessing if it benefits us only in this life. Family pride, strength of body, beauty, position, universal acclaim, royal power, anything that might be called great in human terms—we see none of these things as worthwhile, and we do not envy those who have them. No, we put our hopes on what lies beyond, and do everything in preparation for eternal life.
If you were to bring together every earthly good from the creation of the world, it would not compare to the tiniest part of the possessions of heaven. Everything pre­cious in this life falls shorter of the least of the goods in the other than the shadow or dream falls short of the reality. Or rather, as much as the soul is superior to the body in everything, so much is the heavenly life superior to the earthly life.
The Holy Scriptures lead us into the eternal life, teaching us through the divine words. But as long as we are not mature enough to understand their deep thought, we exercise our spiritual perceptions on the secular writings—which are not so much dif­ferent, and in which we see the truth, so to speak, in shadows and mirrors. In that way we imitate those who do military exercises: they gain skill in gymnastics and dancing, and then reap the reward of their training in battle. We must believe that the greatest battle of all is ahead of us, and to prepare for it we must do and suffer everything.
So we must be familiar with poets, historians, orators, and in fact everyone who can help our souls to salvation. First we are introduced to pagan legends, and then at last pay special attention to the sacred and divine teachings—just as we might first get used to the reflection of the sun in the water, and then can turn our eyes to the sun itself. –St. Basil, Address to Young Men 2
IN GOD'S PRESENCE, CONSIDER . . .
How do I make use of secular learning?
Is it leading me toward or away from God?
CLOSING PRAYER
Lord, you are the fountain of all wisdom. Let your Holy Spirit, the Wonderful Counselor whom you promised to us, enlighten our minds and lead us to all truth.
---
Remember to subscribe to my feed so you will not miss a day! This recurring feature at The Catholic Book Blogger is possible through the cooperation of author Mike Aquilina and publisher Saint Benedict Press. To get your own copy of this book, click below.