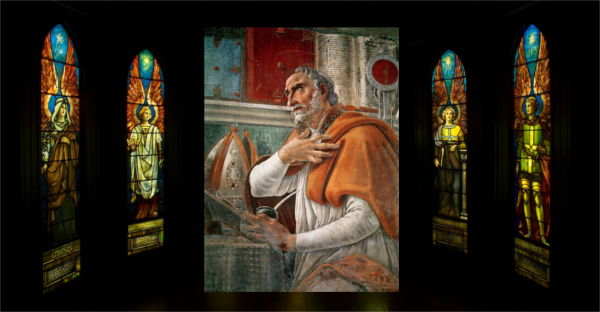 Arguing with pagans after the disastrous invasion of Rome in 410, St. Augus­tine says that all the bad things that happened then were not really evils. The only true evils are the ones that ruin the soul.
I think I've said enough about moral and spiritual evils, which are to be guarded against above all, to show that the false gods did nothing to keep the people who worshiped them from being overwhelmed by such disasters, but in­stead made the ruin worse.
Now I see I must speak of those evils that are the only ones heathens dread: famine, plague, war, pillage, captivity, massacre, and such disasters, which I've already written about. For evil men think that the only evil things are the ones that don't make men evil. Nor are they embarrassed to praise good things and yet remain evil among the good things they praise. It grieves them more to have a bad house than a bad life—as if it were man's greatest good to have everything good but himself. –St. Augustine, City of God, 1.14
IN GOD'S PRESENCE, CONSIDER . . .
Do I worry more about money or material troubles than I do about the state of my soul?
CLOSING PRAYER
Lord Jesus Christ, you take away the sin of the world. Forgive, remit, and pardon all my offenses, voluntary and involuntary, in knowledge and in ignorance.
---
Remember to subscribe to my feed so you will not miss a day! This recurring feature at The Catholic Book Blogger is possible through the cooperation of author Mike Aquilina and publisher Saint Benedict Press. To get your own copy of this book, click below.