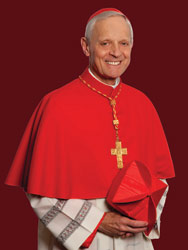 Welcome back to "The Clergy Speaks", a recurring feature here at The Catholic Book Blogger. "The Clergy Speaks" is a column focusing on one question I have asked various members of the clergy. That question is: What five books would you recommend as must-reads for Catholics today? I left the responses open to current or classic books with the only restriction being that the Bible and the Catechism could not be used as they are a given. This week we welcome Cardinal Donald Wuerl Archbishop of Washington.

The Cardinal was born in Pittsburgh, Pennsylvania, and attended The Catholic University of America, the Gregorian University and has a doctorate in theology from Saint Thomas University in Rome. He was ordained a bishop by Pope John Paul II in 1986, in Saint Peter's Basilica, Rome. He served as a bishop in Seattle and also in Pittsburgh until his appointment to Washington. His titular church in Rome is Saint Peter in Chains.
Here are Cardinal Wuerl's picks for must read books:
Thank you for the invitation to participate in your survey. You asked me to recommend five "must read" books, so here are my choices.
1. Redemptor Hominis, the first encyclical letter of Pope John Paul II. This letter calls all of us to reflect on the unique, saving role of Jesus; but it also outlines the teaching program of Saint John Paul's ministry, which lasted for over 26 years. As I paid tribute to this extraordinary teacher, I reflected on his encyclicals and apostolic exhortations in the book The Gift of Saint John Paul II. A true understanding of this great Shepherd of the Church begins with his first encyclical.
2. Introduction to Christianity by Joseph Ratzinger (later Pope Benedict XVI). This work was completed in 1969, when there was so much confusion in the world of catechesis. The author wrote with rare clarity and persuasive power as he helped readers to refocus their understanding of the perennial faith of the Catholic Church. Throughout his life, he wrote many profound works; and he continued to do so as Pope Benedict XVI, producing letters (such as his encyclical God Is Love), addresses, and even books.
3. Introduction to the Devout Life
by Saint Francis de Sales. This book — with a preface by the author dated 1609 — remains a spiritual classic. I first started using this book as a source of meditation when I was fifteen years old. I continue to keep a copy of it at my prie-dieu in the chapel of my residence.
4. The Joy of the Gospel
by Pope Francis. In understanding the "Francis effect," one needs to begin with this apostolic exhortation. Though it follows in the wake of the Synod on the New Evangelization, it also incorporates so much of the Pope's own vision. He tells us how the Church should not only proclaim the Gospel of Jesus Christ but, more importantly, live that Gospel day to day. This is the action plan.
5. I hesitate to include any of my own titles; but I do write books — and I write only books for which I've identified an urgent need. So consistency urges that I include the trilogy of titles I wrote with Mike Aquilina. The books address the basic elements of Catholic life, as evident by their titles: The Mass
, The Church
, and (forthcoming in September) The Feasts
.These are things most precious to Catholics: their sacred rites, their home parishes and favorite places of worship, and the annual feasts so rich in customs. God has sanctified time and space for us. I hope these books can open readers' lives to all the holiness that's so close at hand.
I hope that these recommendations will be useful to your readers, as all these books have been useful to me.
With every good wish I remain
Faithfully in Christ,
Donald Cardinal Wuerl
Archbishop of Washington