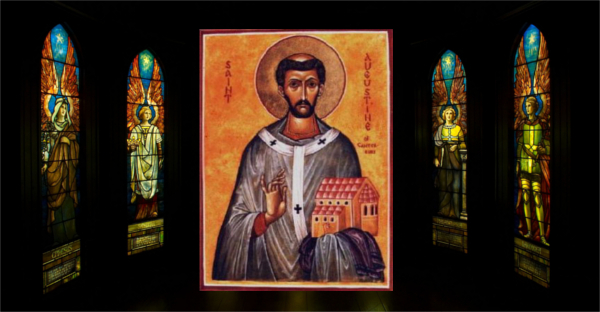 We can't thank God enough just for creating us and giving us the world to live in, says St. Augustine. But the really mind-boggling thing is that, in spite of our sin, God so loved the world that he sent his only-begotten Son.
We have already seen what good things God, who controls nature, lav­ishes on good and bad alike. But besides these, he shows the good an even greater love that belongs only to them.
Now, we can never thank him enough for the fact that we exist, that we live, that we see heaven and earth, that we have mind and reason to search for him who made all these things. But nevertheless, no hearts and no tongues can say that they are enough to thank him for this: that he has not left us completely, loaded down as we are with sins, loath to contemplate his light, and blinded by the love of darkness (that is, the love of sin). Instead, he sent his own Word—his only Son—so that, by his birth and suffering for us in the flesh that he put on, we might know how much God valued us; and so that, by that unique sacrifice, we might be purified from all our sins; and so that, when his Spirit had scattered love into our hearts, we might overcome every difficulty and come into eternal rest, and the unspeakable sweet­ness of the contemplation of God. –St. Augustine, City of God, 7.31
IN GOD'S PRESENCE, CONSIDER . . .
Do I remember to thank God even for the humblest things he gives me?
Do I thank God every day in my prayers for his mercy in sending his Son?
CLOSING PRAYER
Lord, enlighten my understanding, so that I may see that you brought me from the depths of darkness into light, and that you gave me life from death.
---
Remember to subscribe to my feed so you will not miss a day! This recurring feature at The Catholic Book Blogger is possible through the cooperation of author Mike Aquilina and publisher Saint Benedict Press. To get your own copy of this book, click below.