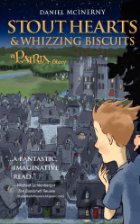 As you know, this blog is about Catholic books; however, this particular review is a children's book written by a Catholic author. Although, the story itself is not "Catholic", the author is. I stumbled upon this book and the author, Daniel McInerny, while at a Catholic Homeschool Conference earlier this summer. He gave a great talk on the importance of literature. My tween and teenager fell in love with this book, as well as, my wife, Laura!! So here is the review put together by my oldest daughter, Katie – with a little input from Mom.
Has a rock-hard biscuit ever hit you in the side of the head? Eleven-year old Oliver Stoop has had just that experience and it forever changed his life. Follow Oliver on an amazing adventure as he discovers the hidden world of Patria in the book Stout Hearts & Whizzing Biscuits: A Patria Story by Daniel McInerny. This awesome book will captivate young and old alike and is packed with suspense, jokes, action, and adventure.
When Oliver moves with his family to a remote plot of land in northern Indiana, the last thing he expects to find is an entire kingdom of people beyond the woods in his backyard. They are the good citizens of Patria, refugees from the Trojan War who sailed across the Atlantic in the Trojan Horse. Oliver's adventure begins when a stone hard biscuit slams into poor Oliver's head while he is mowing the grass in his backyard. All of the sudden, strange boys dressed as Indians appear. Oliver assumes that the kids are playing a game and tries to play along. To make matters worse, just when the kids begin to threaten Oliver, a girl crowned with a tiara and robbed in the color rose mounted on a pure white horse rides up. She tells Oliver he must surrender the "Cow Park" or face war with Patria. The kids retreat into the woods, but they leave Oliver with a lot of questions. Who were those corky kids? Where did they come from? What is the "Cow Park"? Turns out, the "Cow Park" is the land that Oliver's dad, Mr. Stoop, just purchased. It belongs to Patria, and they want it back. On the other hand, the proud Mr. Stoop won't give it up without a fight. Oliver and his dad try to spy on this unknown kingdom that Mr. Stoop thinks is a madhouse, only to be captured by the Patrians. When Oliver and his dad are released, Mr. Stoop orders Oliver to stay in Patria, act as a friend, and figure out what is really going on. However, Oliver truly does makes friends with two young royal Patrians – Princess Rose, the young, pretty, pampered princess of Patria and Prince Farnsworth, inventor of the Magna-Pneumatic Whizzing Biscuit Blaster. Together the new friends struggle to find the missing treaty between Patria and the United States, that was signed by Thomas Jefferson himself, stating who owns the "Cow Park". But will they discover where it is hidden before war breaks out between Patria and Mr. Stoop? Will Oliver keep his new found friends in spite of the tension between Patria and his family? Will peace ever return to the "Cow Park"?
This is a very enjoyable and easy to read book for middle-schoolers, although I am fifteen and I loved it!! It is a very hard story to put down; a dull moment never occurs and the plot moves along quite quickly. It is a peculiar but fun read where the characters are well developed and very likable. While putting this review together my mom even started reading it and would not put it down! This book with its quirky plot and its even quirkier quotes will entertain everyone from the first chapter – "The First Biscuit is Fired" all the way through to chapter seventeen – " "Stoop" for Stupendous". However, the adventures of Patria do not just stop with this book – the escapades of Oliver, Farnsworth, and Princess Rose continue in the second book in the series – "Stoop of Madtodon Meadow". This awesome book series also has an awesome website that includes blogs of Oliver, Farnsworth, Princess Rose, and the author – Daniel McInerny. Adults and children alike will be entertained by the enthralling and fantastic world of Patria.
You can learn more about the Kingdom of Patria by visiting the interactive website at kingdomofpatria.com.

___________________________________________________________________________________________________________________
We received a copy of the book for this review from the author, Daniel McInerny.